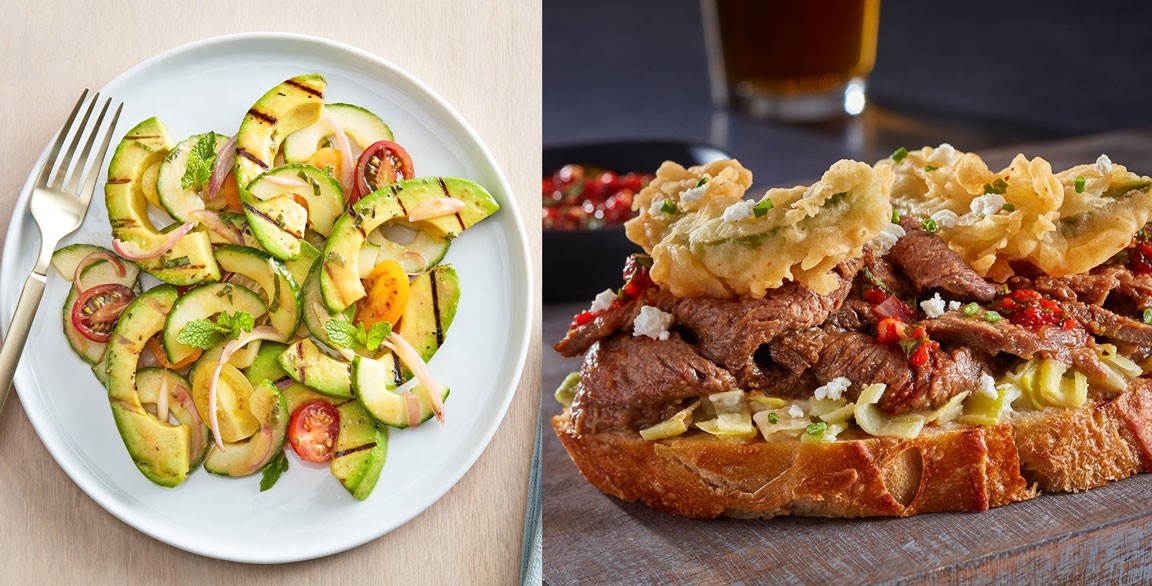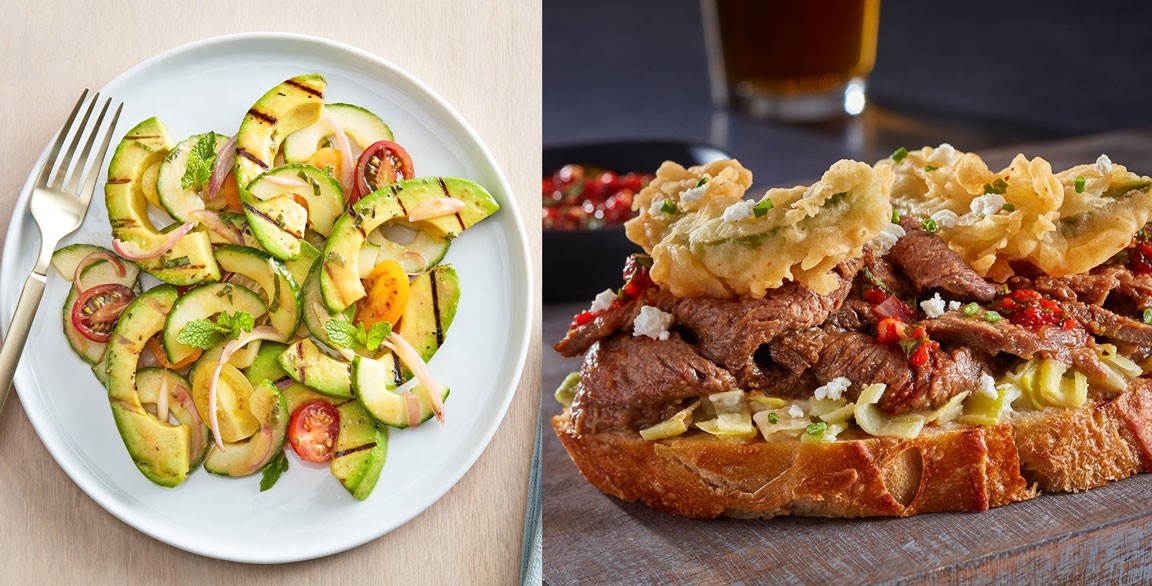 By Flavor & The Menu
July 2, 2020
Kitchen Collaborative is a recipe-development initiative formed by Summit F&B and Flavor & The Menu. To fuel flavor innovation, a group of talented chefs partnered with sponsor brands and commodity boards to create recipes that showcase the passion and potential of our industry.
CHEF SPOTLIGHT: JEFFREY HANAK
As VP of Culinary at Chili's, Jeffrey Hanak keeps mindful of bold flavors that can elevate mainstream dishes to a signature status. This is evident in the two recipes he developed for the Kitchen Collaborative project, enhancing both a light summer salad and a hearty, meat-centric sandwich with complex flavors that set these items apart. His Grilled California Avocado, Tomato & Cucumber Salad gets flavor depth from a Minted Mojo Vinaigrette while the more robust Open-faced Beer & Cola Braised Aussie Beef Sandwich is a layered build of big and bold flavors and textures.
Open-faced Beer & Cola Braised Aussie Beef Sandwich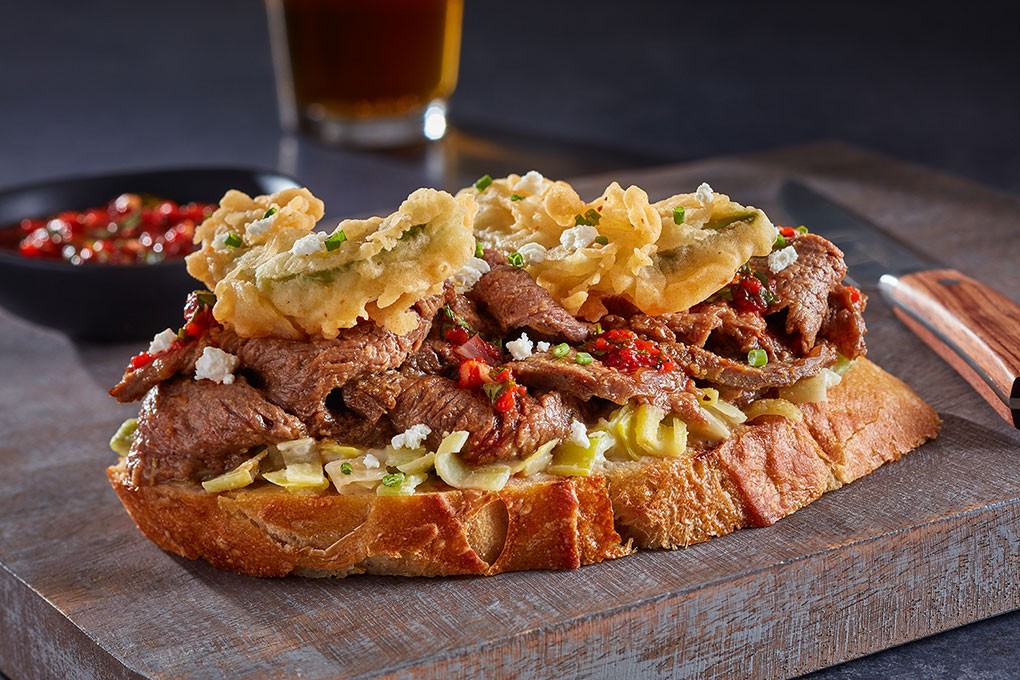 Photo: Carlos Garcia // Food Styling: Peg Blackley & Bree Williams
The inspiration behind Hanak's recipe for this open-faced braised beef sandwich was the interest in a hearty and nourishing meal that would get one through a workday. "Whether doing chores around the house or working at a construction site, this sandwich will give you plenty of protein for energy to get your work done," he says. A slice of grilled sourdough starts off this multi-layered build, serving as the sturdy base for creamed leeks, beer- and cola-braised Aussie beef, chimichurri, fried avocado slices and goat cheese crumbles. The creamed leeks are sautéed in butter until soft then cooked down with Pernod and heavy cream until thickened. "The sharpness of the leeks cuts the beefiness," says Hanak. "And creaming them makes it pleasing to the palate." Next comes the star of the show—Aussie grass-fed beef, rubbed with brown sugar, salt, pepper, dry mustard, ground ginger, cayenne pepper and chile, garlic and onion powders and set overnight, then braised in an equal mix of porter-style beer and cola until tender. Hanak describes the resulting flavors as beefy, sweet, salty and spiced. "Having beer and cola is interesting as you get the sugar, hops, barley all as aromatics in the braise, and this depth of flavor comes through in every bite of the sandwich," he says. For a crispy component, beer-battered and fried avocado tops the beef. A drizzle of red chimichurri—an herby blend of parsley, basil and mint with roasted red peppers and red chiles—offers bright, zingy flavor. The open-faced sandwich is finished with a topping of crumbled goat cheese and fresh chives.
Grilled California Avocado, Tomato & Cucumber Salad with Minted Mojo Vinaigrette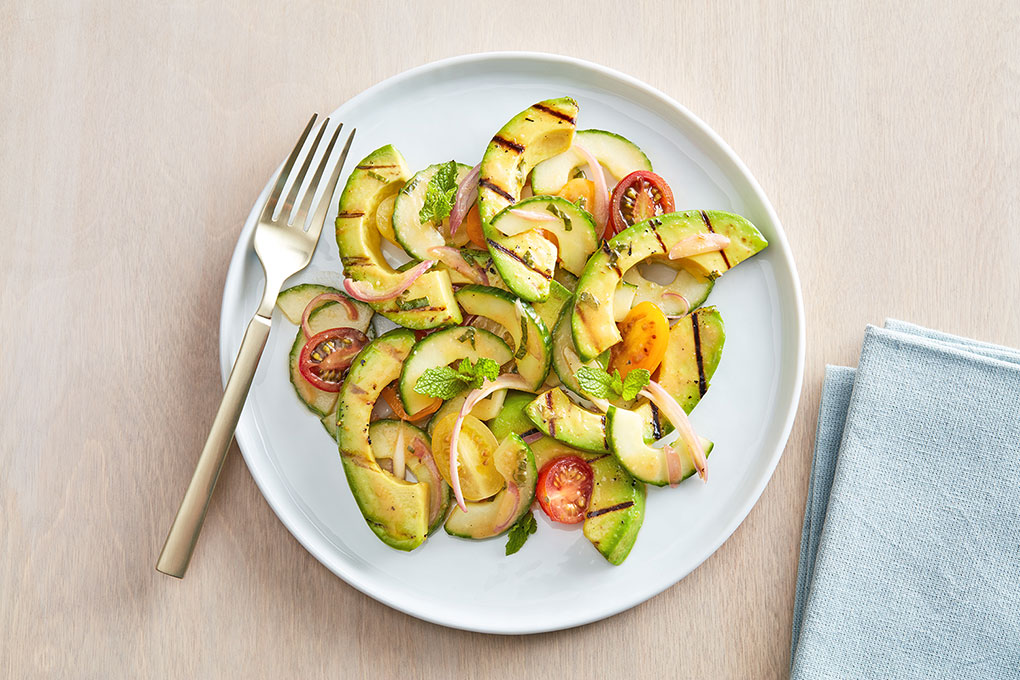 Photo: Carlos Garcia // Food Styling: Peg Blackley & Bree Williams
Hanak describes this as the perfect summer salad: "Fresh, crisp and packed full of flavor." The hero of the salad, California avocados, are seeded, peeled and sliced, brushed with olive oil and quickly grilled. The avocado slices are layered with cherry tomatoes, half moons of English cucumber and slices of shallot. These quintessential summer ingredients are gently tossed with a Minted Mojo Vinaigrette, which gives the salad character and depth. Playing off the Caribbean mojo profile of garlic, olive oil and orange juice, the dressing gets a punch of flavor from cumin, smoked paprika, oregano and an abundance of fresh mint. "Roasted garlic and mint provide a deep flavor with a clean finish that's bright and doesn't sit heavy on the tongue," says Hanak. While enjoyable as a salad, he says this build can easily serve as an entrée accompaniment—as a topping for grilled chicken, for example.
Project Management: Summit F&B
Photography: Carlos Garcia // Food Styling: Peg Blackley & Bree Williams