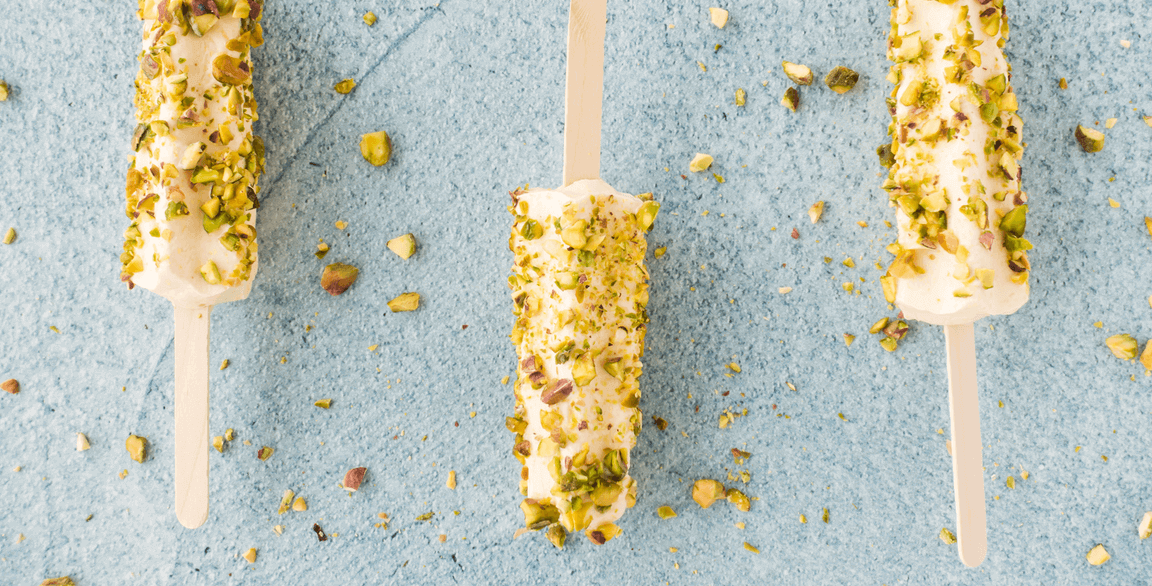 Ice cream is one of those items that will never go out of style no matter where food and beverage trends may take us. According to Datassential, nearly two-thirds of consumers love ice cream. It is one of the most universal items a restaurant may have on its menu. Ice cream is also endlessly versatile in how it can be used, how it is served, how it is topped, and the flavors that may be incorporated into it.
Most cuisines around the world have some form of ice cream based on climate, history, agriculture and international influences. These global versions of the ice cream American consumers know and love offer chefs new tools that will keep the ubiquitous ice cream category exciting for consumers who think they have seen it all.
Booza
Just before the pandemic disrupted trend cycles, the industry was discovering the magic of booza (or dondurma in Turkey), a thick, stretchy ice cream found throughout the Middle East. Videos on YouTube delight viewers with Turkish vendors pulling this flexible ice cream like taffy. In a hot climate, booza does not melt as quickly as conventional ice cream, allowing patrons to savor it longer.
Booza in Houston offers everything from vanilla to traditional Middle Eastern flavors including orange blossom, rosewater and ashta. While dondurma and booza are typically made using salep, a powder made from the orchid root, its close cousin mastic ice cream from Greece is made with golden gum mastic. The Greek mastic ice cream has a somewhat smoother mouthfeel compared with Turkish dondurma.
Awan
Plant-based ice creams are taking over larger slots at retail, and menu developers are getting into the action with new plant-based ice cream variations of their own. Chef Zen Ong took years to create what has become the hero product at his Los Angeles restaurant Awan, meaning "cloud" in Indonesian, a creamy gelato-like ice cream made with coconut milk and coconut water. Though not traditionally Indonesian, it likely builds on the traditional "es doger" beverage made with shaved coconut milk flavored and colored with frozen syrup.
Kulfi
From India comes kulfi which is now most often found at Indian or Asian restaurants, but has great potential beyond. Made by slow cooking sweetened, flavored milk, it is denser and creamier than traditional American-style ice cream. It is most often served on a stick and studded with fresh fruits or rose petals, though Lehja in Richmond, Va., currently menus a Neapolitan kulfi, drawing on both the familiar and the unique.
These examples represent only a few of the variations chefs may find outside the U.S. from which to draw inspiration. As always, how these items are described will make all the difference for some patrons but the format—a frozen, creamy dessert that can be customized and dressed in up countless ways—will hit the right nostalgic chord while offering customers a safe way to expand their flavor horizons.