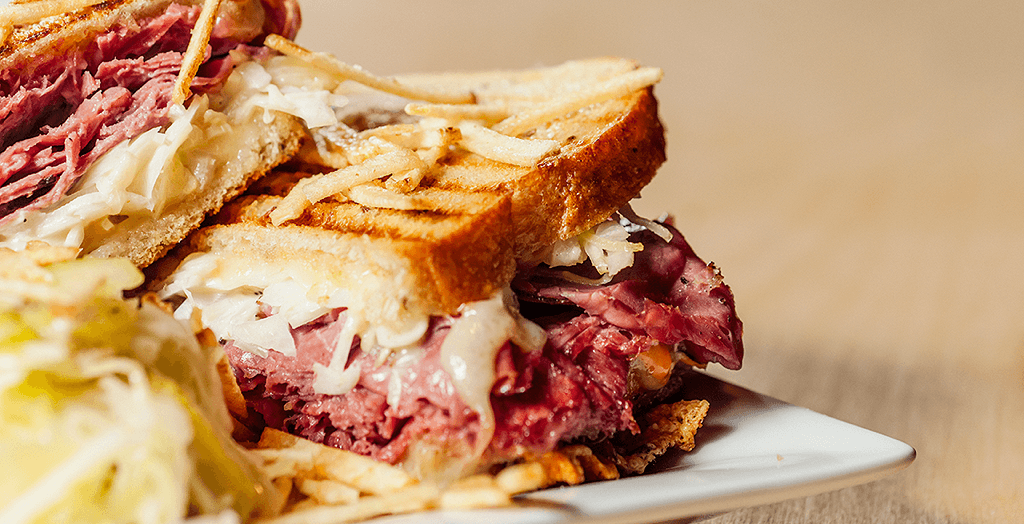 While classic sandwiches serve a valuable role as reliable menu anchors, they also present an ideal platform for serving up flavor trends. Successful sandwich upgrades showcase originality, pushing gently at boundaries and reflecting top dining drivers, especially those that influence younger demographics.
Incorporate more plant-based ingredients to keep up with growing demand. Apply fruit's unique capacity to counter savory ingredients and spark interest. Novel treatments of batters and breads can lift the outer layer with the first bite. Trending global ingredients can deliver fresh appeal. All are smart strategies for the culinary finessing of comfort-based builds.
Here we share 10 powerhouse sandwich classics, highlighting modern flavor touches aimed at driving menu excitement.
1
CLUB SANDWICH
The timeless club is, arguably, the iconic sandwich best positioned for reinvention and customization. An "anything goes" approach is quite viable. Elevating any of the elements in its multilayered assembly will resonate with patrons seeking new twists on this old favorite.
TRY THIS:
Roasted Veggie Club: Roasted bell peppers/portobello/eggplant + red leaf lettuce + provolone cheese + date syrup + herb mayo + multigrain bread
Beefy Harissa Club: Roast beef + shaved ham + spinach + red onion + Colby Jack cheese + harissa-tomato jam + sourdough bread
ON THE MENU:
Cal Ital Club: Turkey, prosciutto, tomato, sprouts, avocado and basil aïoli
Ella's, Nashville, Tenn.
2
MONTE CRISTO
Upgrading with clever meat combos, textured coatings and accompanying fruit sauces brings novelty and excitement to this fun-loving sandwich. Both elevated, premium ingredients and imaginative spins on mainstream comfort builds play well on the Monte Cristo.
TRY THIS:
Wyoming Monte Cristo Slider: Thick-sliced roasted elk tenderloin + Comté + mini challah roll (egg batter-dipped) + powdered sugar + Chambord-huckleberry sauce
A.M. Crunch Cristo: Breakfast sausage strips + crispy smoked bacon + scrambled eggs + white American cheese + Texas toast (cornflake/egg batter-dipped) + powdered sugar + maple syrup
ON THE MENU:
Monte Cristo: Honey ham, smoked turkey, Swiss, American, crispy battered and deep fried, topped with powdered sugar and served with berry preserves for dipping
Melt Bar and Grilled, based in Independence, Ohio
3
CUBANO
Reimagine the Cubano by playing with variations on the ham/pork core element, as well as ingredients that venture into more crave-inducing indulgence. Or stick with the fundamentals and add just one ingredient that will lend a pop of fresh flavor, such as a layered mustard, spicy sauce or a housemade pickled vegetable or fruit.
TRY THIS:
Spicy Schnitzel Cubano: Pork schnitzel + chorizo + asadero cheese + pickled peaches + Pommery aïoli + hoagie
Smiling Pig Cubano: Slow-cooked pulled pork + ham slices + fried pickle chips + jalapeño Jack cheese + apricot mostarda + hoagie
ON THE MENU:
Cubano: Slow-roasted pork, bacon, sweet chile sauce, raw red onion, Muenster cheese and housemade pickles
Bocadillos, Albuquerque, N.M.
4
MEATBALL SUB
Introduce non-beef meatball blends, add trending seasonings to the tomato sauce and use a complementing cheese to maintain the core comfort attributes of this sandwich favorite while telling a new flavor story.
TRY THIS:
Corn Chip Meatball Sub: Corn chip-flavored plant-based "meatballs" + red mole-tomato sauce + Oaxaca cheese + toasted cornmeal sub roll
Shrimp Scampi Meatball Sub: Smoked shrimp meatballs + tomato scampi sauce + shaved Asiago cheese + toasted sub roll
ON THE MENU:
Plant-Based Meatball Sub: Plant-based "meatballs," served on a toasted white hoagie bun with marinara sauce and Provel cheese.
Lion's Choice, based in St. Louis
5
FRENCH DIP
Chefs were playing with French dip before the birria craze, but the popularity of the Mexican dunker has brought about even more enthusiasm, with chefs eager to spin the French dip in new directions.
TRY THIS:
Chicken-Fried Steak Dip: Chicken-fried steak + blue cheese + baguette + spicy onion-beef jus
Italian Lamb Dip: Herb-Calabrian chile-roasted lamb leg + fontina cheese + ciabatta bread + Chianti jus
ON THE MENU:
Mushroom "French" Dip Sandwich: Confit mushrooms, caramelized cabbage and onion and garlic spread, on a baguette, served with burnt leek au jus
Eszett, Los Angeles
6
PO' BOY
Incorporate bold elements along with mouthwatering meats or fried seafood choices that honor the roots of this Louisiana staple. Consider additions and substitutes that lend a spicy or tangy kick to offset richness. Fresh toppings and a slathering of a distinctive sauce can go a long way in elevating the po' boy while delivering customer satisfaction.
TRY THIS:
Surf-and-Turf Po' Boy: Charred steak tips + cornmeal fried shrimp + marinated tomato slices + shredded lettuce + pickled banana peppers + bone marrow mayonnaise + crispy/soft French roll
Tropical Chicken Po' Boy: Jerk fried chicken strips + creamy Scotch bonnet-cabbage-papaya slaw + guava barbecue sauce + crispy/soft French roll
ON THE MENU:
BBQ Chicken Confit Po' Boy: Chicken thighs slow cooked in duck fat, ranch-cabbage slaw, coffee barbecue sauce and red and green onions
Killer PoBoys, New Orleans
7
GRILLED CHEESE
Give grilled cheese an infusion of adult updates by layering distinctive flavors in a complex build. Think signature fillings, a velvety, melty cheese pull and thoughtful textural contrasts. Don't overlook opportunities found in the outer crust, such as griddling with a flavored butter.
TRY THIS:
Gooey-licious Grilled Cheese: Raclette + whole blackberries + cornichons + jalapeño potato chips + Pullman bread
Comté-Caprese Grilled Cheese: Comté + basil pesto + sun-dried tomatoes + sourdough bread griddled in caper butter
ON THE MENU:
Smoked Salmon and Brie Grilled Cheese: Smoked salmon with Brie on rye, topped with two fried eggs
Elizabeth's Restaurant, New Orleans
8
REUBEN
Break from tradition with a Reuben piled high with intriguing swaps: fresh slaws for sauerkraut, cheese sauce instead of sliced cheese, punched-up dressings, and sprouted bread versus rye. Featuring other proteins instead of the expected corned beef, is another means of spiking interest.
TRY THIS:
Smokehouse Reuben: Sliced smoked brisket + Texas barbecue sauce + sharp cheddar sauce + Asian pear-cabbage slaw + sprouted bread
Popper-Pork Reuben: Sliced slow-roasted pork loin + French dressing + jalapeño popper cream cheese sauce + zucchini slaw + sprouted bread
ON THE MENU:
Mrs. Goldfarb's Unreal Reuben: Plant-based corned "beef" from Unreal Deli, Havarti cheese, apple and celery root slaw, housemade bread & butter pickles, and smoky Thousand Island, served on panini-pressed rye
Mendocino Farms, based in El Segundo, Calif
9
TURKEY-BACON-RANCH (TBR)
The TBR has been making moves on modern menus in explicit competition with the BLT. Today's enhancements continue the delivery of a high-quality simplicity that achieves maximum flavor. Upgrades include turkey marinades, rubs and treatments, glazed bacon, fresh ranch blends and hearty buns.
TRY THIS:
Pub TBR: House-smoked turkey breast salad + hot honey-glazed bacon + Gouda + crispy shallots + Parmesan ranch + pretzel bun
Deluxe TBR: Sliced deli turkey breast + peppered bacon + chile crunch + provolone + oven-dried Roma tomatoes + cucumber ranch + whole-grain seeded protein bun
ON THE MENU:
Turkey Bacon Ranch: Freshly sliced smoked turkey breast, crispy bacon, melted sharp cheddar cheese, onion, lettuce, tomato, mayo and creamy peppercorn ranch dressing, served on a toasted sub roll
Firehouse Subs, based in Jacksonville, Fla.
10
FRIED FISH
Trade in conventional ingredients, putting a fun twist on this classic sandwich with unique batter coatings and vibrant sauces. Look to independent and fast-casual leaders menuing flavor-forward fish tacos, translating their inspiration into your killer fish sandwich.
TRY THIS:
Panko Cod Sandwich: Panko-coated fried cod + shredded lettuce + sesame cucumber + togarashi-crab aïoli + brioche bun
Coconut Tempura Grouper Sandwich: Coconut tempura-battered fried grouper + creamy chipotle-napa cabbage slaw + charred pineapple pico + kaiser roll
ON THE MENU:
Fish Torta: Pan-fried tilapia fillets, toasted bolillo bread, spicy apple pico, lime slaw, avocado and chimichurri sauce
FoodHeads, Austin, Texas