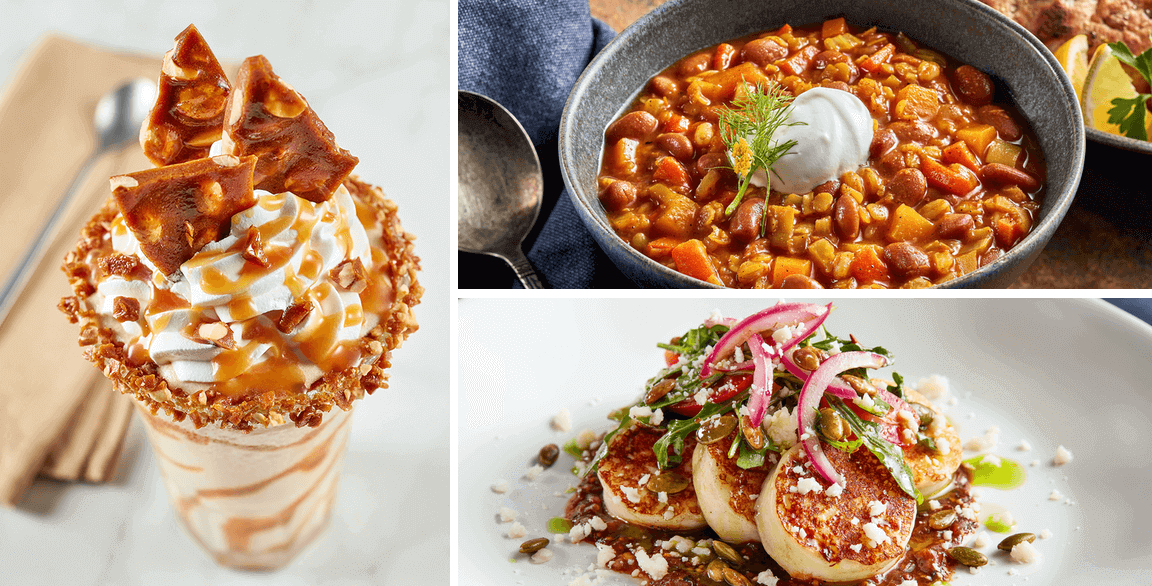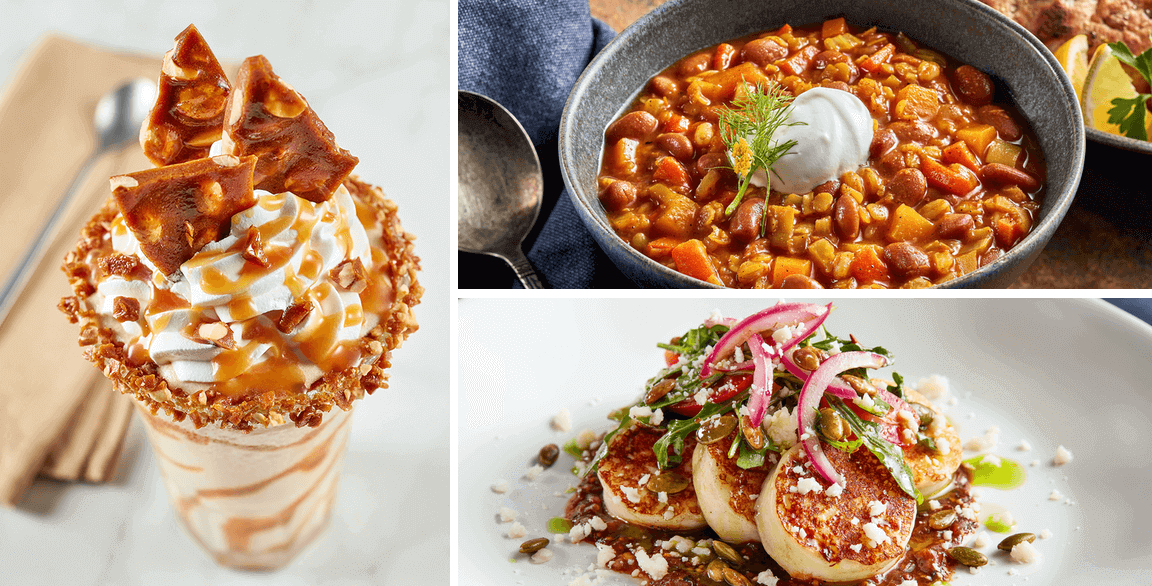 Kitchen Collaborative is a recipe-development initiative formed by Summit F&B and Flavor & The Menu. To fuel flavor innovation, a group of talented chefs partnered with sponsor brands and commodity boards to create recipes that showcase the passion and potential of our industry.
CHEF SPOTLIGHT: Daniel Camp
Daniel Camp never has to look very far for ideas that get his creative culinary juices flowing. "I always find inspiration in trying new foods, whether it's a new ingredient, a new cooking method or an entirely new cuisine at a restaurant, a food truck or a friend's house," says Camp, Senior Director of Menu & Beverage Innovation for On the Border Mexican Grill & Cantina. "It's all about understanding how others see food, looking through their eyes and then translating it into something I can use."
It's this attitude that makes Camp a perfect partner for Kitchen Collaborative, as he develops a stunningly diverse array of recipes inspired by a quartet of ingredients. Discover how Bush's Best Chili Beans transformed his North African Bean Stew with Farro and Lentils, how two California cheeses combine complementing strengths in the elegant Grilled Panela in Roasted Tomato Sauce, and how Kikkoman Tamari Sauce elevates the decidedly decadent Tamari Salted Caramel & Smoky Peanut Butter Adult Shake with Tamari Peanut Brittle.
North African Bean Stew with Farro and Lentils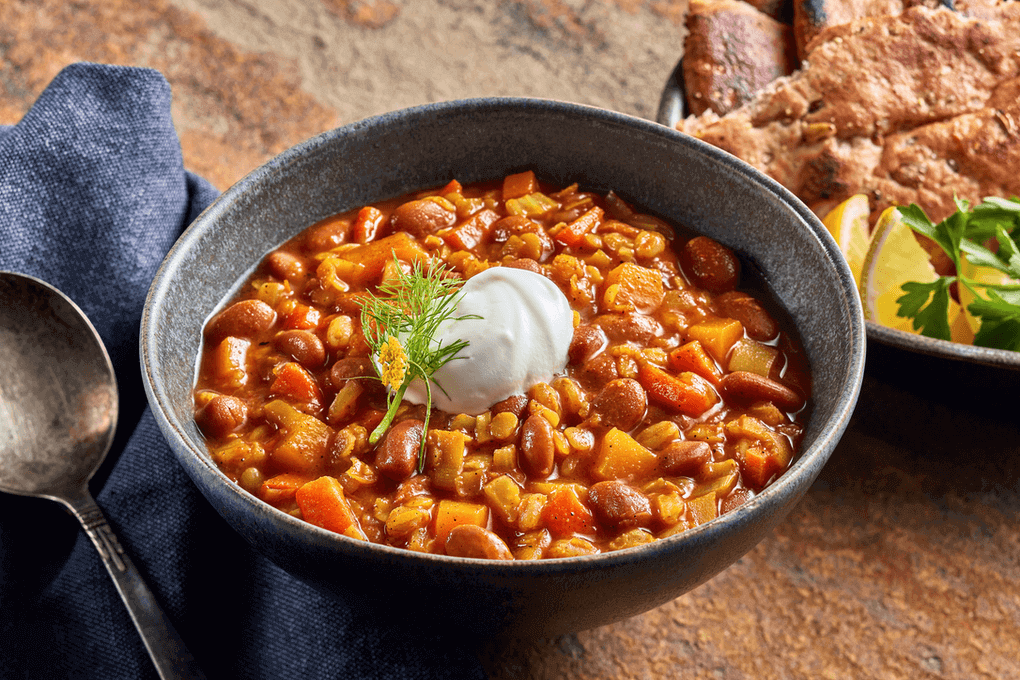 Photo: Carlos Garcia // Food Styling: Peg Blackley & Bree Williams
Camp is a big fan of the flavors and spices of North Africa, so when he was assigned Bush's Best Chili Beans for Kitchen Collaborative, "I knew I wanted to play in that area, since beans are a staple in so many dishes from the region," he says. The North African Bean Stew with Farro and Lentils is a winning example of the opportunities for menu development found in this part of the world. "I believe African cuisine in general is still in its nascent phase, and we will see more and more of the great food and ingredients from the continent being highlighted in the next few years."
The stew is a hearty mix of vegetables (onions, leeks, fennel, carrots), tomato paste, garlic and a veritable pantry of spices (cumin, coriander, cardamom, turmeric, cinnamon, sea salt, black pepper, cayenne pepper and smoked paprika). It also includes vegetable stock, farro, squash and lentils. Finally, Camp's recipe subs chili beans for the more traditional garbanzo beans. The dish is served with a dollop of yogurt, a drizzle of olive oil and sprinklings of chopped cilantro and fennel fronds.
"The texture of Bush's chili beans is very similar to cooked garbanzo beans, so I was confident that they would be a good replacement," says Camp. "Plus the flavor profile of the product is fairly mild, but includes many of the same spices that are already in the stew, so I knew they would pair well."
The farro, which delivers an authentic sense of place, is another key element of flavor dimension. "It's a wonderful high-protein, high-fiber ancient grain," says Camp. "It retains a bit more chew, versus modern wheat, and has a slightly nutty flavor." Indeed, that chew is a great textural complement to the al dente bite of the lentils and the creamy interior of the beans. Add in the many spices, and the dish creates "a magical experience," he says.
Grilled Panela in Roasted Tomato Sauce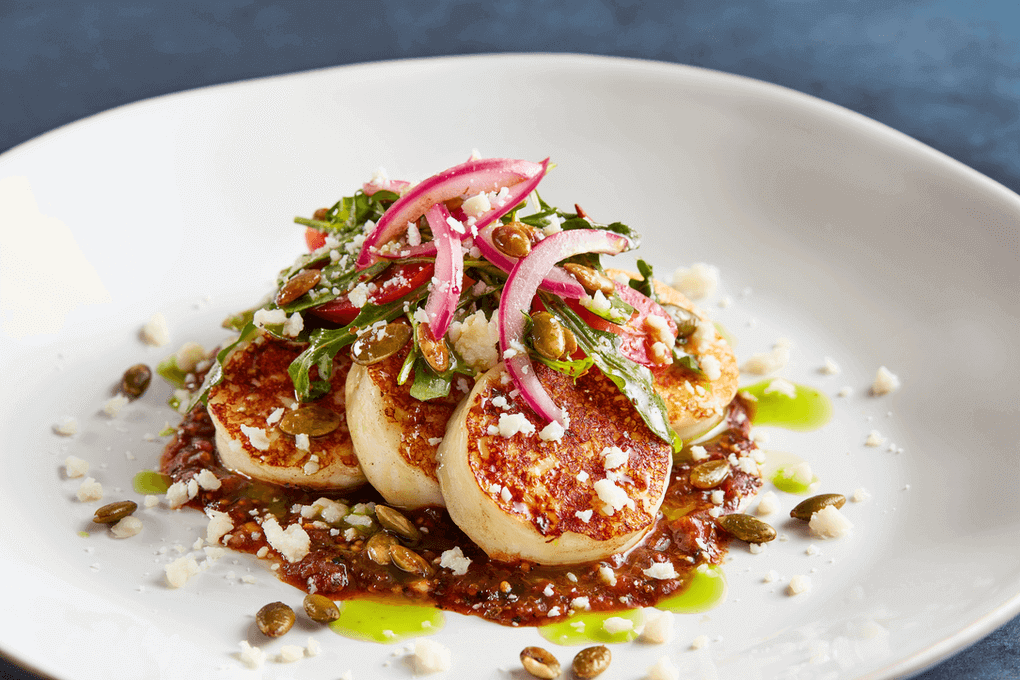 Photo: Carlos Garcia // Food Styling: Peg Blackley & Bree Williams
"Panela is such a versatile cheese—it is a wonderful complement to other items, but it shines on its own, as well," says Camp, who backs up that assertion by putting panela cheese made with Real California Milk squarely in the spotlight in this Grilled Panela in Roasted Tomato Sauce. The dish is topped with a Tajín-lime salad, pickled red onions, Cotija cheese made with Real California Milk and pepitas. The tomatoes in the sauce are roasted alongside guajillo chile, chile de arbol, onions and garlic.
"After grilling, the panela softens, but doesn't melt completely, holding its shape," says Camp. "Each bite will be soft and a little gooey. He characterizes the flavor profile of panela as a mild, slightly salty cheese with fresh dairy flavor. "Panela absorbs other flavors very well," he says, "so strong flavors like chile and tomato are amplified, while the fat from the cheese helps cut the acid at the same time." He also finds it pairs perfectly with the salty Cotija.
"This is a great dish that is lower in calories than you might expect and is vegetarian and gluten-free, as well," says Camp. "Serve it by itself as an entrée or as an appetizer with fresh tortillas or tortilla chips." While he had a Southwest/Mexican profile in mind when developing the dish, Camp points to simple swaps that can inspire its inclusion on many different menus. For example, substitute parsley for cilantro, change to Calabrian chiles, replace the Tajín with an Italian seasoning blend and the Cotija with ricotta salata, and the dish becomes perfect for a rustic Italian concept. "You could feature the panela in tomato sauce in so many cuisines because it's so complementary of other flavors," says Camp.
Tamari Salted Caramel & Smoky Peanut Butter Adult Shake with Tamari Peanut Brittle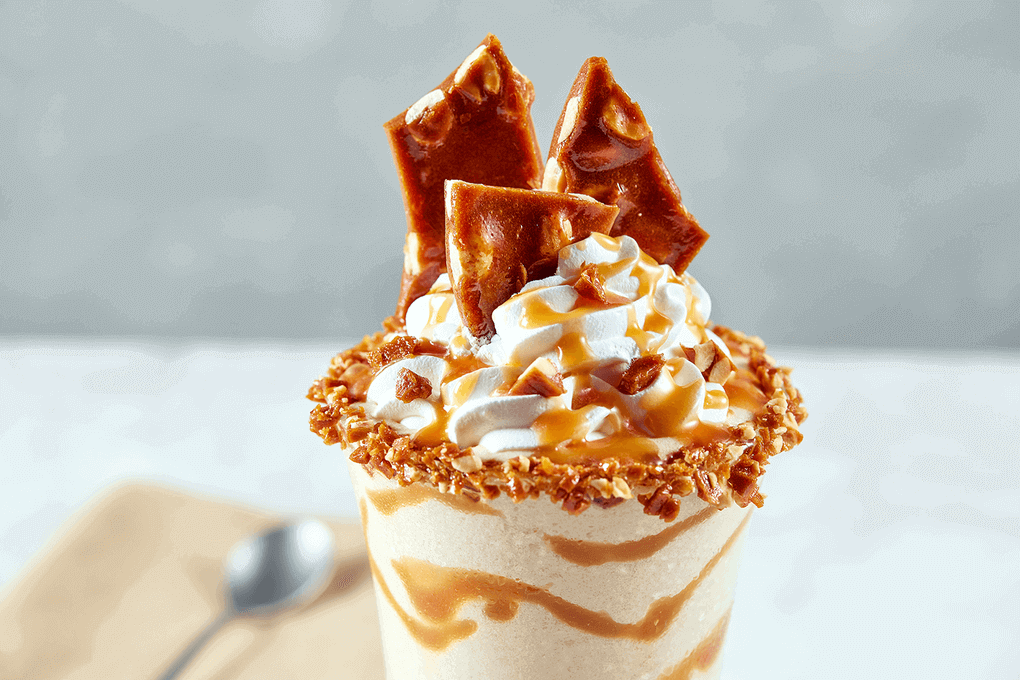 Photo: Carlos Garcia // Food Styling: Peg Blackley & Bree Williams
Boozy shakes satisfy a number of customer needs, says Camp, citing several reasons for their enduring relevance on dessert menus. "They combine the flavors and fun of the past and the present, reminding us of when we were younger and celebrated with an ice cream sundae," he says. "Now that we're adults, we can take it up a level. It's all about indulgent comfort. Especially today, sometimes we just want to eat or drink things that will make us feel good and not worry about anything else for a little while."
The Tamari Salted Caramel & Smoky Peanut Butter Adult Shake with Tamari Peanut Brittle certainly will drive cares away with its rich, decadent profile. It features vanilla bean ice cream spiked with mezcal. "I continue to love mezcal more and more. It's made in much smaller batches than tequila, and every distiller puts their own spin on it, which leaves each with a distinct flavor. Here it adds a hint of smokiness that is the perfect complement to peanut butter and caramel. Those are difficult flavors to stand up to, but every sip ends with a delightful hint of smoke, and the mezcal goes well with the nuttiness of the peanut butter."
For additional components of the dessert, Kikkoman Tamari Soy Sauce is used to prepare both a Tamari Salted Caramel and a Tamari Peanut Brittle. "The tamari is a great replacement for salt," explains Camp. "It adds the right amount of salty flavor, along with a punch of umami that really makes these items unique. It's become one of my new favorite ingredients."
Project Management: Summit F&B
Photography: Carlos Garcia // Food Styling: Peg Blackley & Bree Williams