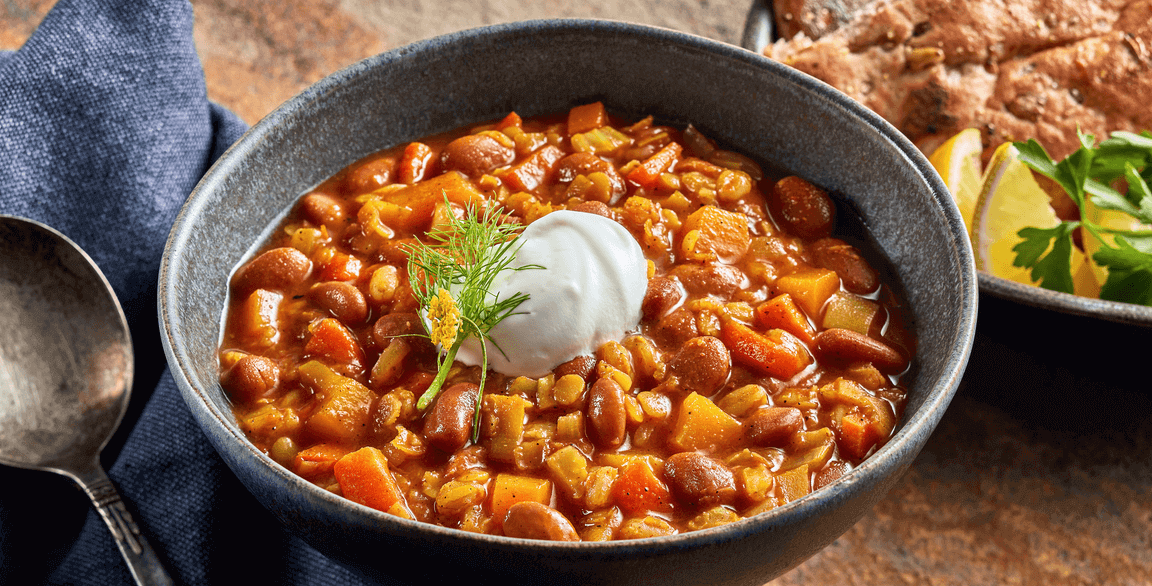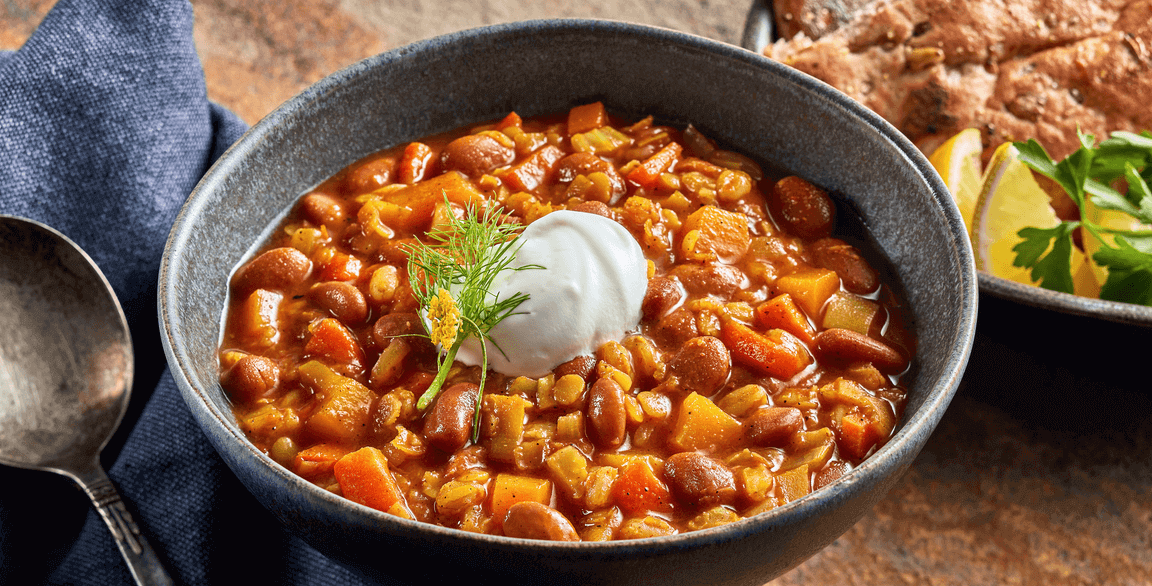 North African Bean Stew with Farro & Lentils
Recipe courtesy of Chef Daniel Camp
Sponsor: Bush's Best
Servings: 8
Ingredients
North African Bean Stew:
¼ c extra-virgin olive oil
1 c ¼-inch dice yellow onions
1 c ¼-inch dice leeks
1 c ¼-inch dice fennel (reserve fronds for garnish)
1 c ¼-inch dice carrots
2 Tbsp minced garlic
2 Tbsp tomato paste
1 tsp cumin
1 tsp coriander
1 tsp cardamom
1 tsp turmeric
1 tsp cinnamon
1 tsp sea salt
1 tsp ground black pepper
2 tsp smoked paprika
¼ tsp cayenne pepper
2 qt vegetable stock
½ c farro
2 c ¼-inch dice butternut squash
4 c Bush's® Best Chili Beans
½ c lentils
For Serving:
1 Tbsp Greek yogurt
1 Tbsp extra-virgin olive oil
1 tsp rough chop cilantro
1 tsp fennel fronds
1 lemon wedge
Directions
North African Bean Stew:
Heat the oil over medium-high heat. Add the onions, leeks, fennel, carrots and garlic. Cook until veggies are softened, approximately 5 minutes.
Stir in tomato paste and spices, and heat for approximately 2 minutes.
Add the stock and farro and bring to a boil. Reduce heat and simmer for approximately 12 minutes.
Add the squash, lentils and Bush's chili beans and simmer for another 20 to 30 minutes, or until lentils and farro are tender.
For each serving:
Ladle 10 fl oz stew into a bowl.
Dollop yogurt in the center and drizzle with olive oil.
Sprinkle with chopped cilantro and fennel fronds.
Serve with lemon wedge.
Chef's Notes
Bush's chili beans are great because they can step in as a substitute for so many ingredients—in this case, garbanzo beans. The chili bean flavor lends itself to the North African spices, and the texture holds up to deliver a great bite.
This a great stew for warming up in the winter and is perfect with pita to dip as well. All the spices work together to create a magical flavor experience, and the farro, lentils and beans all provide a different texture experience.
Project Management: Summit F&B
Photography: Carlos Garcia // Food Styling: Peg Blackley & Bree Williams