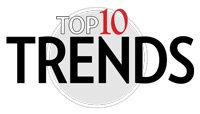 By Dennis Samala and Rob Corliss
The Indian pantry offers a plethora of intoxicating aromatic spices: coriander, cayenne, mustard seeds, cloves, cumin, star anise, bay leaves, cardamom, cinnamon; souring agents such as amchoor (green mango powder) and tamarind paste; and rich dairy/non-dairy ingredients such as ghee, paneer, milk and coconut milk. All of these can be paired with popular starches such as potatoes/fries, rice and various grains.
Why not a vindaloo burger with cucumber raita or a curry masala cauliflower taco? Let's not forget the poutine pairing with any number of curries. With the vast varieties of Indian breads, from naans to dosas, the list becomes endless for the possible mash-up.
To get started, take an Indian national dish, major flavor or technique as inspiration, and craft that into a new form or flavor that works on your menu and with your consumer target.
Add Madras curry-spiced chickpeas to a salad (either marinated or crispy baked), or served hot in a bowl format.
Create a unique and signature fruit or vegetable chutney and use on tacos.
Craft an Indian-spiced summer corn succotash as a side dish.
Menu a healthful Bombay street corn (instead of a traditional Mexican street corn): grilled summer corn on the cob flavored with fragrant Indian spices, served with a fresh lime wedge.
Feature a whipped cardamom-ginger butter with sweet potato-coconut breakfast muffins.
Update cauliflower "fried rice" with Indian spices. Or menu whole-roasted cauliflower florets with Indian spices.
Serve mini naan (or mini roti) bread for Indian-inspired taco builds.
Feature a refreshing chilled mango lassi or a chilled or hot golden spiced milk (with turmeric) as seasonal beverages.