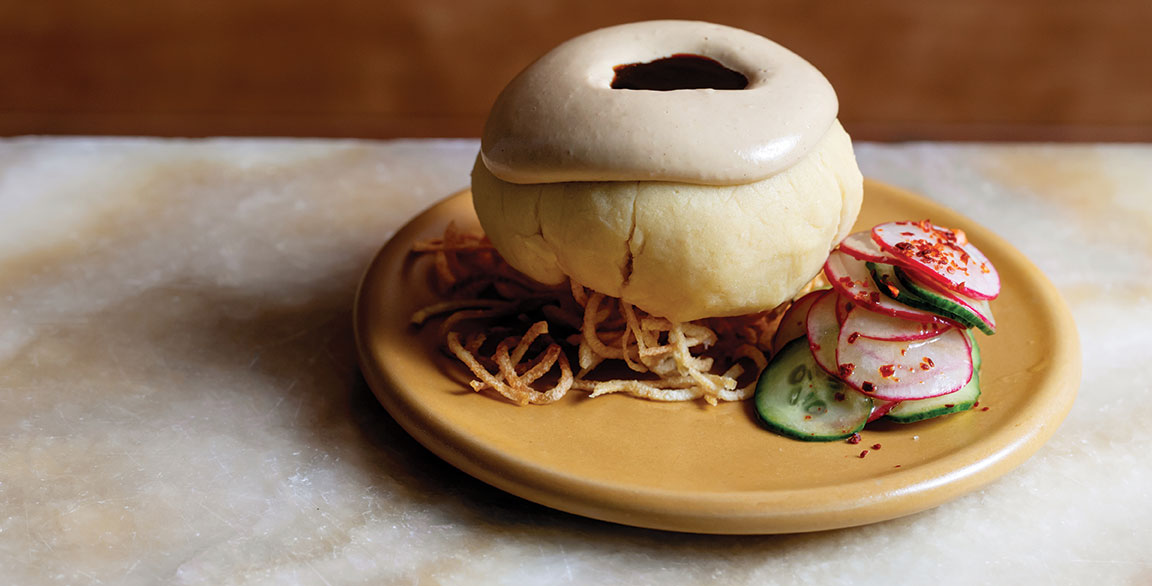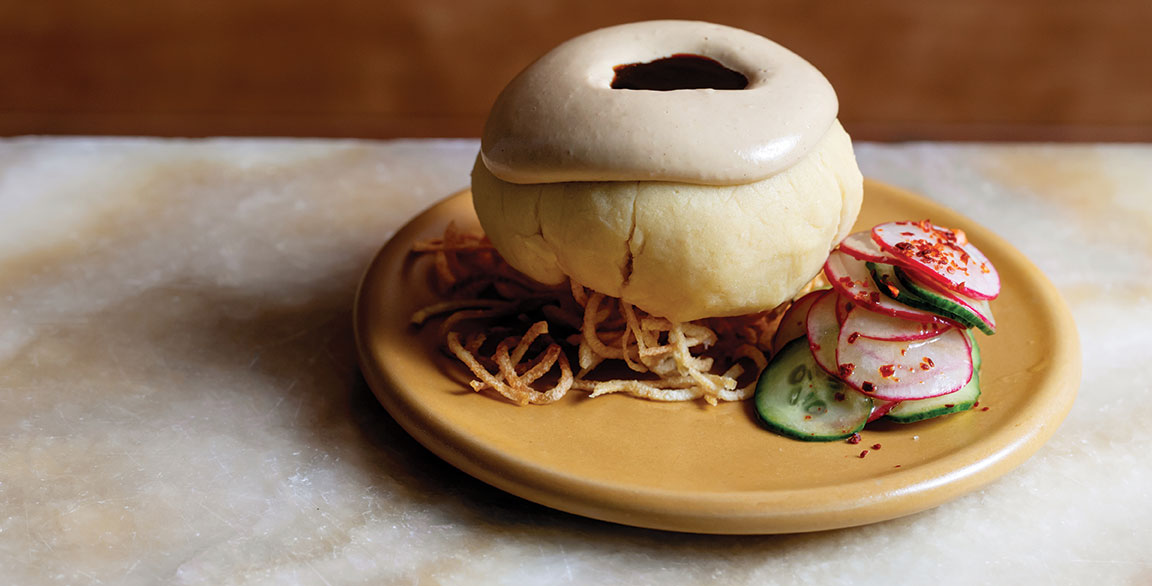 By Maeve Webster
October 2, 2020
Increased interest in Eastern Mediterranean cuisine has helped bring tahini out from behind the shadow of hummus and into the light of broader culinary innovation. The bump in consumer familiarity, coupled with culinary enthusiasm, has led to chefs exploring tahini's savory, nutty flavor and rich, creamy texture in new and exciting ways. Culinary ambassadors like Michael Solomonov have helped propel it into the limelight, thanks to their approachable menus that highlight the sesame paste in new and craveable ways. His tahini-based milkshake, served at the fast-casual falafel concept Goldie, in Philadelphia, is a great example here.
The fact that tahini is plant-based ups its menu versatility and gives chefs and beverage directors a trend-forward, indulgent-tasting, nutrient-rich ingredient to play with. At a time when chefs are looking for ingredients that facilitate approachable innovation, support healthier dining without sacrificing satisfaction, and appeal to a broad swath of consumers, menu development starring tahini is a worthy endeavor.
NEW FLAVOR FRONTIERS
When contemplating ways tahini may be used to create recognizable yet unexpected flavor experiences, the simplest take is to view it as a stand-in for peanut butter, mayonnaise, oil or butter. Tahini's consistency and mild flavor allow for easy substitution of these standards in many recipes, and its use can push a variety of familiar favorites in new directions.
Consider the signature vegan burger at plant-based café Frida's in University City, Mo. It's topped with a tahini-chipotle slaw, checking multiple boxes in the comfort, mash-up and plant-based trend categories.
Other simple yet intriguing applications include the hazelnut tahini atop the Balsamic-Braised Fig Toast at Southern Belle in Atlanta and the Creamy Tahini Chicken Crêpe with pickles, crispy chickpeas and mixed greens at Crêpe Bar in Tempe, Ariz.
The Harbinger Café & Bakery in Charleston, S.C., uses tahini across its menu. It's a key ingredient in the Grasshopper Toast, which combines the sesame paste with avocado, Sriracha and garlic cashews on semolina toast. Tahini is also featured in the Maple Tahini Granola, and combined with honey and figs for the bakery's Honey Bunch Oatmeal Cookies.
Dessert is a welcoming platform for the smooth, savory richness of tahini. Honey Road in Burlington, Vt., showcases its potential in a few options: a Chocolate Tahini Ice Cream Bar with honey caramel and peanuts, Tahini Chocolate Chip Cookies, and a Tahini Sundae with sesame caramel, crumbled halvah and crispy meringue. Halvah, that favorite Middle Eastern dessert with tahini as a key ingredient, is seeing more menu activity, often showing up as an ingredient to add interest to menu items.
Tahini is making its way into beverages as well. Tahini-based hot chocolates and smoothies are finding traction, and there's inspiration to be found in the nonalcoholic Tahini Colada, a blend of sesame, coconut, pineapple, cranberry bitters and bayleaf, at Killjoy in Raleigh, N.C. Tahini is also lending its savory smoothness to cocktails, often in syrup form.
According to Datassential, tahini has grown an impressive 40 percent on menus over the past four years, and it is poised to continue this double-digit growth, representing exciting opportunities. It's got a long shelf life that offers chefs wide-ranging possibilities without pushing too hard at the flavor boundaries of less-adventurous diners. Its indulgent texture and savory flavor are particularly well suited for fall and winter menus. In all, tahini's intrigue and adaptability make it a secret weapon in today's culinary arsenal.
TAHINI PROSPECTS
A world of savory and sweet menu ideas springs from a simple paste of hulled and toasted sesame seeds. Eastern Med flavor partners are a natural fit, but this versatile sesame "butter" offers menu developers rich texture, nutrient density and nutty flavor for trend-forward recipe building.
Tahini Mole Sauce
Cocoa, tahini, garlic, cumin, cinnamon, chile powder, broth, tomato purée and lime juice
French Toast with Tahini Syrup
Challah French toast, caramelized bananas, maple-tahini syrup and crumbled halvah
Tahini Salted Caramel Tart
Chocolate shortbread crust, tahini salted caramel filling and labneh whipped cream
Cardamom Tahini Latte
Espresso, tahini, honey, cardamom, sea salt and coconut milk
Tahini Glazed Vegetables
Carrots, parsnips or Brussels sprouts with a date molasses and tahini glaze
Blueberrry Tahini Smoothie
Banana, blueberries, dates, Greek yogurt, milk, tahini and cinnamon
Tahini Med Bowl
Quinoa, grilled chicken, roasted veggies with tahini green goddess dressing
Loaded Fries
Fries topped with red onion, peppers, Kalamata olives, feta and cilantro- tahini sauce