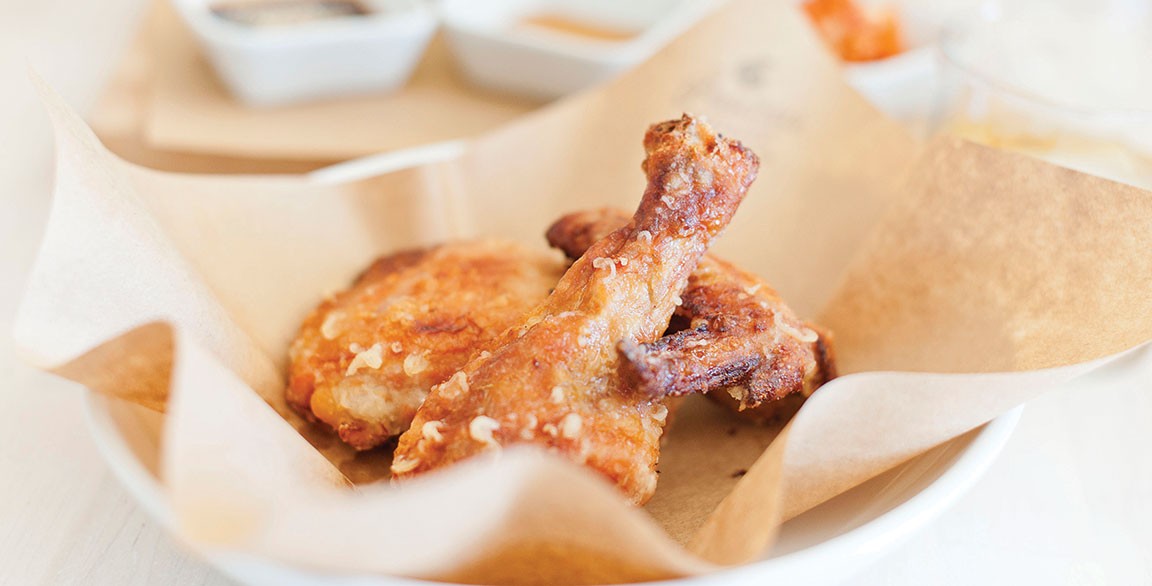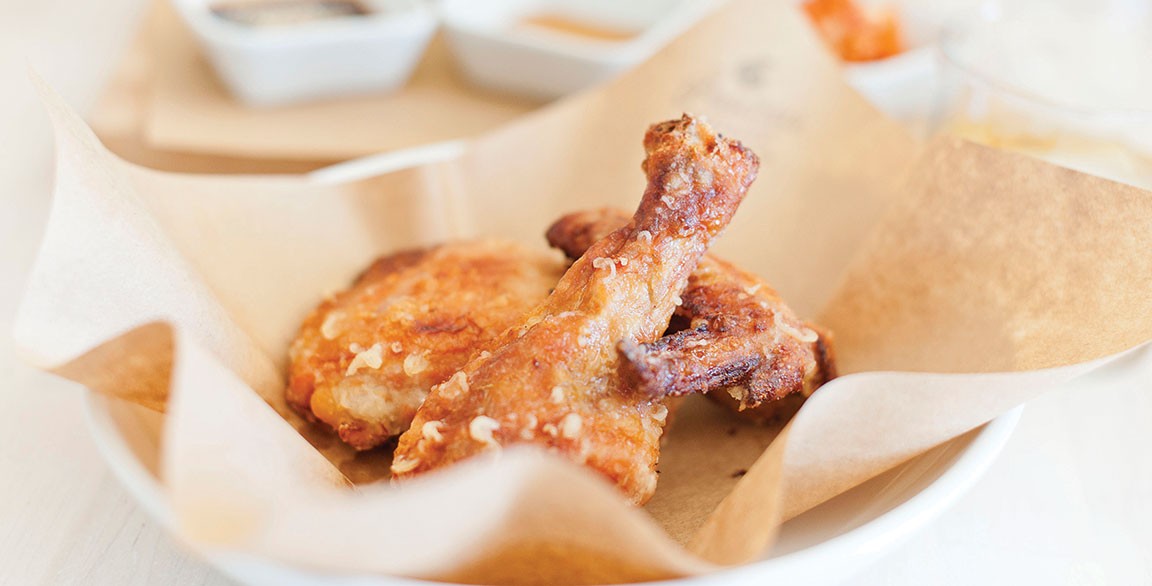 Menu development around fried chicken has been so intense over the last few years that it's been pegged as the "fried chicken wars." And although the perception of restaurant brands duking it out for market share and/or bragging rights is compelling, the reality is that the demand for fried chicken today is so high that the so-called battlefield looks more like a playground. There's enough room for everyone, and creativity in construction is encouraged.
Restaurants are responding: Datassential reports that fried chicken appears on 45 percent of menus nationwide. That is a staggering number, which the data firm predicts will grow another 7 percent over the next four years. Operators who are calculating risk in the midst of a pandemic and deciding to open new restaurants are betting on the popularity of fried chicken. According to CHD Experts, a global data insights company, since August, fried chicken concepts are among the top three most prevalent in openings.
Whether a restaurant concept views its fried chicken innovation as a battle plan or just sound menu strategy, exceptional flavor development, clear brand identity and that unmistakable crave factor are all important.
The Peached Tortilla, a Southern/Asian fusion restaurant in Austin, Texas, offers a good example with its Umami Fried Chicken, which it packages into a highlighted weekly "Fried Chicken & Whiskey Wednesdays" event. Served with kimchi-miso butter, grilled corn and "proper" biscuits, the three-piece chicken is marinated in fish sauce and red wine vinegar, then battered in rice flour for a tempura-like crispy, light texture.
Skin Deep
For the uninitiated, fried chicken skins are a revelation, providing a salty, crunchy, rich, savory bite. Menu developers are wielding this singular sensation in wildly creative ways, cashing in on fried chicken's heroic status and upping the ante by featuring what many consider the best part of fried chicken.
At New York's Kimika, a Japanese-Italian comfort food restaurant, the Yakult Soft Serve is topped with an intriguing fried chicken skin streusel.
Mason Hereford, chef/owner of renowned sandwich shop Turkey and the Wolf in New Orleans, tweaks the popular fried chicken sandwich by simply subbing in skins. His Fried Chicken Skin Sandwich features chicken skins, herb mayo, sweet hot mustard, "shrettuce," pickles, red onion, dill and hot sauce on a "schmaltzy" bun.
Beth Needelman is chef of Schmaltz, an elevated Jewish comfort food pop-up in San Francisco supported by Hi Neighbor Restaurant Group and operated out of one of its concepts, Trestle. She pairs a whipped chicken-skin butter with challah and packages it into a multi-course meal kit. "Like ice cream with all the mix-ins, butter and salted chicken skins provide a creamy mouthfeel with an ASMR-friendly crunch," she says. "The fat and salt combination stimulates the brain and induces the appetite.
"We tested fried chicken skins with consumers. Nearly 30 percent said they were interested in trying them, yet they only appear on less than 1 percent of menus, so it's an area of opportunity."
Mike Kostyo
Trendologist, Datassential
The addition of chicken skins, also known as gribenes, is a treat commonly used in Ashkenazi Jewish cuisine. At a time when our clientele is looking for comfort food, it made sense to create a dish that includes chicken skins."
Needelman collaborated with Jason Halverson, chef/partner of Hi Neighbor, to create the butter. "Our technique of blanching the skins and then frying them at a low temperature allows the excess fat to slowly render off, leaving us evenly cooked golden skins," she says. Needelman also dials up savory flavor and crispy texture in egg salad and roasted chicken sandwiches by including chicken skins, and uses them as a nontraditional salty crunch in a sandwich.
Chicken Skins:
On the Menu
Deep-Fried Chicken Skins seasoned with in-house Khao seasoning —Khao Noodle Shop, Dallas
Crispy-Fried Chicken Skins with Sriracha honey and toasted benne seeds —Nose Dive, Greenville, S.C.
Chicken Chicharrones: Salt and vinegar-fried chicken skins with aïoli —The Automatic Food + Drink, Cambridge, Mass.
Tell Me a Story
Chefs are using every element of fried chicken to spin a unique flavor narrative. When done well, the inherent appeal of fried chicken is preserved while the flavor details express a chef's point of view or a brand's personality.
The Alinea Group's Roister, located in Chicago, menus Southern fried chicken that is both homey and familiar while delivering a flavor experience that articulates a singular culinary sensibility. Chicken & Chamomile is a signature dish at this New American restaurant, featuring buttermilk-fried chicken thighs and chamomile-brined chicken breasts, served with sunchoke hot sauce, sawmill gravy (sausage gravy) and chamomile flowers.
Attention to detail and whimsy give the fried chicken an original story. The thighs are deboned, brined in buttermilk and double-dredged in seasoned cornstarch, buttermilk and flour, then fried. As a final flavor flourish, the fried chicken thighs are dusted with a blend of MSG, sugar, chamomile tea, salt and pepper.
San Francisco-based Curry Up Now, a modern Indian fast casual, recently added its Tandoori Fried Chicken Sandwich, clearly offering a bold flavor narrative in line with its concept.
Served on brioche, the chicken is tandoori-marinated for 72 hours, deep-fried and topped with a "Bombay dust" aïoli. A punchy and aromatic chutney of curry leaves, pineapple and jalapeño give it a memorable finish.
A Hot Couple
With the resounding success of both Nashville hot chicken and hot honey drizzled over fried chicken and waffles, pairing fried chicken with heat has solidified as a winning combination with lots of room for flavor play. And when operators hitch that opportunity to global flavor innovation, they build a steadier track to consumer trial. Fried chicken, of course, is a comfort food king familiar to all. Heat can go anywhere, from Lebanon's piercing s'chug to Mexico's smoky pasilla chile.
At The Lazy Goat, a Mediterranean-inspired restaurant in Greenville, S.C., chef Beau Owens cleverly moves fried chicken into the Mediterranean space by employing paella seasoning (along with Old Bay), in the batter and drizzling an Aleppo honey over top. "Aleppo is about half as hot as your common red chile flakes and really enhances the flavor of the honey," he says. "It also gives a nice burgundy color to the honey while it's enhancing the flavor."
Shake Shack, based in New York, has brought back the Hot Chick'n sandwich, its popular limited-time offering that sees battered, breaded and fried chicken seasoned with a guajillo-cayenne spice blend and topped with a cherry-pepper slaw, served on a potato bun. Given the proven combo of chicken and heat, the chain has added Hot Chick'n Bites, the same chicken served in crispy pieces with a choice of ranch, barbecue or honey-mustard sauce.
Sarma, a modern Mediterranean restaurant in Somerville, Mass., claims fried chicken as its own with boneless chicken thighs that are crispy, thanks to a sesame and Nigella seed coating, then seasoned with spicy green harissa and served with a tahini rémoulade.