SPONSORED CONTENT
With the term "plant-forward" becoming more mainstream, chefs across the country are looking for ways to incorporate menu items that tap into the plant-forward movement while appealing to their customer base. One smart pathway sees chefs relying on familiar favorites, like potatoes.
"A blank canvas for bold flavors, potatoes are a hero ingredient as veggies move into the spotlight," says RJ Harvey RDN, CEC, Global Foodservice Marketing Manager with Potatoes USA. "They are a staple food in global cuisines and they can be prepared in multiple ways. Potatoes add substance and familiar comfort. They can seamlessly sub in for meat fillings in everything from tacos and tamales to dumplings and pot stickers. Versatile, satisfying and nutritious, potatoes deliver in plant-forward concepts because they provide turn key solutions for chefs who champion exciting and bold flavor profiles."
Harvey demonstrates how well potatoes play in the veg-centric space with these Rainbow Veggie Smashers. With potatoes as the base, he adds both stunning color and intriguing flavor combinations: kale and spinach; tomato and basil; red pepper and carrot; beet and dill, and butternut squash and sage. "This recipe illustrates the vast potential of potato purée outside of traditional mashed potatoes," says Harvey. "Classic but with a healthy twist, they offer a familiar and beloved dish, but with a fresh, nutritious spin. The flavor combinations are limitless, and they can become even more intriguing with wonderful toppings such as beet chips, crème fraîche, toasted walnuts and Pecorino cheese."
More Plant-Based Inspiration
We tapped Harvey for a few more ideas that showcase innovation in plant-forward menu development that tap into the power of potatoes—from familiarity and wholesomeness to the striking color served up by some of its varietals.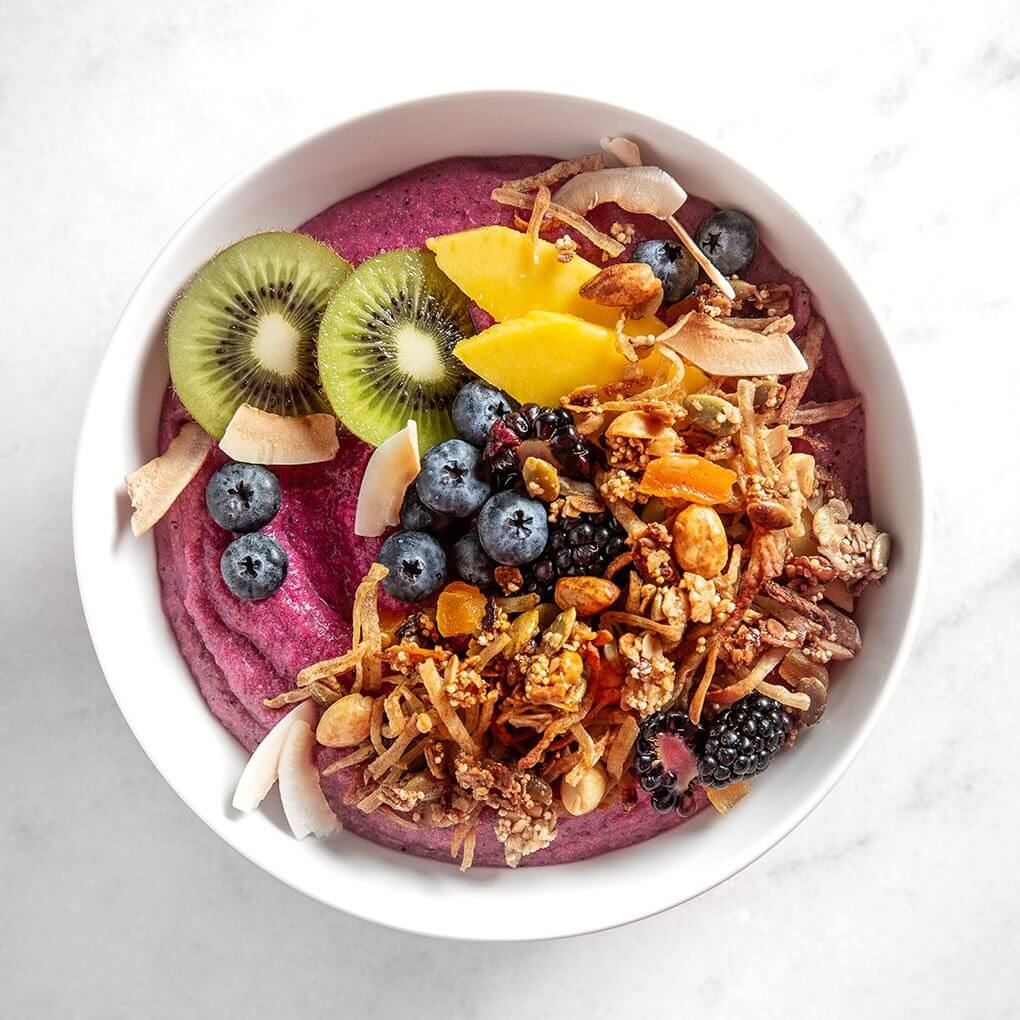 Smoothie bowls are a big hit on menus today, appealing to consumers looking for nutrient-rich. Here, dehydrated potatoes add both nutritionals (potassium, fiber, vitamin C and B6) and texture. "Dehydrated potatoes are an underutilized ingredient that have the potential to fill in textural gaps in many dishes," says Harvey. "Here, potatoes provide just the right amount of thickener so the base has a perfect consistency that isn't too soupy. Potatoes deliver this texture neutrally without tampering with the bright, sweet, clean flavor of the dragon fruit, banana and coconut milk." He adds potato granola as a creative garnish. "Dehydrated potato shreds are also a stealth ingredient in the granola that perfectly binds the other ingredients to meld the sweet and salty flavors," he says. "Use this granola in yogurt parfaits or to add a crunchy topping to muffins or breads."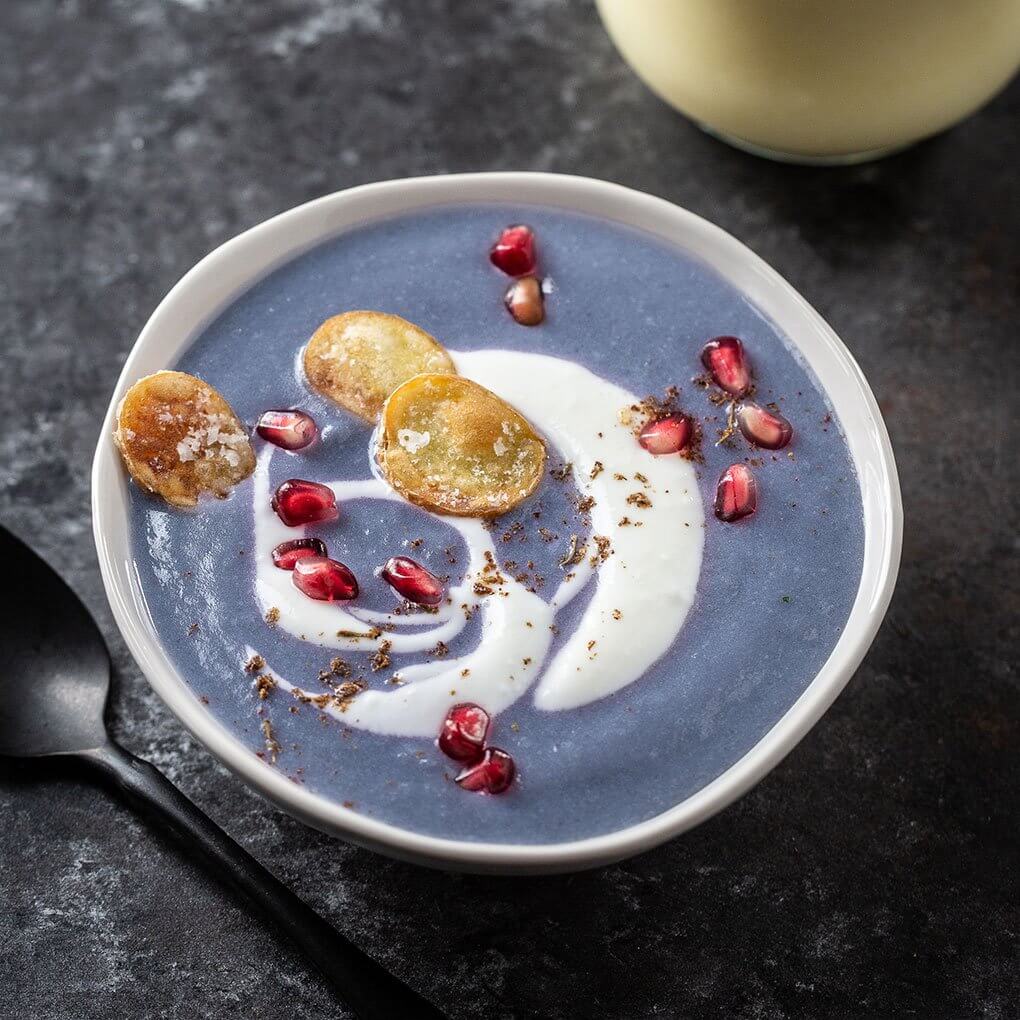 Talk about an Instagram-worthy dish. This plant-forward showstopper gets its gorgeous color from purple potatoes. "This soup highlights the earthiness of purple potatoes as well as their vibrant and stunning color," says Harvey. "Middle Eastern influences shine in this dish, including savory toasted fennel, pomegranate seeds and Greek yogurt. Fragrant and light dishes are abundant in spring, and while potato soups are traditionally made with cream, bacon and cheese, this departure focuses on aromatic vegetables and a light broth."
For more great plant-forward ideas, visit Potatoes USA.