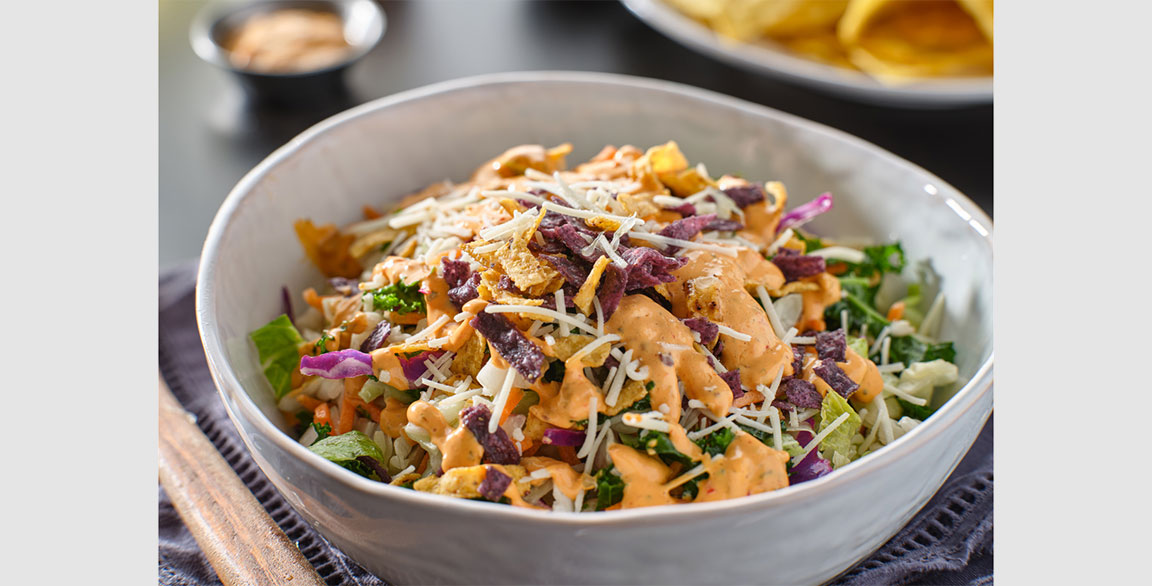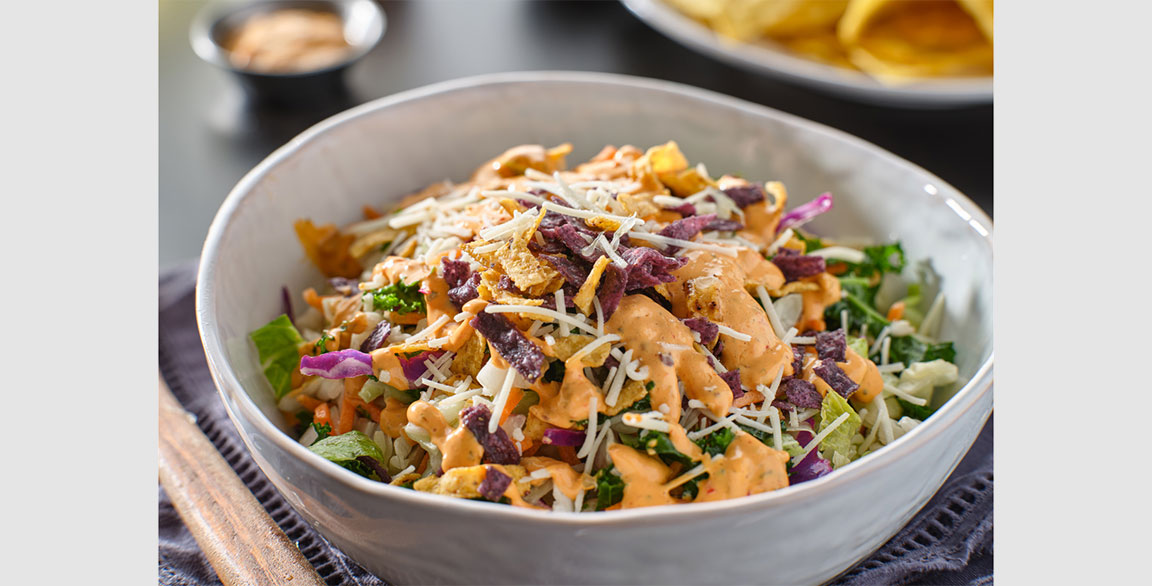 This jacked up breakfast burrito lifts a takeout staple to another level, filled with soft-scrambled egg, slices of honey-glazed sausage and laced with hot sauce.
By Rob Corliss
November 11, 2021
Flavors on the Road
Going the distance with takeout and delivery
Bowls continue to present opportunity in menu development, from a unique layering of flavor and texture to an intrinsic comforting value. They're also ideally suited for off-premise menus, neatly composed into a format that is on-the-go friendly.
Existing menu categories provide inspiration and a flavorful road map that sync up nicely with the bowl trend, giving chefs the gift of cross utilization while still serving up differentiated menu offerings. Start by deconstructing a popular item into a bowl or utilizing those ingredients for guest customization easily playing into vegan, vegetarian and meat lover preferences.
Here, we present four familiar and favorite handhelds that are ripe for parlaying ingredients into a bowl:
1

SANDWICHES BECOME…

Use lettuce as the bowl base, prepare meats with new cuts, present vegetables charred, use cheese in indulgent preparations, create a dressing from any condiments and turn bread into creative croutons.
Try this:
Spicy Turkey Melt Bowl: Top spring mix with slices of smoked turkey, chunks of bacon, creamy avocado wedges, chopped tomato and pepper Jack cheese baguette toasts; drizzle with jalapeño ranch dressing and garnish with chile-dusted baguette toasts
2

BURRITOS BECOME…

Use unique rice, grains and beans as the featured bowl base, leverage attention grabbing meats/seafood or vegetables, use cheese as a flavor accent, use any sauce or salsa as a dressing and tuck folded warmed tortillas into the bowl, or prepare the soft tortillas as a bowl topper of crispy fried strips.
Try this:
Charro Steak Burrito Bowl: Spanish cauliflower rice and charro beans topped with grilled sliced carne asada, grated cheddar/Jack cheese, charred poblano relish and crunchy tortilla strips
3

TACOS BECOME…

Use beans, lettuce and slaws as the bowl base, creatively season meats/seafood and vegetables, go bold with cheese, feature any sauce-salsa-queso as a dressing and tuck folded warmed soft tortillas into the bowl or turn those into crispy fried strips or crumble crunchy taco shells over the bowl.
Try this:
Diablo Shrimp Taco Bowl: Top a blend of shredded romaine lettuce and white cabbage tossed in creamy habanero dressing with pan-seared ancho chile-lime shrimp, pico de gallo, queso fresco crumbles and grilled tortilla wedges
4

SUSHI BECOMES…

Use rice as the bowl base, cut raw fish into slices, turn into poke or cook the raw fish, use vegetables in refreshing combinations, use any sushi seasonings to flavor bowl ingredients, turn any extras (like pickled ginger) into a garnish and transform any ancillary flavorings (like flavored soy sauce or wasabi) as part of a dressing.
Try this:
Spicy Dragon Bowl: Top steamed rice with seaweed salad, spicy tuna poke, cucumber slices and tempura crispies; all drizzled with ginger-chile sauce