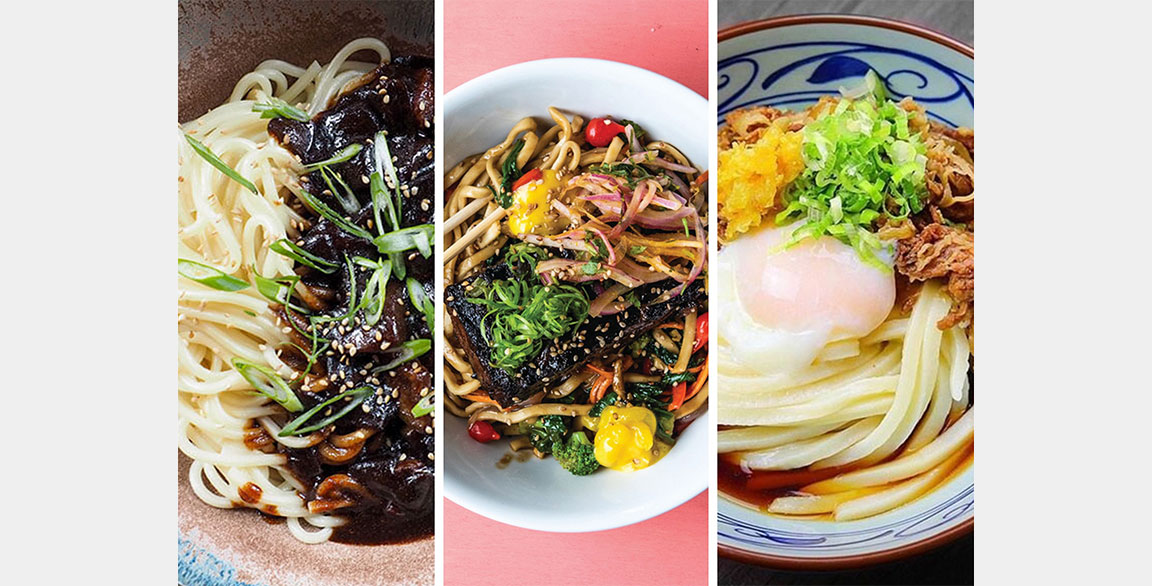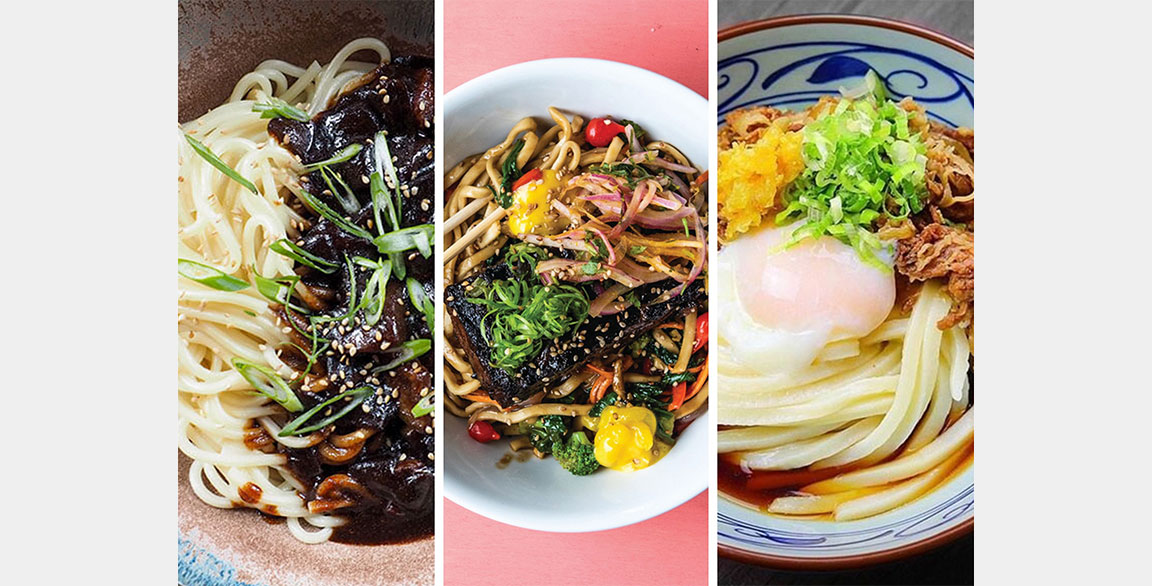 By Flavor & The Menu
November 14, 2021
Channeling global comfort is a go-to strategy for menu developers looking to offer intriguing flavors wrapped in soul-satisfying profiles. Noodles are menu workhorses in such applications, deftly carrying sauces, produce and proteins of nearly every culinary region from around the world. We highlight three chefs showcasing global-comfort preps built upon the blank canvas of comforting noodles.
KOREAN JJ NOODLES
Perilla's contribution to the global canon of signature noodle dishes is the traditional Korean JJ Noodles, built on an irresistible sauce, featuring rendered pork belly fat, along with crispy pork belly sautéed with onions, potatoes and zucchini. It's seasoned with sesame oil, soy sauce and fermented black bean paste and thickened with potato starch to ensure "stick-to-your-ribs unctuousness," says Andrew Lim, Executive Chef of this Chicago-based Korean-American concept.
"The sauce is rich, and its flavors are well rounded, with lots of umami, plus saltiness, acidity and funk." Fresh noodles are simply blanched, and the sauce is added over top with a garnish of toasted sesame seeds and fresh scallions.
The aroma alone activates the salivary glands, says Lim. "You can't wait to dive headfirst into this bowl of deliciousness. For those who grew up eating JJ Noodles, it's a dish that's nostalgic, fun to eat and leaves half your face covered in sauce."
SWEET & SPICY BRAISED SHORT RIB NOODLES
Comfort food comes from all parts of the globe, offering its universal cues of warmth and restoration while also promising a flavor-forward experience. In San Antonio, Texas, the Sweet & Spicy Braised Short Rib Noodles at Botika, a restaurant that celebrates the culinary crossroads of South American and Asia, offers up a soul-soothing signature bowl that also compels guests with its intriguing, inviting flavor play.
Geronimo Lopez, Chef/Owner, slow braises the short ribs in a flavorful liquid that stars cane sugar, allspice, Szechuan pepper and star anise. "It's got lots of fatty goodness and pungent Asian flavors that are sweet and spicy," he says. "The Asian noodles are a perfect vessel to drive all the flavors bite by bite." He adds crispy fresh vegetables for contrast and refinement. "The pickled chile peppers add pop and are both surprising and refreshing," says Lopez. "It's a simple dish—one that all kinds of palates can relate to, yet it is not your everyday treatment of either short ribs or noodles."
CURRY NIKUTAMA UDON
A lively, theatrical exhibition kitchen is the centerpiece of Marugame Udon, as noodle masters demonstrate the art of their ancient craft in view of diners. While this hook has been successful in helping the Japan-based concept to grow its U.S. presence (with locations in California, Hawaii and Texas), the culinary team stays focused on leveraging the full pantry of Japanese ingredients and techniques.
The Curry Nikutama Udon stars handmade udon noodles topped with two traditional Japanese curries, along with seasoned sweet beef, caramelized onions, a soft-poached egg, tempura flakes and green onions. "Japanese curries are a rich combination of a spice blend and smooth fruit notes," says Akinobu "Aki" Matsuo, Director of Culinary and Master Noodle Maker. "The combination of flavors in each bite—sweet, savory, spicy, chewy—is perfectly satisfying," he says. "There is no need to supplement with other seasonings or enhancements."
The Curry Nikutama is consistently one of the top two best-selling items. "It's a great entry into the unfamiliar—and a great 'best of' for those well versed in Japanese curries and udon," says Matsuo.