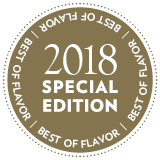 The mark of a modern steakhouse is in its detail-oriented attention to creative flavor building, offering more than simply grilled steaks, chops and seafood. At Michael Jordan's Steak House, the Miso-Chile-Glazed Charred Sea Scallops dish showcases that careful attention to flavor detail.
For this new offering, Executive Chef Craig Couper uses East Coast sea scallops that are dry-packed. "These scallops are unprocessed and simply shucked from their shells, then packed and sent to us from our seafood partner," he says. "We love them for their large size and sweet flavor."
Prepared simply, the scallops are seared on one side on a cast-iron flat top, then brushed with a miso-chile glaze—a mixture of white miso paste, yuzu juice and gochujang. The scallops are then put under a broiler and allowed to char slightly.
"The glaze's combination of floral acidity from the yuzu, salinity and umami from the miso paste, and heat and umami from the fermented chile paste is magical," says Couper. "When paired with the smoky-sweet flavor of the scallops, the sum of the glaze's flavor is greater than the individual ingredients alone."
He says that although the scallops are not a typical steakhouse specialty, they're already "a booming favorite among our local and international sea-foodies."