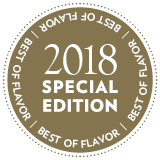 As Japanese flavors become more ubiquitous, chefs have room to reinterpret the classics. That's what Executive Chef Patrick McKee does with the Mushroom Dashi at the global neighborhood eatery SouthFork.
"It's my unique take on a traditional dish that has maintained such popularity that I haven't taken it off the menu since it was put on," says McKee.
A thoughtful build that changes by the season makes this updated classic a standout.Dried shiitake mushrooms are soaked in cold water overnight, then strained. The leftover water is heated with kombu, for earthiness and savoriness, then strained again.
Sake, shoyu, mirin, rice-wine vinegar and Shaoxing rice wine are added to the broth. "This combination helps heighten the level of flavor with saltiness from the shoyu and the brightness from the rice-wine vinegar and Shaoxing," says McKee.
Vegetables, oyster mushrooms, seaweed, miso butter and smoked tofu contribute substance to the broth. Says McKee, "The element of smoked tofu gives it an almost meaty flavor, making it popular with vegetarians and non-vegetarians alike."
In warmer months, McKee offers a different take on the dashi, adding seared spot prawns and using tomato water steeped with the bone broth, lending extra smokiness. The bright red broth also looks enticing against the green seaweed and white tofu in this version.
"Dashi will always be on the menu here in some fashion," says McKee. "It has become a signature item."