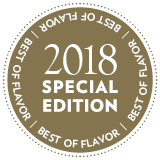 With a name like Farmer Boys, this quick-serve chain evokes both farm-fresh ingredients and food for hearty appetites. The Southwest Chicken Salad delivers that in one big bowl.
This is not a timid salad. It's loaded with flame-grilled chicken breast, fire-roasted corn, black beans, California cheddar, avocado, housemade salsa and crunchy tortilla strips—all atop crisp iceberg and green leaf lettuce, served with a chile-ranch dressing.
"Our guests are surprised by the overall size, quality and quantity of key ingredients, and great taste," says Chief Marketing Officer Larry Rusinko. "Where else can you get a salad with half a Hass avocado and 5 ounces of flame-grilled, all-natural chicken breast?"
Guests consistently cite the fusion of black beans, creamy avocado and spice from the dressing as reasons they come back for the salad. "While the lettuce is plentiful, it's the mounds of craveable ingredients that really delights our guests," says Rusinko.
The Southwest Chicken Salad is also available as a Southwest Chicken Wrap, with the same ingredients rolled into a flour tortilla.