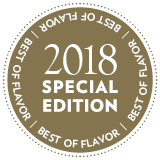 Indian mash-ups are trending, as diners respond favorably to Indian flavors packaged in more familiar formats, like the Tikka Masala Burrito from the fast-casual chain Curry Up Now. The burrito is the chain's top seller and most diners' entry point to Curry Up Now's innovative approach to Indian cuisine.
Creamy chicken (or paneer) tikka masala fills about a third of the 1.5-lb. burrito, along with fenugreek- and turmeric-scented rice, chana garbanzo masala and crunchy yellow onions.
"Like all of our dishes, the burrito is spice-forward," says Co-owner Akash Kapoor, who develops the menu. "Spice doesn't mean chile-hot spicy, but rather an explosion of well-balanced spices like coriander, cinnamon, cumin, turmeric, fennel, ginger, paprika, cayenne, and a few other secret spices that we don't talk about."
These spices combine to give the burrito expertly balanced flavor notes. All of the ingredients are distributed evenly in the tortilla, which means there's consistency in every bite, with careful attention paid to tightly packing the burrito so that it remains portable and mess-free.
With the easily customizable burrito, Curry Up Now customers can add "Sexy Fries" (an Indian take on poutine), top their burritos with cheese for an enchilada variation, or order it fried for a more indulgent take.