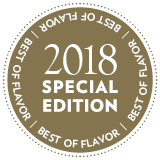 Smoke has made big menu moves over the years, pushing beyond meats and fish to cocktails and desserts. Here, it finds its ideal flavor carrier in these savory and umami-rich Campfire Potatoes.
Fingerling potatoes and shiitake mushrooms are tossed with duck fat, dark soy sauce, applewood smoked sea salt and cane sugar. The mixture is smoked over maplewood chips to give it a rich and bold flavor, then oven roasted until cooked through.
"The flavor profile is complex with a smoky, subtle sweetness from the maplewood, finished with an umami burst imparted by the shiitake mushrooms and dark soy sauce," says RJ Harvey, RDN, CEC, Global Foodservice Marketing Manager for Potatoes USA.
While the dish could easily become veg-friendly by switching out the duck fat with a plant-based oil, Harvey also notes its versatility.
"Take this craveable side to the center of the plate by nestling smoky sausage or chicken pieces into the potatoes. It would even benefit from adding roasted peppers or topping it with eggs for brunch."