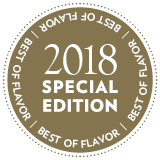 Brides and grooms seek perfection on their special day, and it is Executive Chef Randy Reed's job to ensure that his menu at the InterContinental delivers.
One of the most popular choices for wedding receptions held at this elegant venue is his Braised Short Rib, topped with candied pork belly and finished with a Mission fig reduction.
"We marinate the short ribs with red wine, bouquet garni, mirepoix and beef stock a couple hours prior to cooking," says Reed. "We braise them at a low temperature for around six hours until they are fork tender. The pork belly's maple glaze adds a savory crunch, and the dish is finished with a Mission fig reduction that pulls in the deep, rich flavor of the figs blended in with the braising liquid from the short ribs."
Rich, tender and hearty, the Braised Short Rib "satisfies any picky bride or groom," he says.