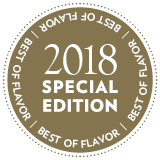 Creating a signature sandwich is no small feat. Doing so for customers at 35,000 feet is an exponentially greater challenge.
Christian Hallowell, gategroup's Customer Dedicated Executive Chef for Delta, worked with the Delta Air Lines menu development team on the recent launch of a Signature Short Rib and Pickled Caramelized Onion Grilled Cheese Sandwich for select routes in North America.
"It all starts with super premium ingredients brought together from all over the country," says Hallowell, listing Vidalia onions from Georgia, dry Monterey Jack cheese from Sonoma, Calif., slow-cooked sous-vide short rib from Chicago and sourdough bread from Atlanta.
Thick-cut Pullman-style sourdough bread is slathered with butter and griddled until golden, and the sandwich is then assembled for reheating on the aircraft. A spread of Duke's Mayonnaise and slice of cheese start the build, then the slow-cooked sous-vide short rib, sliced thin, is added, and topped with pickled caramelized onions. Another thick slice of cheese completes the sandwich.
"This build works really well in the airline catering environment because of the maximum flavor and textures it delivers: The rich nutty flavor of the cheese and the unctuous short rib build layers of flavor while the onions and sourdough bread balance out the richness," Hallowell says.
"There are many challenges with delivering flavor at altitude, but this one works really well. Chef Peter Kagi, who runs our test kitchen in Atlanta, is always working hard to improve the quality of what we create and makes sure our kitchens can execute it."