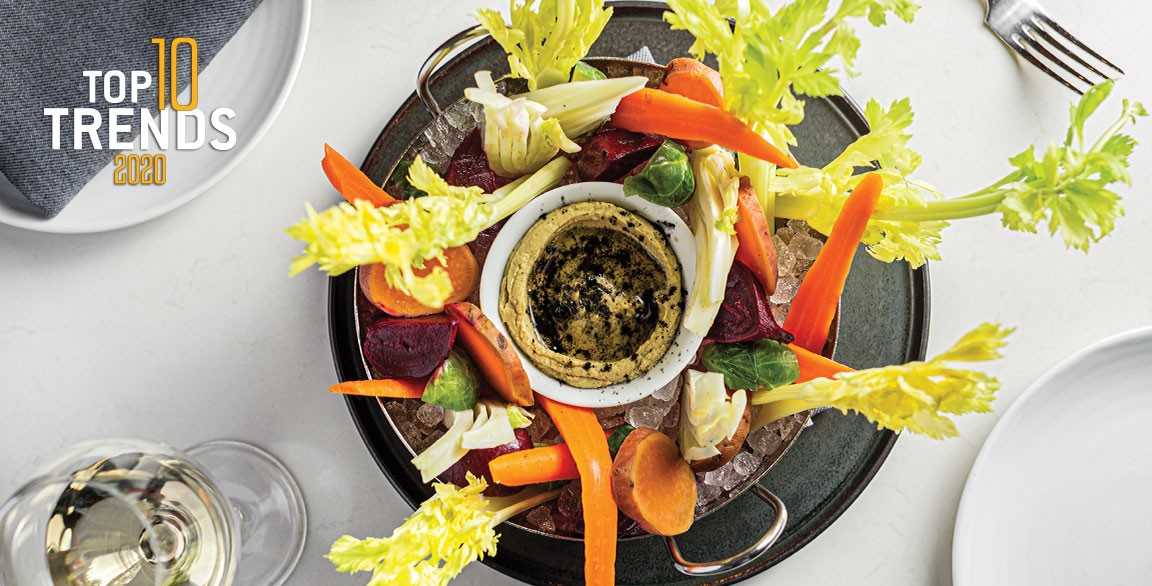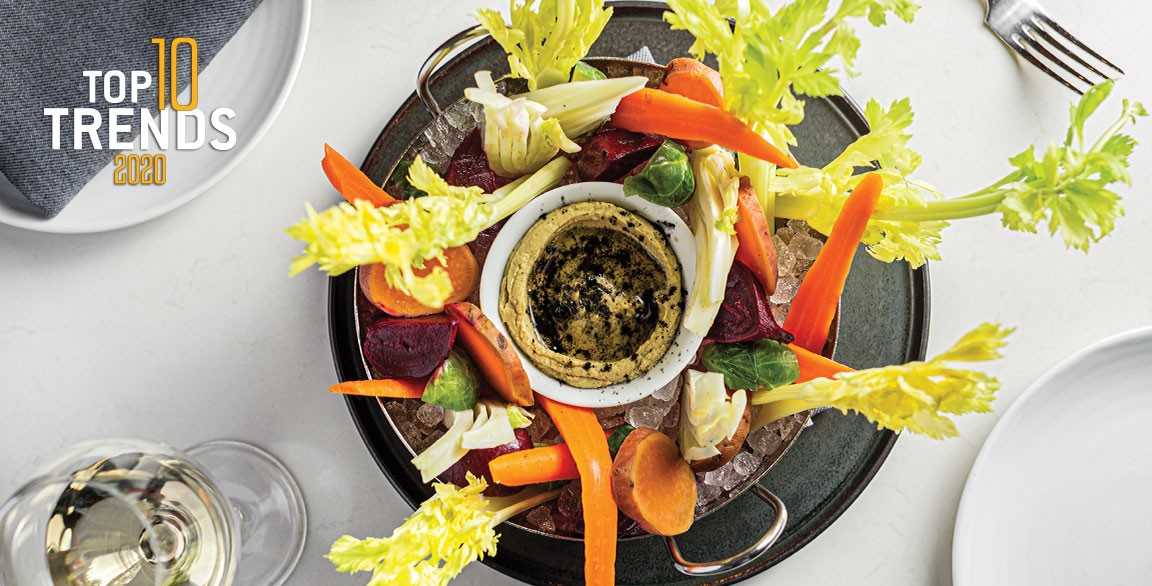 Fermentation is becoming a more prominent flavor development strategy. As consumers become more aware of its gut-health and immunity-boosting benefits, menu developers are taking a closer look at how to put fermentation to work in a foodservice setting.
One of the sparks igniting excitement around the culinary possibilities is the recent release of The Noma Guide to Fermentation (Artisan, 2018), by René Redzepi and David Zilber. Their wildly creative uses of ingredients like koji, lacto-ferments, misos, vinegars and kombuchas have propelled a number of chefs to examine the role fermented foods can play in optimizing their brands' objectives around flavor building, sustainability, food waste reduction and kitchen efficiency.
From a culinary perspective, today's new age of fermentation offers an exciting opportunity to unlock new flavors, transforming ingredients in wonderful ways.
Pickling and preserving, two other ancient forms of extending the lifespan of foodstuffs while fundamentally changing their flavors and textures, have found staying power on modern menus through flavor impact and artisan appeal. On the fermentation front, kombucha and kimchi have served as primary ambassadors, nobly representing functionality and intriguing flavor, while softening the ground for further forays into the realm. Of course, the gamut of fermented ingredients already in the arsenal of American cookery is significant—from soy sauce and sauerkraut to yogurt and leavened bread. Today's opportunity sees chefs tethering fermentation to new ideas and building unexpected flavors in familiar places.
"This kind of fermentation practice, where chefs are introducing the umami-rich elements in unforeseen ways, is incredibly compelling," says Michael Parlapiano, strategy director with The Culinary Edge. He points to the menu at Onda, a modern Mexican restaurant in Los Angeles, as an example. Its Chips and Dips are served with black beans, fermented chile guacamole, housemade crema and papalo (a Mexican herb) oil, and salsa tatemada (charred salsa).
A snack of Corn Nuts, featuring Purépecha corn, are seasoned with lacto-fermented jalapeño-sauerkraut salt. "This is a cuisine that's not usually associated with fermentation, but it's exciting and it works," he says.
In a broader scope, fermentation opens the doors to an expanse of global pantries, inviting new mash-ups and exciting flavor combinations.
Innovation is also streaming in here through a new breed of restaurant concepts that embrace fermentation as a core tenet of their flavor development. In Portland, Ore., Fermenter is a plant-based luncheonette and fermentary with offerings like Barley Meatloaf, a barley-fermented oats "meatloaf" with sauerkraut, melted onions, housemade catsup and "mayo."
Korean-inspired Baroo in Southern California recently opened, featuring a fermentation-focused menu of toasts and bowls. Chef Kwang Uh, a native of Seoul, punctuates builds with fermented ingredients that promise both intrigue and craveability. The Karma Circulation Bowl, for instance, tops Koda Farms Kokuho Rose rice with organic Korean fried chicken, blistered kimchi corn salsa, shiso-jalapeño coulis, gochujang Kewpie, sumac and greens.
"For me, fermentation always equals assertive flavor profiles," says Chris Koetke, chef/founder of Complete Culinary. "This fits perfectly, along with the focus on food waste and locally produced food. It also has the opportunity to cut across many different culinary cultures and borrow a bit from several to create new dishes with new flavor profiles."
UNLOCKING FLAVOR
That flavor-forward positioning of the fermented flavor spectrum includes savory, funky, sour, tangy and aromatic. "Fermentation is a tool that chefs are using to bring new experiences to their guests," says Jeremy Umansky, chef/co-owner of Larder, a modern-day version of an Old World deli in Cleveland.
He is also co-author of Koji Alchemy: Rediscovering the Magic of Mold-Based Fermentation (Chelsea Green, 2020), due out this year. "Through fermentation, we create nuance in food with underlying umami and several layers of acidity that our tongue will pick up in different places," he says. "The aromas present in fermented foods help with creating a deeper sensory experience."
Fermentation can transform flavor in familiar dishes, making them leave a deeper impression. WoodWind, a modern American restaurant in Chicago, serves Fermented Hummus with fermented chickpeas, vegetable ash and an assortment of pickled and raw vegetables.
"We wanted to take a different approach to the traditional lemon and chickpea combination," says Don Young, executive chef. "The fermenting process brought out the umami and tanginess we desired."
A sloppy joe gets unexpected complexity at Belly of the Beast in Northampton, Mass. Its Spicy Beef Sloppy Joe features spiced, grass-fed ground beef and coleslaw with fermented collard stems on ciabatta.
Chiles bring more than heat when fermented, as gochujang and Sriracha have demonstrated. At Olympia Provisions in Portland, Ore., a roast chicken dish gets nuances of heat, acid and umami from fermented chile salsa verde.
House-fermented Calabrese chile brings an intensified flavor of salt, fruit and smoke to a straightforward dish of Sautéed Baby Broccoli at Deli at Little Dom's in Los Angeles.
Acids from vinegars and citrus juices, once fermented, open up different dimensions, offering echoes of savoriness and funk that don't necessarily overwhelm. Instead, they amplify.
Wild fennel vinegar splashed over mackerel at Masseria in Washington, D.C. brightens and deepens a seafood dish while reaffirming its Italian sensibility.
Grated fermented peach sprinkled atop Aged Fish Collar with persimmon sabayon and foie gras offers a unique salt and vinegar profile at Bardea Food & Drink in Wilmington, Del. "I love fermentation because it brings forward complex flavors and aromas from otherwise simple ingredients and it connects us to the foodways of ancient cultures," says Antimo DiMeo, executive chef.
Those connections between past and present made through flavor-forward food are valuable. "Fermentation affords operators a way to tout a natural process and introduce bold cues that provide depth and contrast to simpler flavors," says Rob Corliss, founder of All Things Epicurean (ATE). "Much like classics are appreciated for their tried and true attributes, historical food preparations like fermentation pique our interest and can drive culinary innovation."
CONSUMER READINESS
Although kimchi may still be a bridge too far for some diners, that shouldn't block the pathway to further exploration of fermentation. Data indicates that not only is it more common on menus today, its prominence is expected to go up. More importantly, younger diners are showing an affinity for fermented ingredients.
According to Datassential, kimchi menu mentions have grown 43 percent in the last four years. Kombucha is up a whopping 387 percent. The term "fermented" is recognized by 71 percent, with Millennials, Gen X and Asian consumers more likely to love fermented items.
A huge driver in fermented foods' newfound celebrity is growing consumer awareness of the health benefits granted by fermented ingredients, including boosts in digestion, heart health and immunity. "The topic of gut health has long dominated conversation in science and nutrition communities, but only recently has it become trendy to mainstream consumers, which in large part is driven by today's focus on functional health," explains
Linh Aven, executive chef, B.Good. "From a consumer perspective, fermented foods are an easy way to feel good about what you're putting in your body."
That functional advantage only takes an ingredient so far. Flavor brings it home. The flavor impact of fermented foods is starting to move the needle with consumer expectation. "There's an element of balance that you get through fermentation, so diners might not know that the component on the sandwich taking it to the next level is fermented, but they know that they prefer that version," says Claire Conaghan, product excellence group manager with Datassential. "That implies more room for innovation within fermentation."
Approachability is key, even in the brave new world of fermentation play. Larder's Umanksy understands that making fermentation accessible requires finesse. "We're now two generations removed from when fermentation was being used at home, back when refrigeration wasn't in every home, or it was a novelty called the 'icebox,'" he says. "But now kombucha and kimchi are in our pop culture, so people are afraid to ask about it because they feel like they should know. They're intimidated by the idea of fermentation."
To make Larder's customers more at ease, the staff uses the term "pickled" a lot. "Then if they ask, we explain it," he says. "We give them associative nostalgia, talking to them about grandparents who had a tub of sauerkraut in the basement or a ham hanging from a hook in the attic. That nostalgic reference takes away the intimidation. These are infinitely complex foods, but not everyone is a scientist. Most people just want to eat good food."
According to a lot of his patrons, Larder serves up good deli food, with the pastrami getting particularly high marks. His innovative method in fermenting pastrami uses koji, a Japanese mold seen in ingredients like soy sauce and sake. By using it here, he speeds up the brine time from the traditional three weeks to three days. Apart from the cool science and efficiency behind it, his fermentation method yields a stand-out pastrami.
Gabriel Caliendo, VP of R&D, Lazy Dog Restaurants, is working with koji, mostly using it as a marinade with pork and chicken. "I might use koji and just not broadcast it because it's still unfamiliar to so many consumers," he says. "But restaurants are definitely picking up the pickling ball and moving it down the field into fermenting. It gives us a big area to play in. Fermentation is the new umami."