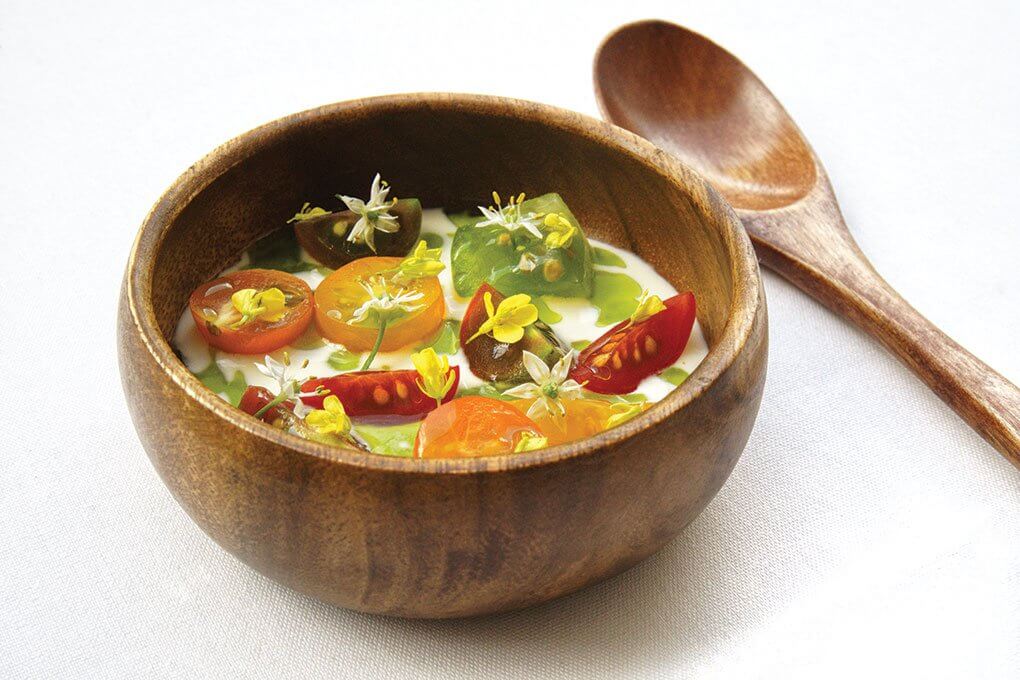 Celebrating seasonal produce is nothing new, but the inventive restaurant Blackbird doesn't just highlight tomatoes on its summer menu. It exalts them through meticulous attention to technique while ultimately reminding guests of the simple pleasure of eating a perfect tomato.
For the Tomatoes en Gelée, Chef de Cuisine Ryan Pfeiffer starts by sourcing pristine tomatoes from nearby farms. He blends half of the tomatoes with a touch of salt, then strains them overnight through a coffee filter, yielding a clear tomato water.
He flavors that tomato water with yuzu juice and sets it with gelatin in a wooden bowl. The "tomato jelly" is then topped with fresh slices of tomato and a sprinkle of sea salt. House-cultured cream, pistachio oil and a sprinkling of allium flowers finish the dish.
"The flavors of the dish are very fresh and mildly acidic," says Pfeiffer. "We wanted to showcase the quality of product we are getting from the farm in the peak of the season. We serve it in a wooden bowl with a wooden spoon because wood has a softer touch on the mouth and on the eyes," he says. "It makes for a seamless introduction into the menu."