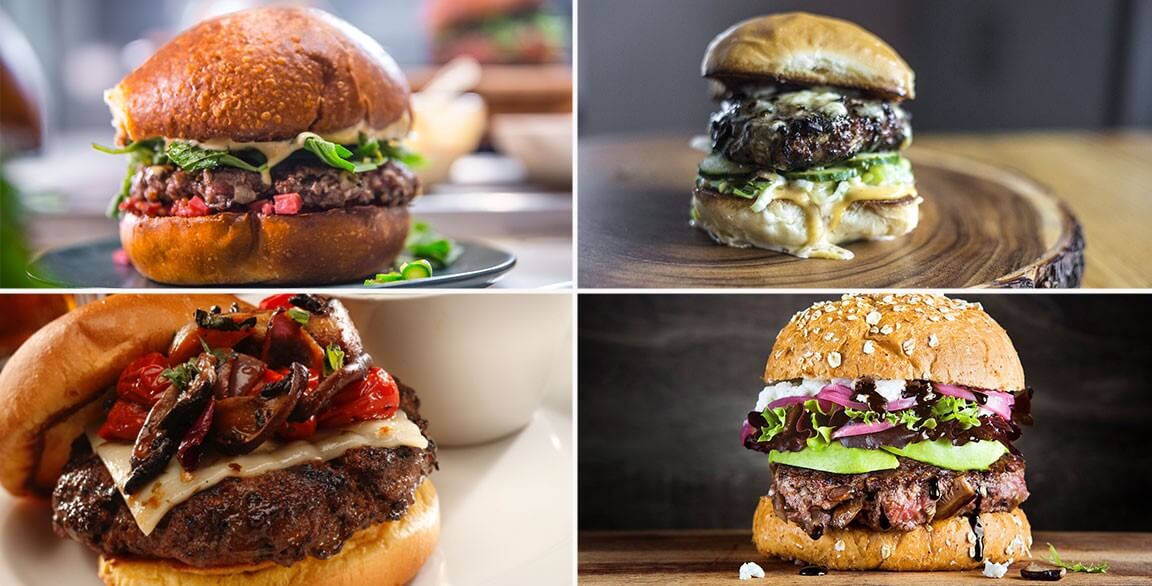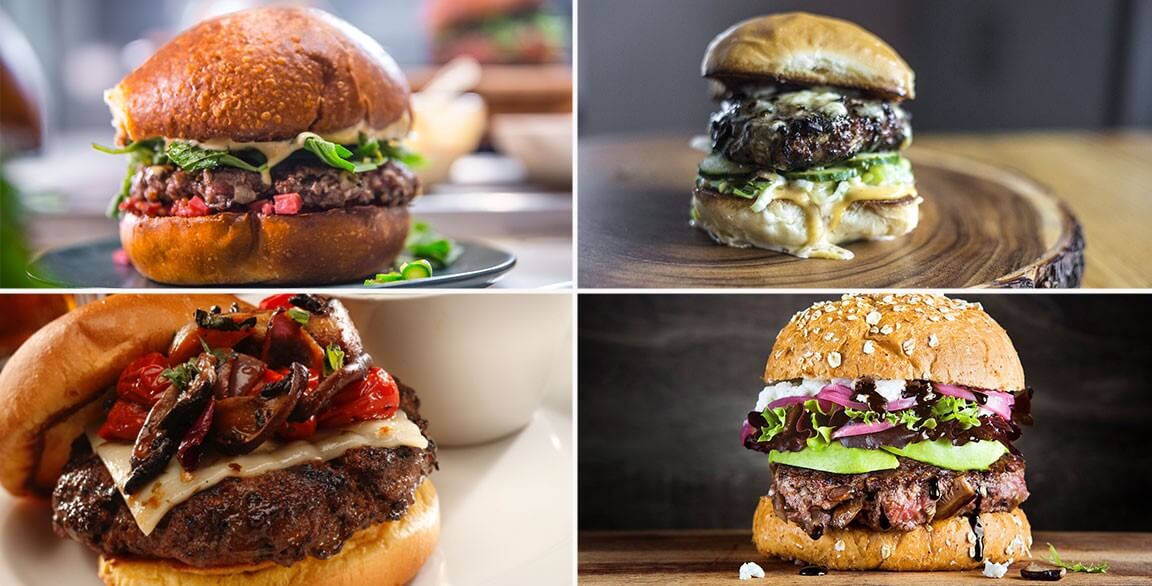 Chefs across the country evangelize the power of The Blend,™ the plant forward culinary technique of combining finely chopped fresh mushrooms with ground meat for burgers (and other dishes) that are more nutritious, delicious and sustainable. Now, the Mushroom Council, in its new collaboration with Food Network, invites culinary professionals nationwide to enter their most creative meat and mushroom blended burger recipes at FoodNetwork.com/blendedburgercontest.
The winner will receive a grand prize of $10,000. In addition, the winning recipe will be showcased within the pages of a fall 2021 issue of Food Network Magazine. The only requirements are a great recipe, a photograph and a brief description.
THE BLEND'S COMPETIVIVE ADVANTAGE:
FLAVOR & FUNCTION
The Blend was created by The Culinary Institute of America Healthy Menus R&D Collaborative (HMC) in conjunction with the Mushroom Council in 2011. "We are all about finding tasty solutions for changing appetites," says Pam Smith, RDN, the Co-Chair of HMC and an Orlando, Fla.-based menu developer and culinary consultant. "With The Blend, we were looking for a way to reduce calories and saturated fat while still delivering on an iconic American food—the burger."
HMC members, along with Mushroom Council representatives, landed on a burger that replaces a quarter to a third of its meat with finely chopped fresh mushrooms. "Flavor is the beginning and the end—The Blend simply gives you the best burger," says Smith. Umami-rich mushrooms reinforce the meat's umami. They also act as incredible flavor carriers, inviting bold, modern innovation that today's diners look for. "Umami isn't just the fifth taste," she says. "It brings out other flavors, amplifying smokiness, acidity, and so on."
While The Blend was developed in conjunction with the CIA, the James Beard Foundation helped popularize this menu strategy with five years of The Blended Burger Project, in which hundreds of chefs menued their own creative takes on The Blend.
Innovation around The Blend is especially timely for menu development today, given mushrooms' functional role in supporting a healthy immune system and overall health, providing more than 12 vitamins and minerals, as well as the antioxidants selenium and ergothioneine.
The mushroom addition also lends practical functionality to the burger. "Mushrooms are like sponges so they help make a burger incredibly juicy. The blended burger is a dream for takeout and delivery menus because it holds its moisture so you don't get a soggy bun," she says.
FORM AND FOOTPRINT:
BUILDING A WINNING BURGER
Just as we've seen with burgers, innovative takes on Blended burgers are aplenty. "Give the Blended burger an identity—what's the brand story? Make it seasonal, global or regional," she says. "These decisions impact the protein and the mushroom choice. So if you're building a modern Asian-inspired burger, pull in global pantry items and feature a star cultivated mushroom. "Build out that vision with something like a Gojuchang-Glazed Pork and Roasted Shiitake Blended Burger on a Bao Bun with Pickled Carrots, Onion, Shiitakes, Napa Cabbage, Jalapeños and Scallion Slaw, with a Peanut-Miso 'Mayo-Li,'" says Smith.
"If you develop a Tuscan-style burger with pesto, you might lean toward a combination of portabella or crimini with white button mushrooms in the grind," says Smith. "For a modern Japanese blended burger, it could be ahi tuna with shiitake or maitake mushrooms, along with the buttons." She points to grass-fed beef and turkey as good partners here, too. "The mushrooms enable you to use lean meats because they are so delectable and juicy," says Smith.
Creative play with form makes The Blend a versatile menu item, fitting into any operation's repertoire nicely—including plant-based recipe development. HMC demonstrates how the mushroom grind can enhance the flavor and texture of plant-based burgers with recent development work, including the Smoky Shiitake "Possible" Burger, which sees a blend of roasted mushrooms, farro and chickpeas, and is topped with melted Gruyère, sun-dried tomato jam, caramelized onions, romaine and smokey Dijonnaise, served on toasted brioche.
Mushrooms deliver a sound sustainability story so featuring The Blend taps into that narrative. "Mushrooms are considered one of the most sustainably produced foods in the United States," says Smith. Grown in composted materials without sunlight, a pound of mushrooms requires only 1.8 gallons of water and 1.0 kilowatt hours of energy, and generates only .7 pounds of CO2 equivalent emissions. In addition, the annual average yield of mushrooms is 7.1 pounds per square foot, which means that up to 1 million pounds of mushrooms can be produced on just one acre.
Bringing all of those elements together—flavor, function, form and footprint—make The Blend a particularly appealing application for today's menu. "The opportunity to create a winning burger is huge," she says.
To enter for a chance to win $10K, visit FoodNetwork.com/blendedburgercontest.
For usage ideas and resources, visit the Mushroom Council.