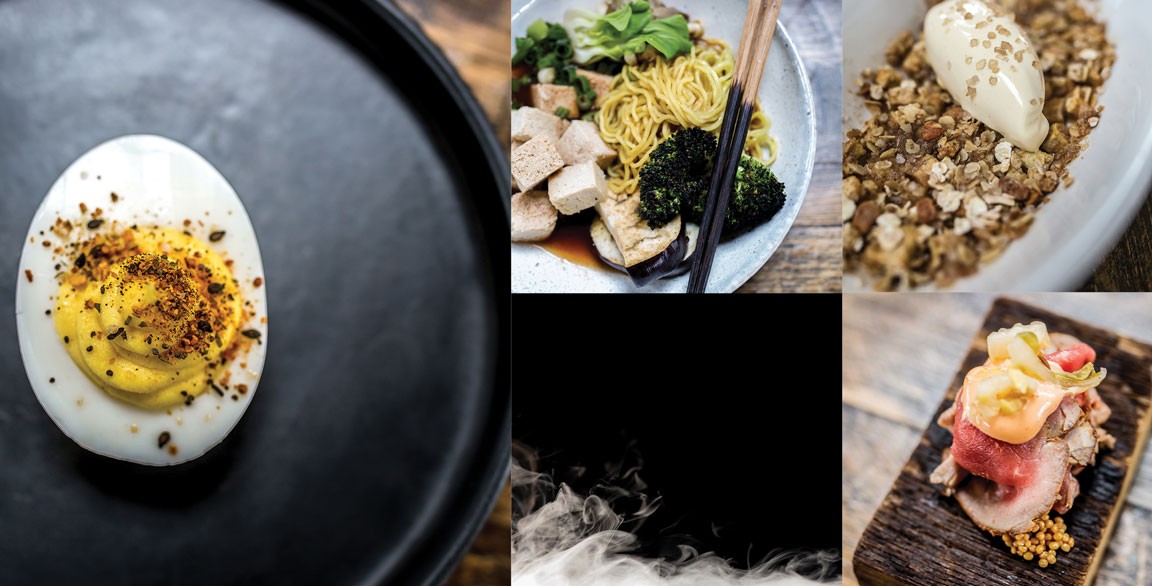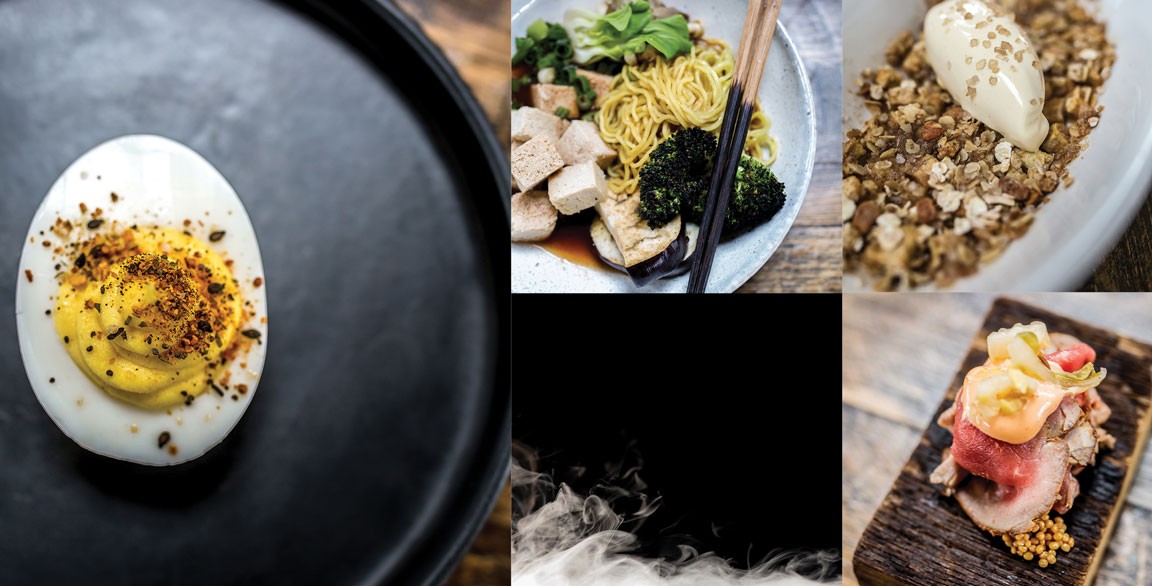 Chefs today are exploring smoke's potential and pushing the boundaries on how it's used. As a subtle component, it helps build craveability. "I love using smoke as a wisp of a mystery," says Andrew Hunter, a culinary consultant based in Los Angeles. "I want the diner to say, 'Gosh, why is this so delicious? What's going on with this dish?' An understated use of smoke can help achieve that." It can also punctuate a dish or a drink as a high-impact ingredient, a handy tool when searching for contrast, pizzazz or entertainment value.
Thomas Chen, chef of New York's Tuome, is playing with smoked butter, looking to it as a way to develop deeper flavor in veg-centric dishes. Katie Sutton, a chef consultant based in Orange County, Calif., waxes poetic about hay-smoked chawanmushi, describing it as sweet and soft, building on the smokiness of the dashi that is inherent in the savory egg custard. "I use smoke on smoke as a way to develop subtle flavor combinations, not as a way to create bold flavors," she says.
Edward Lee, chef/owner of multiple restaurants, including 610 Magnolia in Louisville, Ky., develops unique flavors in ice cream by smoking the milk then adding smoked Demerara sugar when building the recipe. "When I use smoke, it's with a nuanced approach that brings out its gentle edges and a flavor that's hard to pinpoint, but tastes amazing," he says. "Smoke has had this stigma that it was only for burly, hairy men who liked heavily smoked, burnt food—all as a testament to their masculinity. That is changing. There's an elegance to smoking and there's technique behind it that makes it pleasant and makes your cooking more complex. The next wave of what we're seeing with smoked foods is softer, more nuanced." That energized culinary drive, coupled with a more modern sensibility, make smoke a flavor strategy with broad menu appeal.
Leading-edge chefs are applying smoke to butter, hummus, guacamole, plums, potatoes and eggs; the list goes on. They're exploring the degrees of smoke's flavor and finding new ways to draw it out or tamp it down. Smoke is drifting into the forefront of menu strategy—just as we've seen with umami.
Interestingly, the deeper dive into umami has mostly been led by global flavor discovery. Smoke, on the other hand, is a very American concept. "This generation of chefs is embracing our country's culinary traditions. Although we love European cuisine and our European training, we're going to explore smoke more and bring it up to a higher level," says Lee.
THE ALLURE OF SMOKE
Although chefs are evolving their approach to smoke, they have been leveraging its ethereal aroma and seeking out different sources for hundreds of years. And diners have always been drawn to smoke like moths to a flame. Why? The fascination with smoke runs deeper than flavor and aroma, though both of those are compelling enough. It's primal. Smoke triggers our personal memories and echoes through our ancestral chambers in ways that are stirring and visceral. Throughout time, smoke signals celebration: Feasts over communal pits, gatherings around backyard barbecues.
There is also poetry in smoke. On the culinary side, there's lyricism in producing it, taming it and showcasing it. From a diner's perspective, there is poetry in motion and there is expression in the language around smoke and food. It can evoke a strong sense of leather and campfire and boldness. Smoke can also project romance, elegance or sultriness. That's a pretty wide range for a single word. It makes the mindfulness in using smoke all the more important. Mesquite-smoked brisket? Bold. Smoked chocolate? Sublime.
With smoke wielding that kind of power and carrying such gravitas, it offers unique opportunity. Craveability is always the goal, but smoke's deeper emotional resonance can help create a more meaningful guest experience. With the intention of leaving an impression on the diner, smoke lends an advantage by tapping into memory and building on it.
SMOKE & MIRRORS
Not every operation can bring in smokers. Here are several other ways to infuse smoke into foods:
1. Burn wood chips then add them to chicken stock 2. Roast chicken bones longer than usual for chicken stock 3. Season food with smoked salt 4. Finish dishes with a drizzle of smoked olive oil 5. Bake or garnish with smoked brown sugar 6. Baste fish, steak or vegetables with smoked butter 7. Use smoked chiles like chipotle or ancho to infuse smoky flavor into sauces, marinades and seasonings
SMOKE AND PLANT-FORWARD
The most wonderful aspect of the plant-forward movement is the strides made in flavor development. Chefs have applied aggressive cooking techniques to legumes and produce, making vegetables like Brussels sprouts and carrots a revelation. Smoke has played a significant role here. In fact, today's opportunity with smoke, to a large degree, has been opened up by chefs looking to coax out flavor in plant-forward dishes. As they've tinkered with smoke, they've succeeded in using it to make produce the star. By doing so, they've opened up the flavor definition of smoke for the consumer, shifting the expectation of the experience.
"Smoke gives vegetables an umami sensation that's hard to beat," says Hunter. "Chefs who are successful with smoke in plant-based applications are often employing the same techniques that they'd use with meat, like a plank of butternut squash, for instance, smoked over some kind of wood. That gives it the smoky flavor we expect in a steak." Nobody Told Me, a modern American bar in New York, follows a similar strategy with its Barbecue Cabbage, roasting a whole green cabbage in smoked butter then griddling it and topping it with pickled yogurt, kale chips and barbecue spices.
Maeve Webster, president of Menu Matters, a foodservice consultancy based in Arlington, Vt., points to smoke's crave factor as another reason to use it in veg-centric applications. "Manufacturers of plant-based meat substitutes were really smart about product development," she says. "They identified craveable elements in meat and used them when creating their plant-based products. Smoke is inherently one of those elements."
The type of wood used for the smoke also helps develop the flavor story in plant-forward builds. Jared Wentworth, executive chef of The Bar, an upscale bar concept at Chicago's Moody Tongue, serves Smoked Beet Tartare. He cold smokes tender salt-roasted beets, then combines them with a smoked beet purée, grain mustard, capers and shallots. The beets are topped with spruce-infused ricotta, egg yolk jam and birch syrup. "We use fig branches to smoke the beets because they impart a sweet, almost tonka bean quality to the finished product," says Wentworth. "Smoking the beets elevates the flavor, as they take on more nuance. It also plays well against the spruce flavors in the ricotta cheese."
With plant-forward menu development in full steam and driving innovation, smoke could potentially play an even larger role, as chefs explore more ways to deepen flavor, add complexity and introduce umami-like notes. "The fun part is experimenting with produce and wood varieties," says Sutton. "Take the heartiest of the hearty, for example, like a head of cauliflower or hen-of-the-woods mushroom, and do a long smoke over oak—it would bring out layers of flavor that would be wonderful."
Chefs are also applying smoke to tofu, giving it soulful character and body that help boost the satisfaction of plant-based dishes. At MilkWood, Edward Lee's Korean-Southern restaurant, the Smoked Soy Shoyu Veggie Ramen features smoked soy sauce and smoked tofu, both prepared in house. "Anything that you do without meat will lack depth. When you smoke tofu, it takes on incredible depth—you trick your palate because you taste smoke and you think you're getting meat."
Copper Branch, a Montreal, Quebec-based fast casual, with three locations in the U.S., serves a plant-based menu, featuring smoked tofu as a protein add-in to its Power Bowls, over a choice of ingredients like organic brown rice or quinoa and toppings like General Tao sauce, edamame salad and kimchi. The tofu is marinated in proprietary ingredients, then gets a hit of liquid smoke. The result is a subtle, layered flavor that stands up well against the other ingredients without introducing an aggressively smoky note.
Fruit is also seeing culinary play with smoke. Smoked grapes in a bowl build, smoked blueberry gelato with crème fraîche, and smoked plum oil drizzled over grilled fish all promise complexity and intrigue. "Smoked strawberry jam is amazing. The smoke completely transforms it and takes it to another level," says Lee. He cautions chefs to approach smoking fruit carefully, as it can break down the more delicate varieties. "If you left the strawberry whole, as a garnish or a dish component, it would turn brownish, which isn't so pretty." He has also smoked peach preserves, following the same principle, serving them over ice cream.
THE SPECTRUM OF SMOKE
One of the elements explored frequently in modern foodservice is the idea of balance. Balance doesn't equate to dullness. Instead, it refers to depth. Heat without balance is the ghost pepper. Heat with balance is hot honey. Consumers clamor for that kind of balance. It's what makes salted caramel such a huge hit. How does smoke fit into the balance equation? "Actually, when you look at salted caramel, that's a great place to introduce smoke by simply using smoked salt. It will round out the flavor and give it depth," says Sutton. "Or you could smoke the caramel."
When using smoke in desserts, she says balance and subtlety are key. "For fruit-based desserts, I'd go with hay for a softer, sweeter smoke. For dense chocolate or chocolate sauce with cream or butter, I'd use a bain-marie and put a hotter smoke in there," says Sutton. Smoke offsets sweetness while offering an intriguing presence. "That principle, where smoke counterpoints sweet, works in desserts, beverages and savory foods, making it a great asset—when used judiciously," adds Andrew Hunter.
Melissa Perello, executive chef of M. Georgina, a modern American restaurant in Los Angeles, takes a subtle approach to smoke across her menu. "We like to use a touch of smoke in our dishes, as opposed to full-on smoking," she says. Her Grilled Squid Ink Pita with trout roe, pickles and smoked oyster aïoli offers a great example. She cold smokes the oysters over applewood, then blends them into the aïoli. "It is a little smoky, yet still briny," she says. The pickles are there to introduce acidity. "Typically, we counterplay smoke with acid. It's a necessity, just as acid needs fat. Acid counteracts the smokiness to create a layered flavor that's really beautiful." In fact, that acid-versus-smoke principle is a traditional tactic in barbecue (where an acidic slaw cuts through smoked pork or beef) and one that's important to remember when looking to balance smoke in a menu build. Perello follows a similar treatment in a smoked carrot dish featured on the tasting menu: carrots are smoke-roasted over coal, blanketed in blackening spices, including chiles and paprika, then finished with an anchovy vinaigrette and sunflower salsa.
At Telefèric Barcelona in Palo Alto and Walnut Creek, Calif., the Salmon Tartare, combined with avocado and lime, gets a gentle kiss of alder-wood smoke, released tableside from a glass cylinder for a dramatic flourish. "The taste and aroma is delicate," says
Eva de Gil, executive chef. The smoke works well with the fat content in both the avocado and the fish, she says. The tartare is paired with rosemary-infused manchego and crackers.
Lee uses smoke as a high-impact ingredient throughout his menus. His Shoyu Deviled Eggs with bourbon-smoked togarashi and kimchi crisps at MilkWood see the spice smoked in old bourbon barrels. "The togarashi picks up flavors of the wood—hay, leather, sweetness, smoke. It's layered and soft. We only use the bourbon wood for delicate ingredients like this and smoked salt, sugar and soy sauce," explains Lee. Not only does "bourbon-smoked" impact flavor, it delivers a lyrical sense of place.
Nuance in smoke offers broader appeal. "It's the same principle as with heat or spice—the more aggressive you get, the more niche you make the menu item," says Webster. "It can be a great-tasting dish but if it's heavily smoked, you're creating it for a smaller set of diners." The smoke meter can go from mild suggestion to smokehouse overdrive. "The numbers from Datassential indicate that both men and women of all demographics are receptive to smoke. Smoke isn't polarizing unless you make it polarizing by going to the extreme," says Webster.
SMOKE IN THE WATER…OR COCKTAIL
Smoke has laid its claim in the beverage world, both as a flavoring agent that emboldens the profile and as a theatrical element that turns heads and inspires social media posts.
"Smoke adds beautiful depth and story to cocktails. It's sexy in drinks," says Sutton. She suggests considering trimmings from vineyards, wine-soaked oak chips or toasted barrel-aged wood chips.
Octavio Cantina, a Mexican restaurant in Chicago, goes all in with smoke with its El Humo cocktail, guarding the merits of the aggressive side of the spectrum. The drink stars mezcal, Lapsang souchong, barrel-aged orange bitters, agave nectar and sweetgrass smoke.
Smoked fruit brings a lush, exotic appeal to drinks that carry premium cachet. KYU, a modern Asian restaurant in Miami, features smoked pineapple in its signature drink, the Wynwood Mule Cocktail, along with vodka, lime, bitters and ginger beer. Whole pineapple is smoked for three hours, then puréed, lending the drink a smoky aspect that lines up with the restaurant's wood-fired smoked dishes.
At the Commons Club in the Virgin Hotel, San Francisco, lead bartender Megan Abraham smokes figs in house with hickory and mesquite wood chips. She then infuses honey with the figs and the wood chips, along with black pepper and Pernod. The honey syrup stars in a drink called Made in the Shade, which also includes Scotch and lemon. "The smoke adds complex, savory notes, and the smoking chips add a woody, earthy goodness that echoes the peat and barrel-aged qualities already present in the base spirit," says Abraham. "Because figs can be subtle, the smoke helps amplify the flavor by adding depth and texture. Since honey has a brightness and sweetness that figs can lack, combining it with the fig, Scotch, smoke and citrus is pure delight." She then uses the honey-smoked fig as the garnish on the cocktail.
Southern Belle in Atlanta demonstrates how smoke can help make nonalcoholic cocktails stand up to their boozy brethren. The Smoke + a Pancake zero-proof cocktail features the nostalgic flavors of that breakfast classic: black tea, housemade cider and bourbon barrel-aged maple syrup. Presented tableside under a glass cylinder, applewood smoke swirls around the glass, imparting its nostalgic aroma and flavor.
Although smoke is an ancient cooking method and social ritual, in the hands of modern chefs and beverage directors, it is transforming flavor experiences in wonderful ways. "I really do believe it is the sixth taste," says Edward Lee. "As chefs, we're still realizing its potential. There's not one way to use it—playing with smoke leads to discovery, story and flavor."