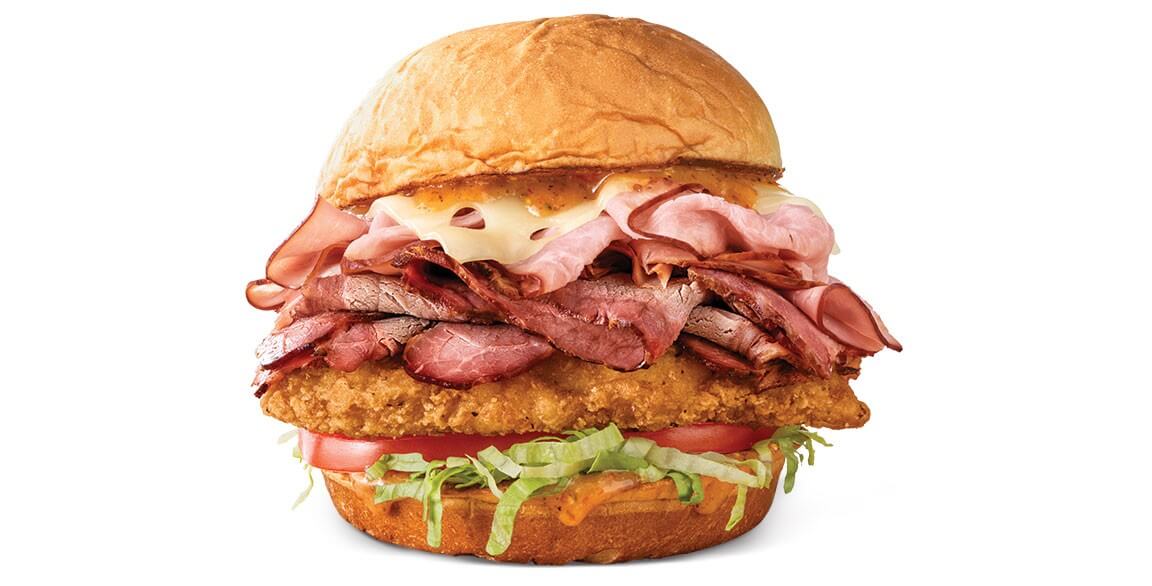 As consumers—especially younger generations—gravitate to new experiences, there's opportunity for the sandwich platform to focus on innovation. Blending tradition with culinary expertise will help differentiate this menu section.
Consider these four opportunity areas for future implementation with sandwiches:
Bread
Think of bread as a key flavor agent versus just something that sandwiches the fillings. Complement the overall build by emphasizing the story behind the selected bread (or alternatives) just as much as the style of bread. Examples include:
Dutch crunch bread
Pumpernickel hoagie
Sprouted grains
Gluten-free
Eastern Med wraps & pitas
Menu examples:
Our Famous Fritter Burger: Indonesian corn fritters as the buns, char siu bacon, white cheddar, kimchi, Sriracha aïoli, togarashi fries
—E&O Kitchen & Bar, San Francisco
The Roxie Special: mortadella, ham, salami, two cheeses, and artichoke hearts, on Dutch crunch bread
—Roxie Deli, San Francisco
Fillings
Sandwich fillings are rapidly evolving with emerging trends and diverse consumer eating preferences. Chefs are featuring housemade charcuterie, luscious meats, emerging meat alternatives, exciting seafood and unique vegetable applications.
Eggs (soft-poached, fried, rolled omelette)
Plant-based proteins
Braised, roasted, pickled vegetables
Sea vegetables
Aggressively seasoned fried chicken
Grilled then marinated meats/game/poultry
Menu examples:
Open-Face Roasted Pork Shoulder Sandwich with a fried egg, chipotle aïoli, arugula, mandarin orange, apples on Marla Bakery toast
—Cassava, San Francisco
Roasted Lamb Leg with heirloom tomatoes, pesto chevre, Calabrian chile aïoli, pickled onions, arugula, on sourdough
—Stacked, Portland, Ore.
Cheeses
Cheese grounds modern sandwiches with its inherent comfort and elevates the overall experience with multi-sensory appeal and craveable textures.
Smoked or flavored cheese
Alpine cheeses
Slices of Brie
Spreadable cheeses (quark, ricotta, pimento, cream cheese)
Cheese curds
Cheese-topped breads
Menu examples:
Knuckle Sandwich: Grilled salami, pepperoni and ham with lettuce, tomato, mayo, Champagne vinaigrette, topped with melted mozzarella
—Sinful Subs, Las Vegas
Spicy Chicken JB Melt (changes seasonally): Spicy hand-pulled chicken, arugula-almond pesto, caramelized cheese curds, flaky pancake
—Little Tong Noodle Shop, New York
Spreads/Finishes
These essential components boost dimension and provide an opportunity to introduce compelling flavor trends to savvy palates. As global flavors continue to rise in popularity, their judicious incorporation can bring additional unexpected touches.
Flavored hummus
Lemon pistachio pesto
Miso-honey aïoli
Savory jams
Yuzu pickles
Menu examples:
Steak Tartare Club with yuzu kosho mayo, bacon, lettuce, tomato on Sea Wolf rye
—Mean Sandwich, Seattle
Porchetta & Kimchi Sandwich with house kimchi, cheddar, arugula, herb aioli
—Brider, Denver