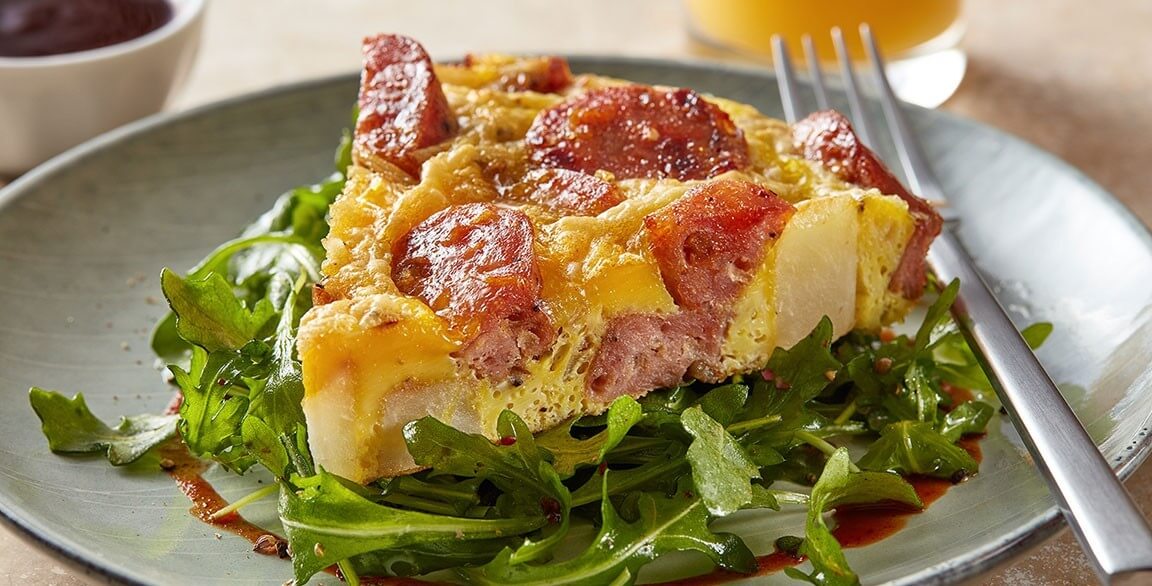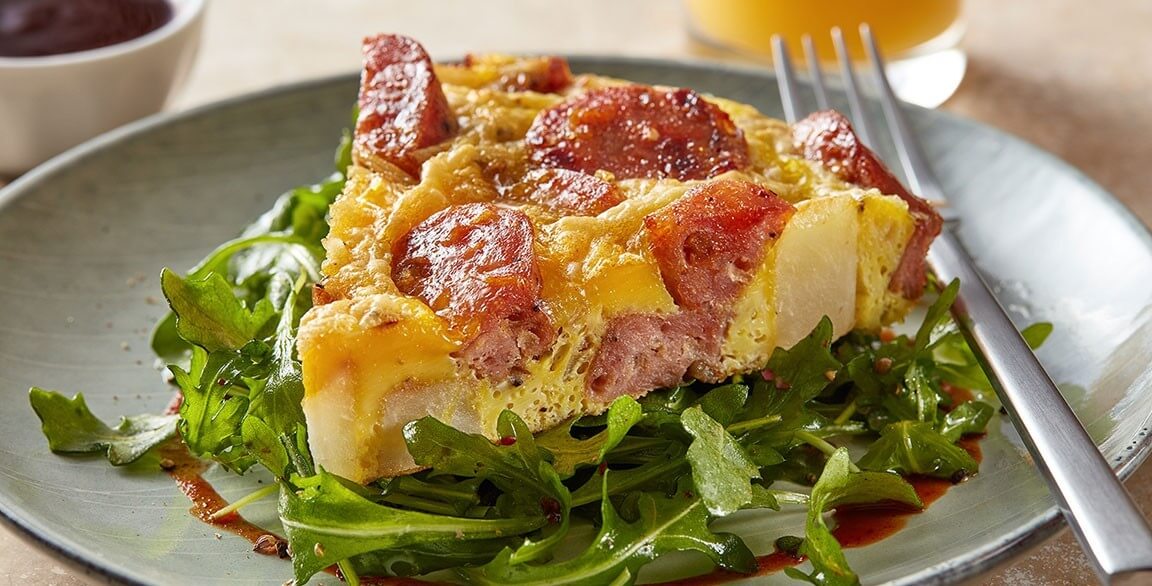 Tyson Foodservice: Spanish Omelette with Aidells® Chicken and Apple Sausage
Recipe courtesy of Chef Jeremy Lett
Sponsor: Tyson Foodservice
Servings: 6
Ingredients
Maple-Chile Glaze: (Yield 3/4 cup)
½ cup Sriracha sauce
½ cup Maple syrup
2 Tbsp Sugar
1 Tbsp Soy Sauce
Spanish Omelette:
2 ea Aidells® Chicken & Apple Sausage, halved and sliced 6 mm
¾ cup Canola oil
¾ cup Extra-virgin olive oil
8 oz Yellow onion, halved and thinly sliced
12 oz Russet potatoes, peeled, halved, and sliced 3 mm
8 ea Large eggs
Pinch Kosher salt
Pinch Black pepper
1 oz Sundried tomatoes, sliced 3 mm
1 1/2 cups Arugula
As needed Chopped parsley
Directions
For the Maple-Chile Glaze: Mix all ingredients together in a small sauce pot. Bring to a boil, then reduce to a simmer. Reduce to ¾ cup, stirring often. Remove from heat and cool to below 40 degrees.
For the Spanish Omelette: Sauté the sausage in a 10-in nonstick pan and brown lightly on both sides. Remove sausage from pan.
Pour the canola and olive oils into the sauté pan and heat. Add the onions and cook for 10 minutes, or until they just begin to brown.
Add the potatoes and cook for 10 to 15 minutes, or until the potatoes are browned on both sides.
Crack the eggs into a mixing bowl. Use a slotted spoon to remove the potatoes and onions from the pan and transfer them into the bowl with the eggs. Strain the oil from the pan and reserve for another use. Cover the bowl with aluminum foil and let rest at room temperature for 15 minutes.
Remove the foil and season the eggs with salt and pepper. Add the cooked sausage and sundried tomatoes to the egg mixture. Stir just enough to incorporate the ingredients.
Heat the nonstick pan on medium and add the egg mixture, spreading it out evenly in the pan. Cook until the edges have set and the bottom has a nice golden color.
Use a plate to cover the pan and flip the omelette out of the pan and onto the plate. Return the pan to the stove and gently slide the omelette back into the pan. Cook the other side until it is set and the inside of the omelette is cooked throughout (you can tell by pressing on the omelet or inserting a toothpick in the center to check the consistency).
Once the omelette is ready, place a plate on top and flip the pan over again. Allow the omelette to rest at room temperature for at least 5 minutes. Cut into 6 wedges and serve or hold and reheat as needed.
For each serving, place ¼ cup arugula on a plate. Use a spatula to put a wedge of omelette on top of the arugula. Lightly brush the top of the omelette with 1 tsp Maple-Chile Glaze. Drizzle some more glaze around the omelette. Garnish with parsley
Chef Notes
For the glaze, use real maple syrup if possible.
Project Management: Summit F&B Photography: Carlos Garcia // Food Styling: Peg Blackley & Bree Williams