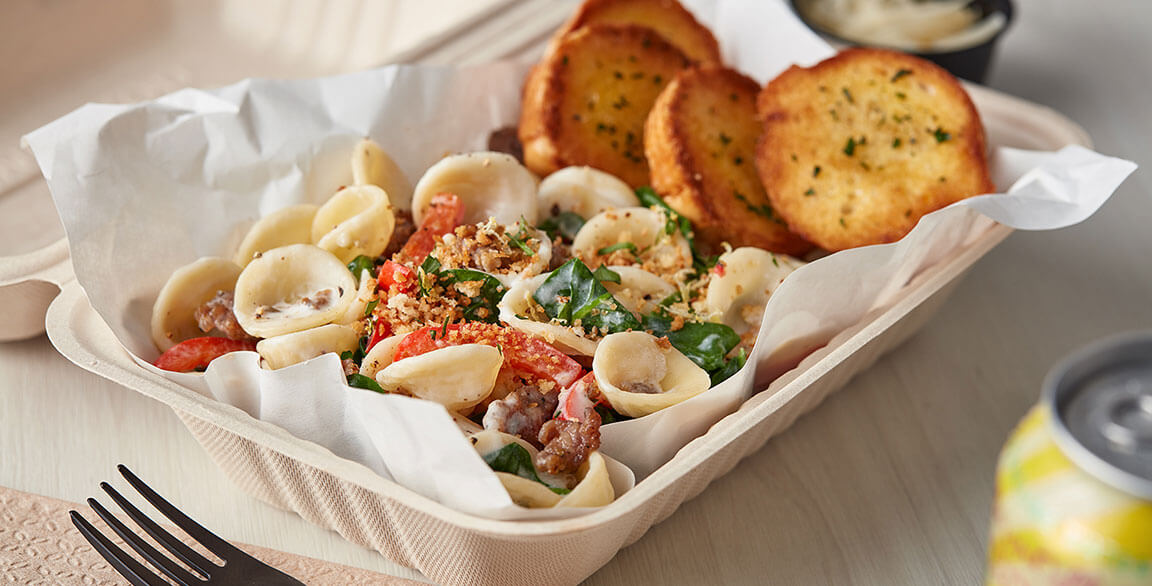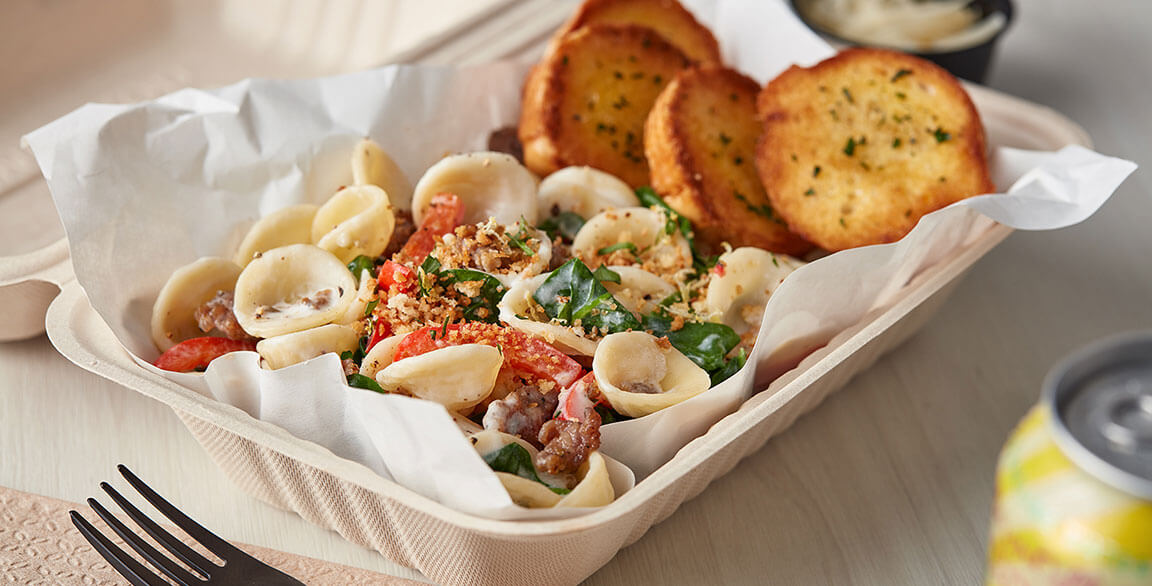 Barilla Orecchiette with Sausage and Spinach
Recipe courtesy of Chef Jeremy Lett
Sponsor: Barilla
Serves: 2
Ingredients
8 oz Barilla Orecchiette Pasta
4 oz Italian fennel sausage
2 ea Red bell peppers, cut ½ in x 2 in
4 cups Baby spinach, stems removed
1 tsp Minced garlic
2 cups Heavy cream
1 Tbsp Fresh lemon juice
As needed Kosher salt
As needed Black pepper
¼ cup Grated Parmesan cheese
3 Tbsp Toasted panko breadcrumbs
½ tsp Lemon zest
As needed Chopped parsley
Directions
Bring 4 qts water to a rolling boil; season with salt.
Cook the orecchiette pasta in the boiling, salted water for 11 minutes, until the pasta is al dente, stirring frequently with a spoon.
While pasta cooks, sauté the sausage in a large sauté pan until cooked throughout. Transfer sausage to a plate and reserve 2 Tbsp of the rendered fat in the pan.
Sauté the bell peppers in the rendered fat until slightly softened, 2 to 3 minutes, then add the spinach and cook until wilted, 1 to 2 minutes.
Push the spinach and peppers to one side of the pan and add the garlic. Cook, stirring often, until fragrant, 1 minute.
Add the cream, lemon juice, salt, and black pepper. Bring to a simmer and cook until the cream is slightly thickened. Add sausage back in.
When the pasta is ready, drain it and add to the sauce. (Do not rinse pasta)
Toss the pasta and sauce together and return to low heat. Add the Parmesan and toss. Cook on low heat until cheese is melted, and the sauce is thickened and coats the pasta.
Use a cook's spoon to pile the pasta high in the center of a large pasta bowl. Spatula any remaining sauce on top of the pasta.
Sprinkle the breadcrumbs, lemon zest, and parsley on top of the pasta. Serve immediately.
Chef Notes
To make toasted breadcrumbs, heat 2 Tbsp canola oil in a sauté pan until very hot. Add 1 ½ cups panko breadcrumbs and toss off heat until toasted. You can leave them plain or add seasoning to your preference.
Project Management: Summit F&B
Photography: Carlos Garcia // Food Styling: Peg Blackley & Bree Williams