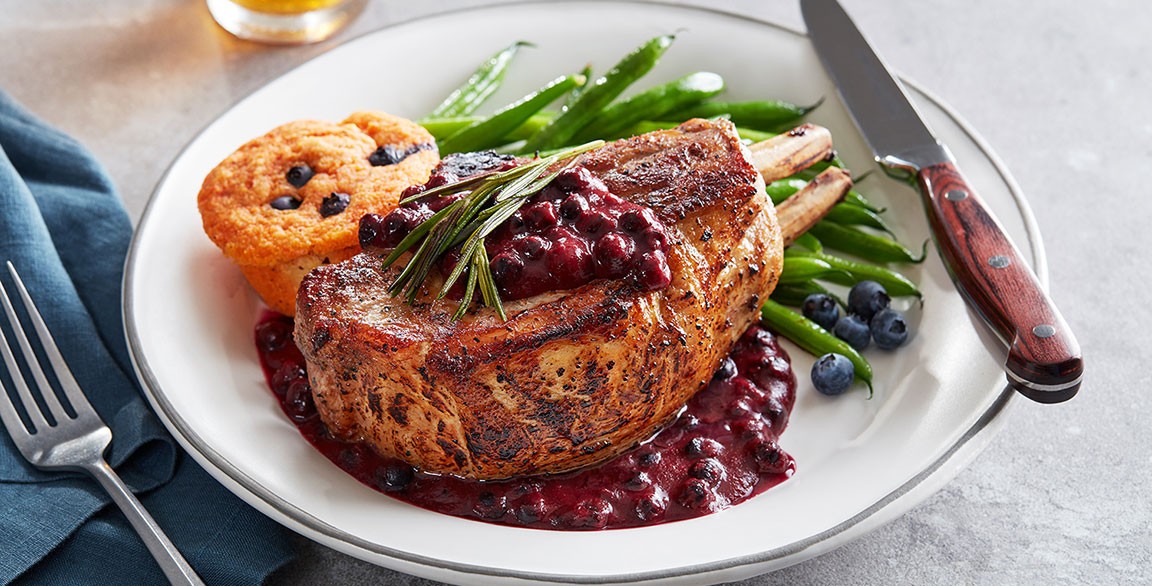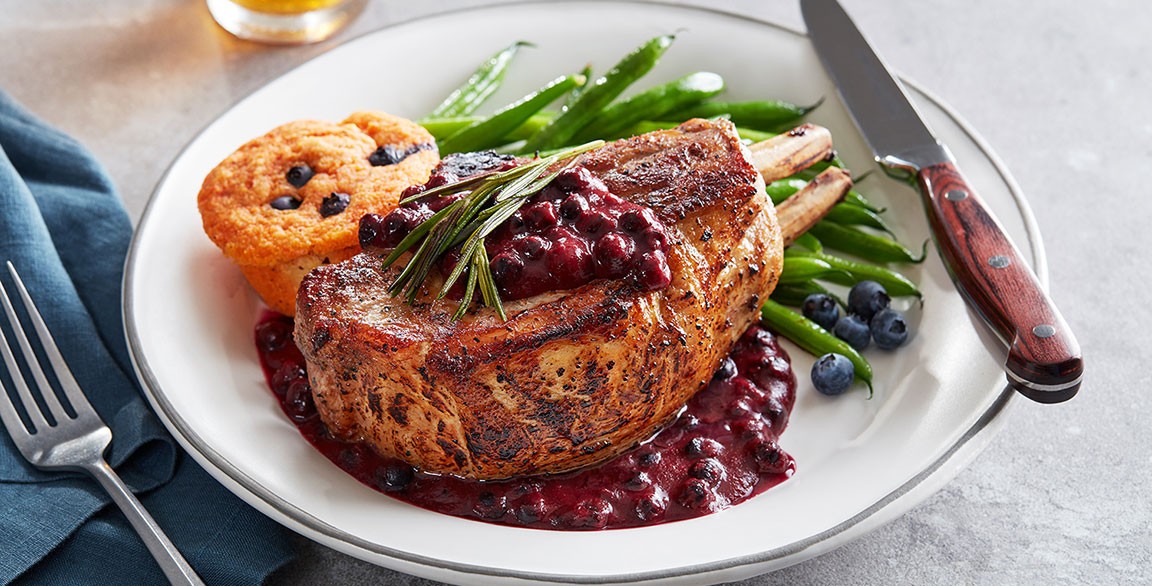 Smoky Blueberry Bourbon Chutney and "Big Thicket" Double Bone Pork Chop
Recipe courtesy of Jamie Carawan, Inspire Brands
Sponsor: U.S. Highbush Blueberry Council
Deep from the Big Thicket of East Texas come the elements of smoky barbecue and sweet blueberries. This dish combines these traditions in a hearty, flavorful way.
Ingredients:
Smokey Blueberry Bourbon Chutney:
12 cups White Onions, Diced
48 each Garlic Cloves, Large, Minced
48 each Roma Tomatoes, Diced
36 cups Blueberries, Frozen, Thawed, Drained
6 cups Jalapeño, Minced
6 cups Olive Oil
6 cups Apple Cider Vinegar
4.5 cups Honey
1 ½ cups Tabasco
1 cup Soy Sauce
24 oz Bourbon
24 each Ancho Chile, Toasted, Soaked, Seeded (see method below)
3 teaspoons Salt
3 teaspoons Black Pepper
24 cups Blueberries, Frozen, Thawed, Drained
Double Bone-In Pork Chop:
24 each Double Bone-In Pork Chop 12 oz.
2 ¼ cups Sea Salt
2 ¼ cups Black Pepper, Coarsely Ground
3 cups Brown Sugar
4 ½ cups Olive Oil
96 each Butter, Cut in ¼" Pats
96 sprigs Rosemary
Green Beans:
6 ounces Haricot Vert Green Beans, Blanched
To Taste Sea Salt
½ cup Olive Oil
Blueberry White Cheddar Corn Muffins:
4 each Jiffy Corn Muffin Mix
1 cup Salsa
8 ounces Sharp White Cheddar Cheese, Diced in ¼ x ¼ Pieces
4 cup total Blueberries, Fresh
½ cup Butter, Melted
Method of Preparation:
Smokey Blueberry Bourbon Chutney:
Sauté the onions, garlic, jalapeños and Roma tomatoes in olive oil.
Allow fond to form and deglaze with apple cider vinegar.
In a Vitamix, add sautéed vegetables, honey, tabasco, soy sauce, bourbon, ancho chile*, and purée until smooth.
Incorporate the blueberries into the saucepan and add salt and pepper to taste. Heat to a simmer then remove from the burner.
*Ancho Chile Preparation:
Place the dried ancho chiles in a dry hot pan.
Toast until the ancho chiles becomes soft.
While toasting ancho chiles, heat a small saucepan with water and bring to a simmer.
After toasting the ancho chiles, place them in the simmering water to reconstitute for 30 minutes.
Drain the ancho chiles from the pan.
Snip the bottom tip of each ancho chile and cut a slit from the stem to the bottom.
Remove the seeds, vines, placenta and stem.
Double Bone-In Pork Chop:
Allow all pork chops to temper for 1 hour.
Coat in the pork chops in olive oil, sea salt, black pepper, and brown sugar.
Heat a large cast iron pan to maximum heat
Quickly, add olive oil and then the pork chop(s).
Add butter to the pan and coat all sides of pork chops.
Sear until golden brown on all sides.
Place seared pork chops on a metal grate that fits inside of a sheet pan then place in the oven at 350 degrees for 15 minutes until they achieve 145° F.
Top the pork chops with rosemary springs.
Cook pork chops to 145° F.
Allow pork chops to rest for 10 minutes prior to cutting.
Blistered Green Beans:
Heat a large cast iron pan to maximum heat.
Using a towel add olive oil to pan surface.
Add green beans and allow to blister.
Remove quickly and season with sea salt.
Blueberry White Cheddar Muffins:
Prepare one box of Jiffy Corn Muffin Mix.
Add salsa and sharp white cheddar to batter and mix thoroughly.
Pour into muffin pan and add 3 to 4 whole blueberries into each muffin.
Bake as recommended in recipe.
Brush with butter after baking.
Warm in oven or microwave for service
Assembly:
Cut rested pork chop between the bones to create 2 separate chops and place on plate with the pork chops offset.
Add blistered green beans.
Drizzle 2 to 3 oz of Smokey Blueberry Bourbon Chutney over the center of the pork chops.
Project Management: Summit F&B
Photography: Carlos Garcia // Food Styling: Peg Blackley & Bree Williams