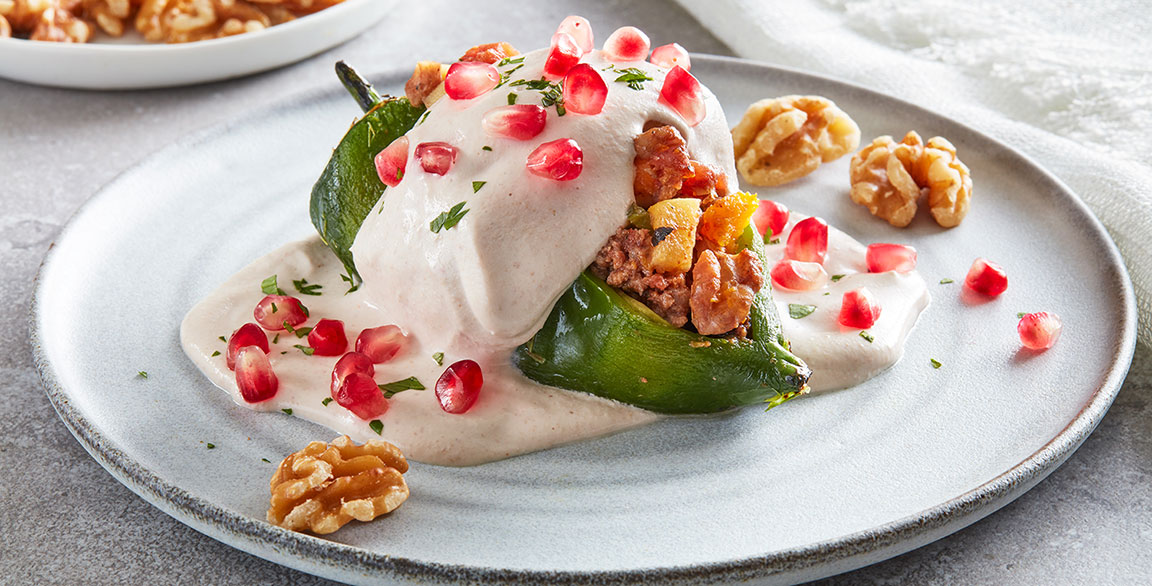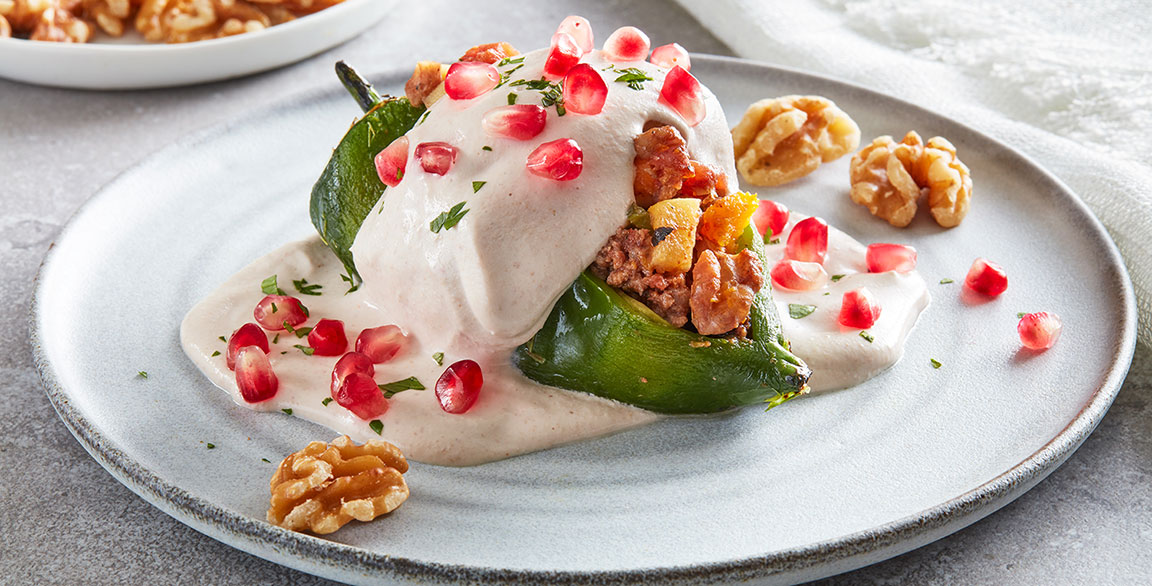 California Walnut Chile en Nogada
Recipe courtesy of Jamie Carawan, Inspire Brands
Sponsor: California Walnuts
Prep time: 30 minutes
Total time: 1 hour
Serves: 8
Serving size: 1 pepper with 2 tablespoons sauce
Course: Main dish
INGREDIENTS
8 large fresh poblano peppers
Filling:
1 1/2 cups California walnuts, soaked overnight in water
1 tablespoon olive oil
1/2 cup peeled and diced gala apple
1/2 cup diced white onion
1 large clove garlic, minced
2 tablespoons minced jalapeno pepper
1/2 pound ground beef
1 cup stewed tomatoes, chopped
1 cup roasted butternut squash
1/4 cup raisins
1 1/2 teaspoons ancho chili powder
1 teaspoon cinnamon
1/2 teaspoon kosher salt or to taste
1/4 teaspoon pepper, or to taste
Walnut Cream Sauce:
1 1/4 cups California walnuts, soaked overnight in water
1/2 cup sour cream
4 oz. cream cheese, softened
1/2 tablespoon honey
1/4 teaspoon cayenne pepper
1/2 cup milk
Kosher salt and pepper to taste
DIRECTIONS
Grill or broil peppers until skins are blackened; place in a paper bag and let stand for 10 minutes. Carefully remove skins, then make a small slit and carefully remove seeds.
To prepare filling, drain walnuts well and pulse in a food processor until finely chopped. Heat oil in a large skillet over medium heat. Add apple, onion, garlic and jalapeno pepper. Cook for 5 minutes to soften. Add chopped walnuts and ground beef and cook until beef is browned.
Add remaining filling ingredients and cook for 5 minutes for flavors to blend; let cool slightly.
To prepare sauce, place drained walnuts, sour cream, cream cheese, honey and cayenne pepper in a food processor. Process until very smooth, scraping down the sides several times. Add milk and process until incorporated.
Preheat oven to 400°F and line a baking sheet with parchment paper. Place equal amounts of filling in each pepper and place on baking sheet.
Cook for 10 to 15 minutes or until heated through. Warm sauce in a small pot and serve 2 tablespoons over each pepper.
Nutrition
Calories: 420
Total Fat: 34g
Saturated Fat: 8g
Monounsaturated Fat: 8.151g
Polyunsaturated Fat: 14.5g
Cholesterol: 50mg
Sodium: 390mg
Carbohydrates: 19g
Dietary Fiber: 4g
Sugars: 9g
Protein: 15g
Vitamin D: 0mcg (0%)
Calcium: 120mg (8%)
Iron: 2mg (15%)
Potassium: 550mg (10 s%)
Project Management: Summit F&B
Photography: Carlos Garcia // Food Styling: Peg Blackley & Bree Williams