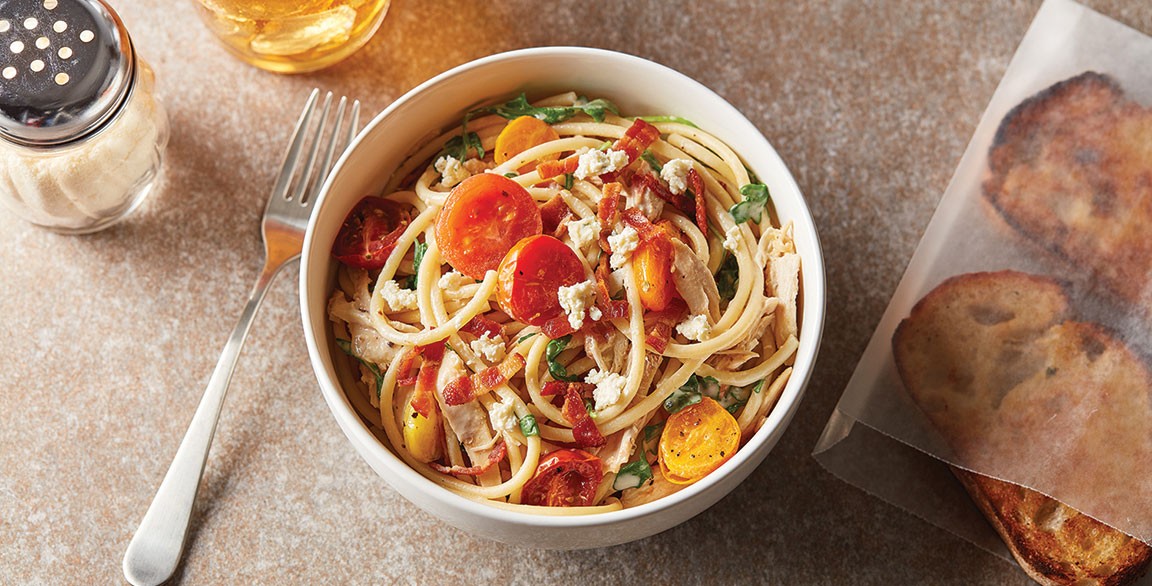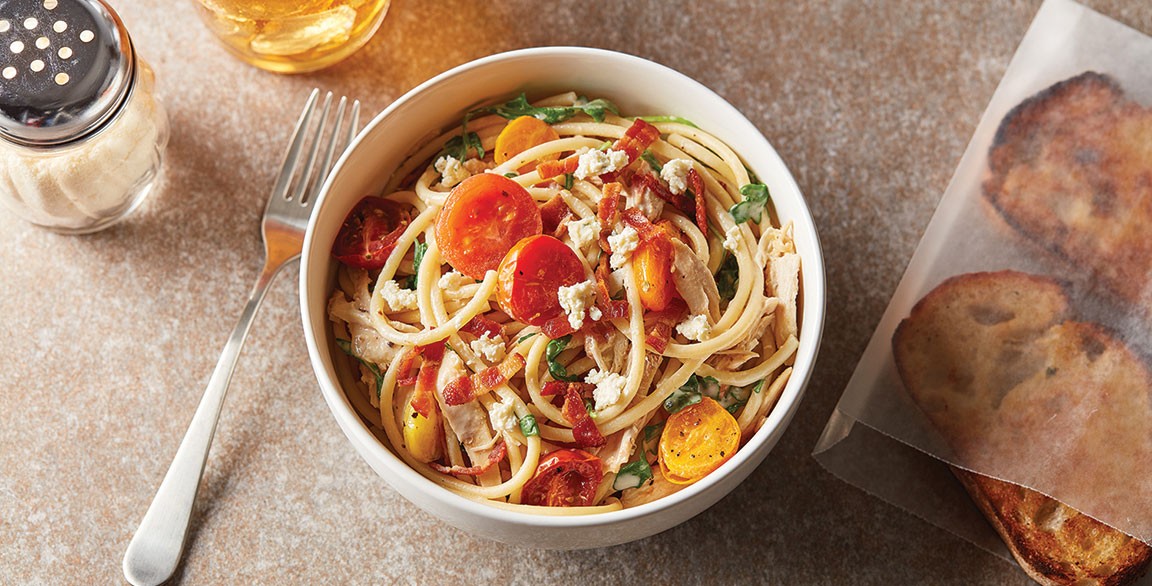 By Flavor & The Menu
July 8, 2020
Chefs are rediscovering the versatility of this soft, creamy-yet-crumbly fromage frais, or fresh cheese, first created in Normandy, France, by a young cheesemaker named Francois Boursin in the early 1960s. Today, chefs are maximizing the distinctive, rich profile of Boursin to lift flavor in dishes across their menus.
Christian Hallowell, General Manager F&B, Design Chef for Delta Air Lines, uses softened Boursin Garlic & Fine Herbs Cheese as an ingredient in his spinach and breadcrumb stuffing to boost the herbaceous flavor and enrich the mouthfeel.
Matt Harding, SVP of Culinary and Menu Innovation at The Piada Group, relies on both Boursin Culinary and Boursin Basil & Chive Cheese in his Roasted Chicken, Bacon and Boursin with Spaghettini. "They each add complexity and flavor, enhancing the creaminess of the dish and infusing intense, but not overpowering notes of herbs and spice that are recognizable and comforting at the same time." His use of Boursin pieces as a pasta topping brings in unexpected textural play.
Olivier Desaintmartin, Chef/Owner of Caribou Café and Zinc Bistro in Philadelphia, makes a stunning Smoked Salmon Terrine by simply spreading softened Boursin Garlic & Fine Herbs Cheese between layers of cold-smoked salmon.
Expect the Unexpected
Boursin is a fresh cheese that packs a punch. That makes it an easy go-to pantry item for chefs looking to build flavor without adding extra labor. Michael Slavin, VP of Culinary & Menu Innovation with Houlihan's Restaurants, demonstrates its versatility while showcasing how it can help create on-trend, unique menu offerings. His brunch-ready Savory Belgian Waffles with Whipped Boursin and Bourbon-Maple Syrup features softened Boursin Garlic & Fine Herbs Cheese as an ingredient in the batter.
"The cheese in this waffle application creates a little extra crust and crunch where the waffle contacts the hot iron, especially around the edges—my favorite part," he says. "When you spread the soft whipped cheese on top of the warm waffle it releases a lovely herb and garlic aroma that mixes well with the bourbon and maple from the syrup."
"The Boursin Culinary packs are a dream to work with. They reduce food waste and keep labor lower."
Chef James Musser
Highlighting creative appetizer development, James Musser, Corporate Executive Chef of Copeland's New Orleans, features Boursin as both an ingredient and a high-impact finish. His Boursin Garlic & Herb Cheesecake is built on a Parmesan cracker crust, topped with a flourish of whipped Boursin and an accompanying fresh tomato-olive salsa.
Try it for yourself! Get your free sample of Boursin Culinary: [email protected]