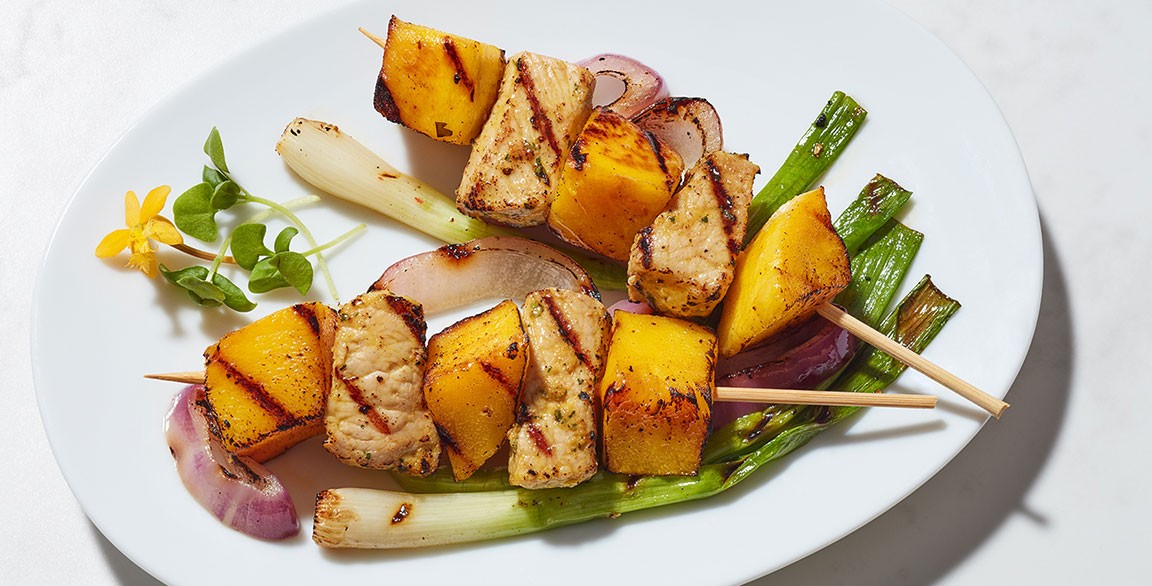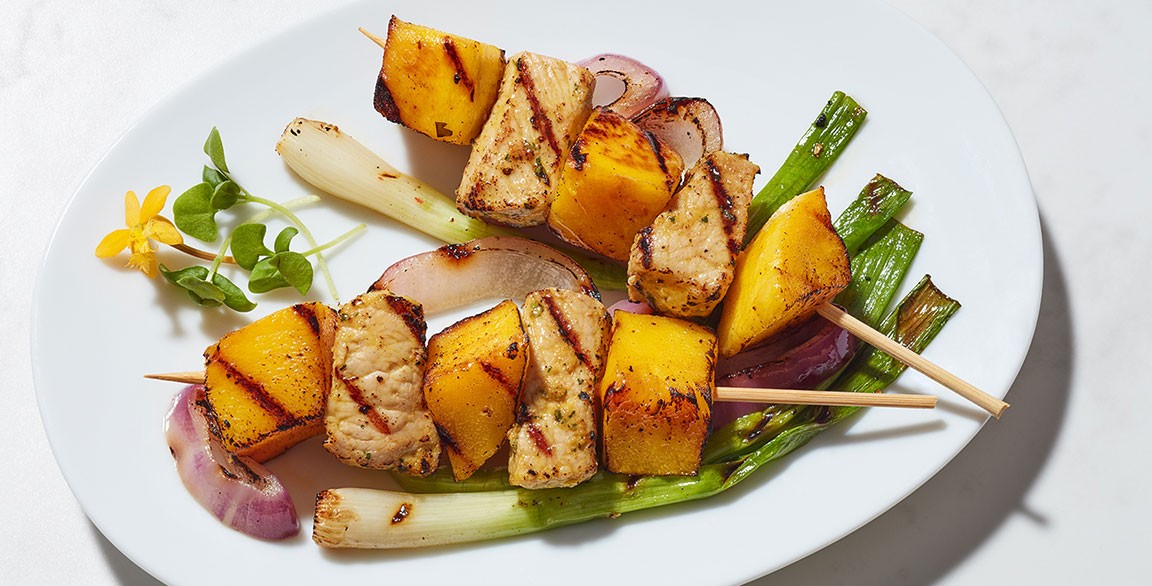 Open Fire Grilled Pork & Mango Churrasco Style
Recipe courtesy of Chef Olivier Gaupin, Director of Culinary Operations, Benchmark
Sponsor: National Mango Board
Yield: 1 skewer
Ingredients
9 oz country style deboned pork ribs, 5 pieces cubed 1-½ inches, marinated
Mango Marinade (recipe follows)
5 ripe mango cubes, 1-½ inches
½ red onion, sliced ½-inch thick and seasoned with olive oil, salt and pepper
5 scallions, cleaned and seasoned with olive oil, salt and pepper
Thick potato chips, for garnish
Fresh herbs, for garnish
Method
Per skewer:
Prepare grill with wood charcoal and preheat to 500°F for a perfect grilling of the churrasco.
Grill red onion and scallions until lightly charred and softened. Set aside.
Prepare skewers by alternating 5 pieces of marinated pork and mango cubes; season with salt and pepper prior to grilling. Place skewers onto open fire grill, and cook 7-8 minutes on each side, being careful not to over char.
To serve: Lay down the grilled red onion and scallions as a bed, and place the skewer on top. Garnish with fresh herbs and add potato chips to the plate.
Chef Note: The amount of time on the grill can differ depending on your grill, open fire vs. gas grill. Having the grill very hot is the key to keeping the mango cubes from breaking down.
Ingredients
Mango Marinade
2 garlic cloves, crushed
½ cup fresh mango puree
½ cup fresh cilantro
3 Tbsp apple cider vinegar
¼ tsp cumin, ground
3 Tbsp extra virgin olive oil
Method
Combine garlic, mango puree, cilantro, apple cider vinegar, ground cumin and olive oil together; stir well. Add pork cubes and marinate, refrigerated, for a minimum of 2-3 hours.
Dump out water, place ice and cold water back on to potatoes to shock. Drain and allow to cool. Once potatoes are cooled, cut into quarters lengthwise. Reserve.
Project Management: Summit F&B
Photography: Carlos Garcia // Food Styling: Peg Blackley & Bree Williams