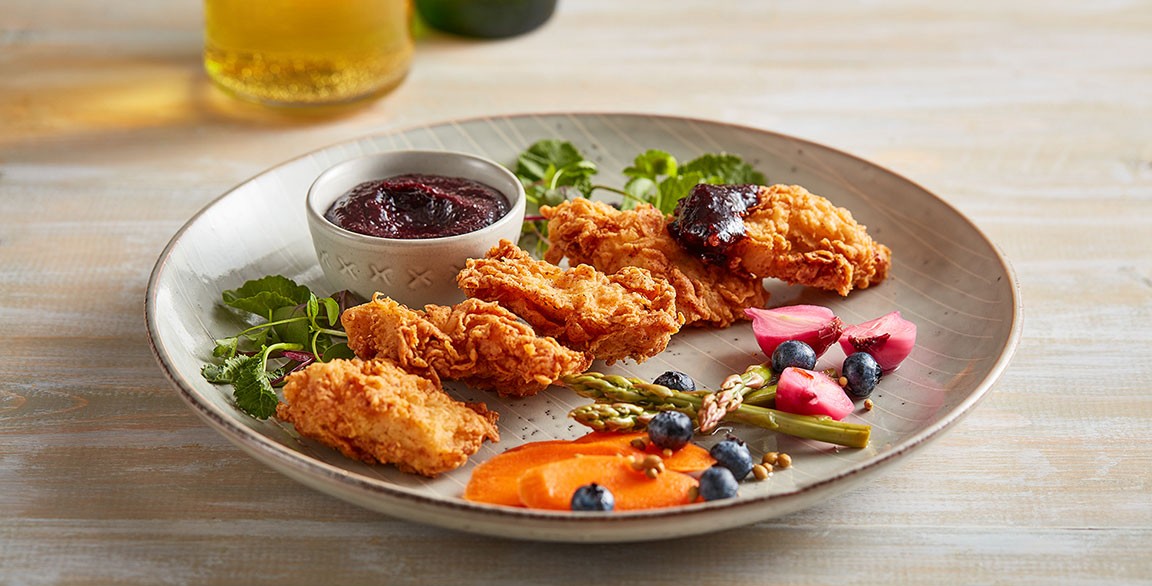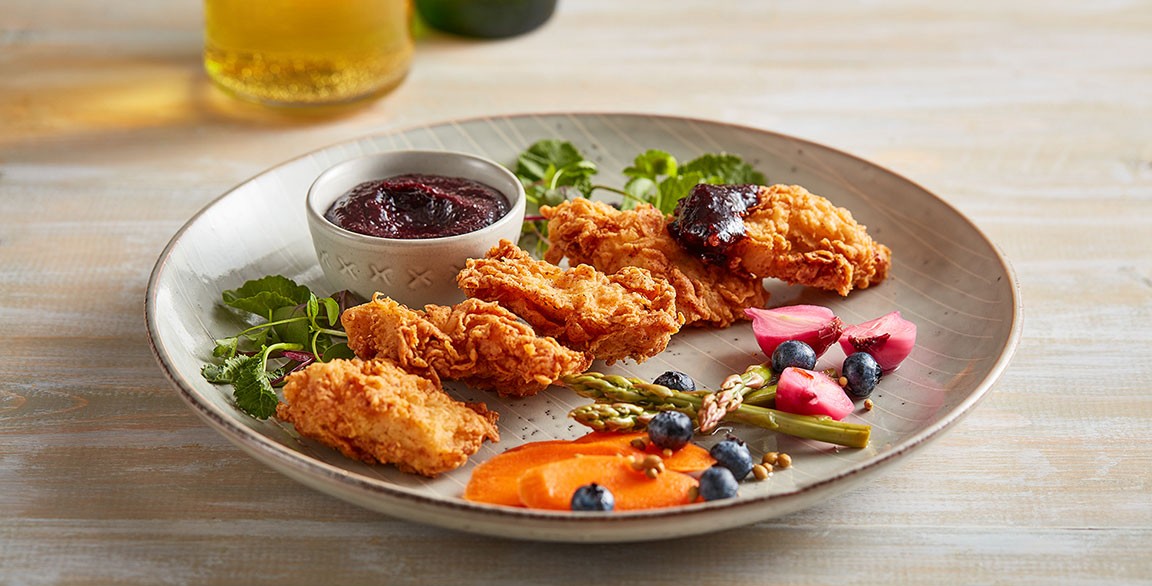 BUTTERMILK FRIED CHICKEN NUGGETS, BLUEBERRY BBQ SAUCE, PICKLED ONIONS AND CUCUMBER SALAD
Recipe courtesy of Chef Olivier Gaupin, Director of Culinary Operations, Benchmark
Sponsor: U.S. Highbush Blueberry Council
Ingredients:
Buttermilk Fried Chicken Nuggets:
10 ounces Chicken Thighs, deboned, diced into 1" cube
½ quart Buttermilk
6 cups All-Purpose Flour
¼ cup Garlic Powder
¼ cup Onion Powder
1 Tablespoon Smoked Paprika
1 teaspoon Cayenne Pepper
1 teaspoon Herbs de Provence
Sea Salt & Pepper, to taste
Canola or Peanut Oil for frying
Blueberry BBQ Sauce:
3 pints Blueberries, canned
½ cup Light Brown Sugar
1 cup Balsamic Vinegar
1 cup Red Wine Vinegar
1 clove Garlic, Fresh, crushed
1 each Yellow Onions, sliced
½ each Habanero Pepper, chopped
½ can Dark Beer of choice
1 Tablespoon Coriander Seed
1 Tablespoon Cumin Powder
1 Tablespoon Ground Coffee
1 Tablespoon Chipotle Pepper
Pickled Onions and Cucumber Salad:
1 each Red Onions, thinly sliced
1 each European Cucumber, cut into 0.5" thick half-moons
1 ½ cups Sugar
4 teaspoons Salt
1 teaspoon Mustard Seed
1 teaspoon Coriander Seed
¾ teaspoon Dill Seed
2 cups Water
2 cups Apple Cider Vinegar
6 cloves Garlic, fresh, crushed, divided
Method of Preparation:
Buttermilk Fried Chicken Nuggets:
Heat frying oil to 340°-350° Fahrenheit.
Combine all coating ingredients in a large bowl.
Split mixture between two bowls.
Into a third bowl add the buttermilk and season with salt and pepper.
Place the chicken thighs into the first bowl of coating ingredients, dust off the excess coating, and then dredge the chicken thighs into the buttermilk mixture.
Transfer the chicken thighs into the second coating bowl prior to frying.
Fry the chicken thighs for 4-6 minutes.
Remove from the fryer and season with salt.
Serve 3-4 fried chicken thighs per person.
Chef Notes:
Let the chicken thighs rest and cool for 4-6 minutes after removing from the fryer. If the chicken has rested for longer than the 6 minutes, put the tray of chicken in the oven at 400° Fahrenheit for 1-2 minutes to ensure that the crust is crisp and the chicken is hot.
Blueberry BBQ Sauce:
Put all the ingredients in a medium sauce pot and cook for 2 hours over medium to low heat.
Remove the sauce from the heat and set aside until room temperature.
Place all ingredients into a food processor and purée.
Strain the sauce and set aside.
Chef Notes:
Canned blueberries produce optimal flavor for this application.
Pickled Onions and Cucumber Salad:
Mix together the sugar, salt, mustard seed, coriander seed, dill seed, water, and vinegar into a saucepan.
Bring to a simmer for 3 minutes and set aside.
Place the red onions and 3 crushed garlic cloves into a jar.
In a separate jar, add the cucumbers and 3 crushed garlic cloves.
Pour the pickling liquid into each jar until the ingredients are submerged.
Refrigerate overnight.
Chef Notes:
Produce items of your choice can be pickled in this manner, such as radishes or cherry tomatoes.
Project Management: Summit F&B
Photography: Carlos Garcia // Food Styling: Peg Blackley & Bree Williams