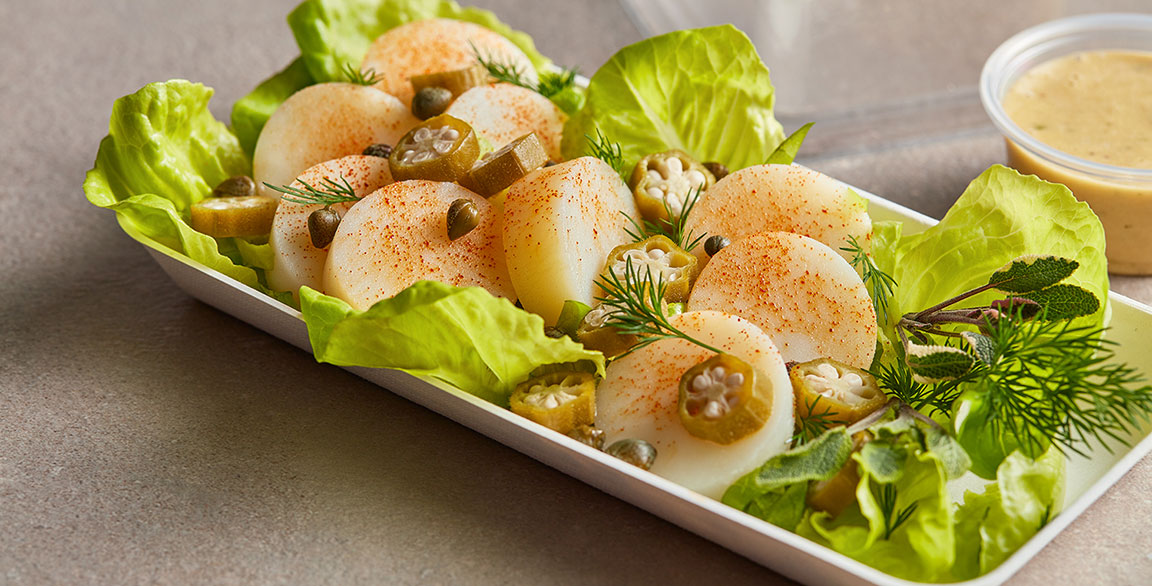 Idaho® Red Potato Salad with White Anchovy Dressing
Recipe courtesy of Chef Brandon Hudson
Sponsor: Idaho Potato Commission
Servings: 12
Ingredients
Idaho® Red Potato Salad
30 ea Idaho® Red Potatoes, whole
1 ½ tsp kosher salt
2 Tbsp olive oil
3 heads butter lettuce, cut in fine chiffonade
White Anchovy Dressing
6 ea white anchovy fillets
1 ea lemon, zested and juiced
5 gr parsley leaves
¼ cup golden balsamic vinegar
2 ea egg yolks
3 Tbsp Dijon mustard
3 ea garlic cloves
1 cup blended oil
Garnish
1 tsp smoked paprika
As needed kosher salt
¼ cup olive oil
¼ cup capers
60 slices ¼-in pickled okra
Directions
For the Idaho® Red Potato Salad: Set an immersion circulator to 85 degrees C. Divide the potatoes into 6 vacuum bags and add ¼ teaspoon salt and 1 teaspoon olive oil in each bag. Vacuum seal and cook sous vide for 1 hour 15 minutes. Chill the potato bags in an ice bath when finished.
Once cooled, use a 1-inch ring mold to cut cylinders from the longest side of each potato. Slice the cylinders into 3/8-inch medallions and keep chilled.
For the White Anchovy Dressing: Add all the ingredients except oil to a food processor and blend. Slowly emulsify in the oil and chill.
For Plating: Arrange ¼ head of lettuce chiffonade at the bottom of a plate. Arrange 9 potato circles on top of the lettuce. Very lightly sprinkle smoked paprika on top of the potatoes, then drizzle with 1 teaspoon olive oil and season lightly with kosher salt. Next, spoon about 2 tablespoons of dressing on top of the potatoes. Garnish with 1 teaspoon capers and about 5 slices pickled okra.
Project Management: Summit F&B
Photography: Carlos Garcia // Food Styling: Peg Blackley & Bree Williams