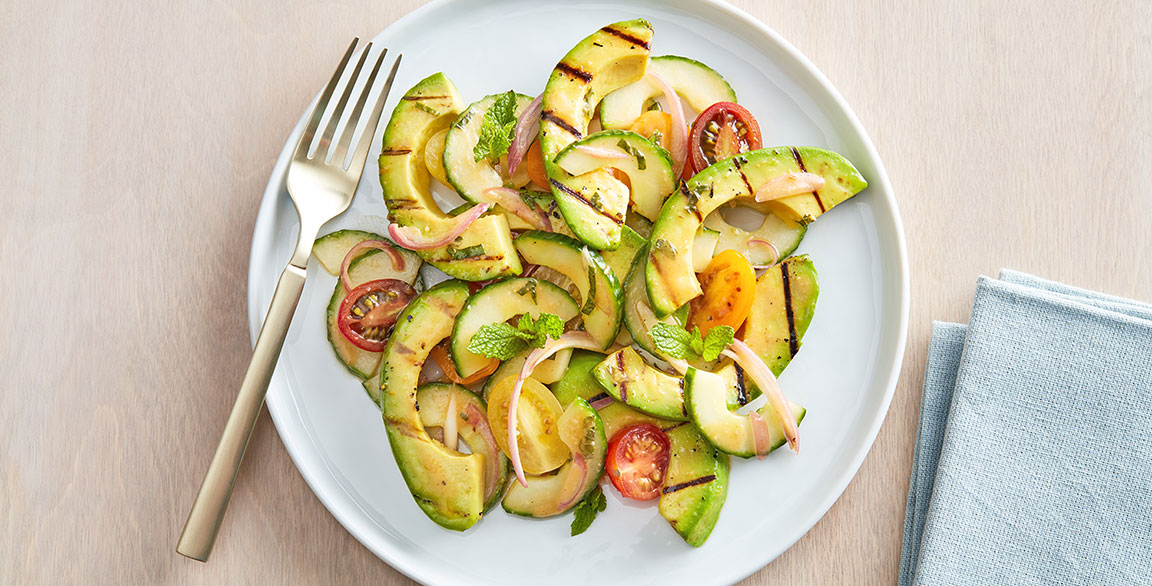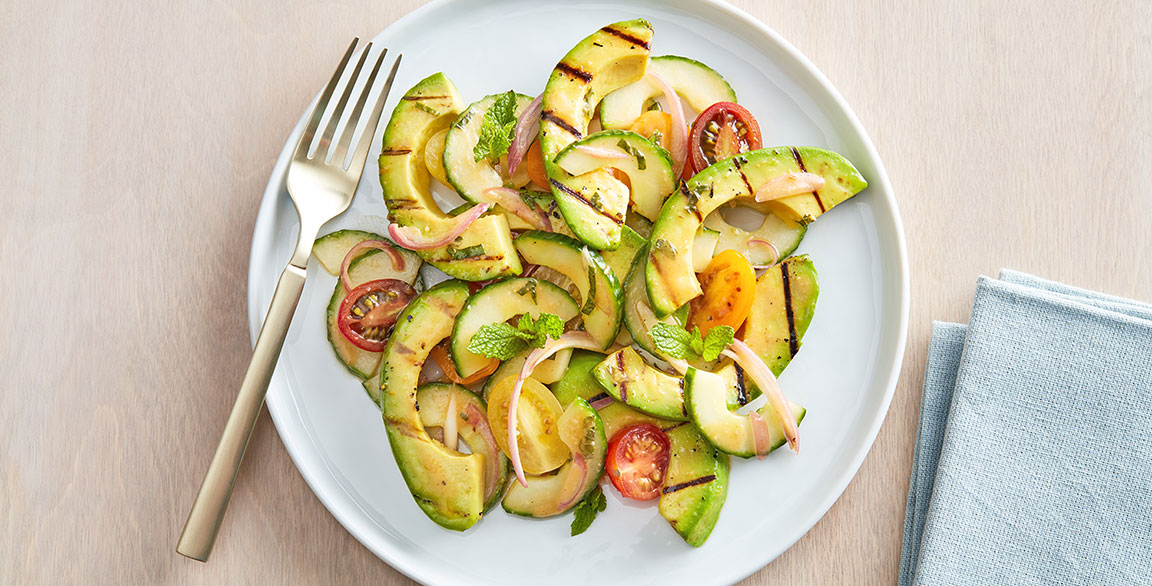 Grilled California Avocado, Tomato & Cucumber Salad with Minted Mojo Vinaigrette
Recipe courtesy of Jeffrey Hanak, VP of Culinary, Chili's
Sponsor: California Avocado Commission
Serves: 4
INGREDIENTS
2 ripe California Avocado (slightly firm), cut in half, seeded and peeled
3 cups heirloom cherry tomatoes
1/2 English cucumber
1 large shallot
1/4 cup extra virgin olive oil
Minted Mojo Vinaigrette (recipe follows)
Minted Mojo Vinaigrette
(Yield: 1-1/4 cups)
1/4 cup fresh orange juice
1/8 cup fresh lime juice
1/8 cup white balsamic vinegar
7 garlic cloves, peeled and rough chopped
2 tsp. kosher salt
1/4 tsp. cumin
1/8 tsp. smoked paprika
1/8 tsp. oregano, dried
1 Tbsp. sugar
1/3 cup fresh mint, chopped
1/2 cup canola oil
1/4 cup extra virgin olive oil
INSTRUCTIONS
Salad
Cut avocado halves lengthwise into 4 wedges/slices; should end with 16 wedges from 2 avocados.
Brush both sides of avocado slice with olive oil, and quickly mark each side on a grill; refrigerate to cool.
Cut tomatoes in half.
Cut cucumber in half lengthwise and remove the seeds. Cut into half-moons.
Peel shallot, cut in half lengthwise and slice very thin.
Cut cooled grilled avocado pieces into 4 pieces each. Place in bowl with remaining ingredients and gently toss with 1 Tbsp. vinaigrette.
Minted Mojo Vinaigrette
Place all ingredients except for the oils in a blender; blend for 1 minute.
Slowly add oils while blender is running to emulsify.
*Large avocados are recommended for this recipe. A large avocado averages about 8 ounces. If using smaller or larger size avocados adjust the quantity accordingly.
Project Management: Summit F&B
Photography: Carlos Garcia // Food Styling: Peg Blackley & Bree Williams