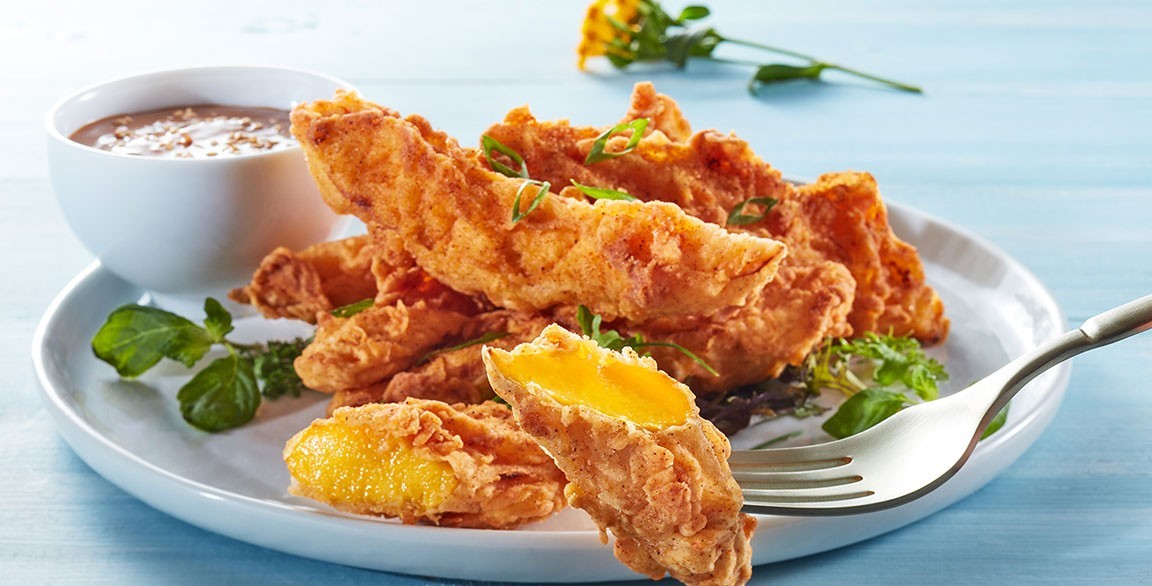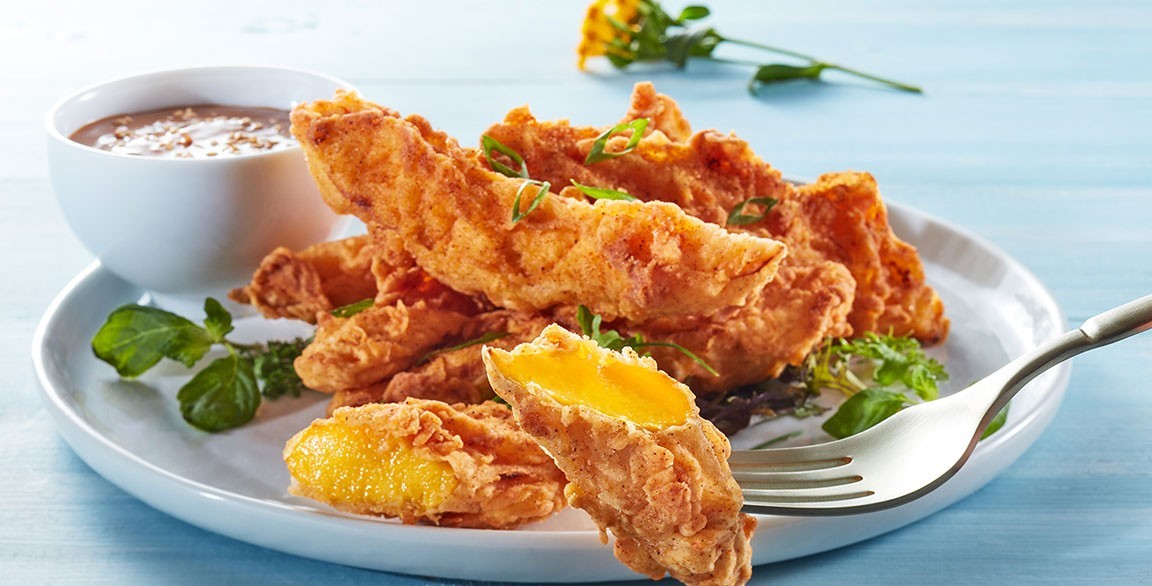 DEEP FRIED PICKLED GREEN MANGO SPEARS WITH TAMARI SESAME DIPPING SAUCE
Recipe courtesy of Chef Tamra Scroggins
Sponsor: National Mango Board
Yield: 1 shared plate
12 Deep Fried Pickled Green Mango Spears (recipe follows)
¼ cup Tamari Sesame Dipping Sauce (recipe follows)
Green onion, bias cut, for garnish
Sesame seeds, for garnish
Per serving: Place hot Deep Fried Pickled Mango Spears on a plate with a ramekin of Tamari Sesame Dipping Sauce. Garnish with green onion and sesame seeds.
Pickled Green* Mango Spears:
1 green mango (ripeness stage 2-3, firm), peeled and each cheek cut into 12 spears
½ cup rice vinegar
¼ cup tamari sauce
½ cup sugar, white granulated
Mix vinegar, tamari and sugar together in a small saucepan. Heat until the sugar is dissolved. Let cool slightly.
Place mango spears in a non-reactive bowl or jar and pour the pickling mixture over to cover. Pickle 3 to 8 hours. Drain and allow to dry out a bit.
*Green refers to mangos at the early stages of ripening (stage 2-3) when the whole fruit is firm to the touch, the flesh is crisp and the taste is sour.
Deep Fried Pickled Green Mango Spears:
12 Pickled Green Mango Spears
1 cup all-purpose flour
1 tsp seasoning salt
½ tsp paprika
1 egg
½ cup buttermilk
Mix flour, seasoning salt and paprika together in a stainless bowl. Set aside. Mix egg and buttermilk together in a stainless bowl. Set aside.
Place the mango spears into the flour and coat. Shake off any excess. Dip into the egg wash to coat. Place mango spears back into the flour mixture and coat completely.
Deep fry breaded mango spears 2-3 minutes in 350°F fryer. Drain and serve hot.
Tamari Sesame Dipping Sauce:
3 Tbsp tahini
1 Tbsp sesame oil
2 Tbsp rice vinegar
2 Tbsp tamari sauce
1 tsp chili garlic sauce
1 Tbsp sesame seeds, toasted
2 Tbsp green onion, sliced
Place all ingredients in a blender or food processor. Blend until smooth. Set aside.
Project Management: Summit F&B
Photography: Carlos Garcia // Food Styling: Peg Blackley & Bree Williams