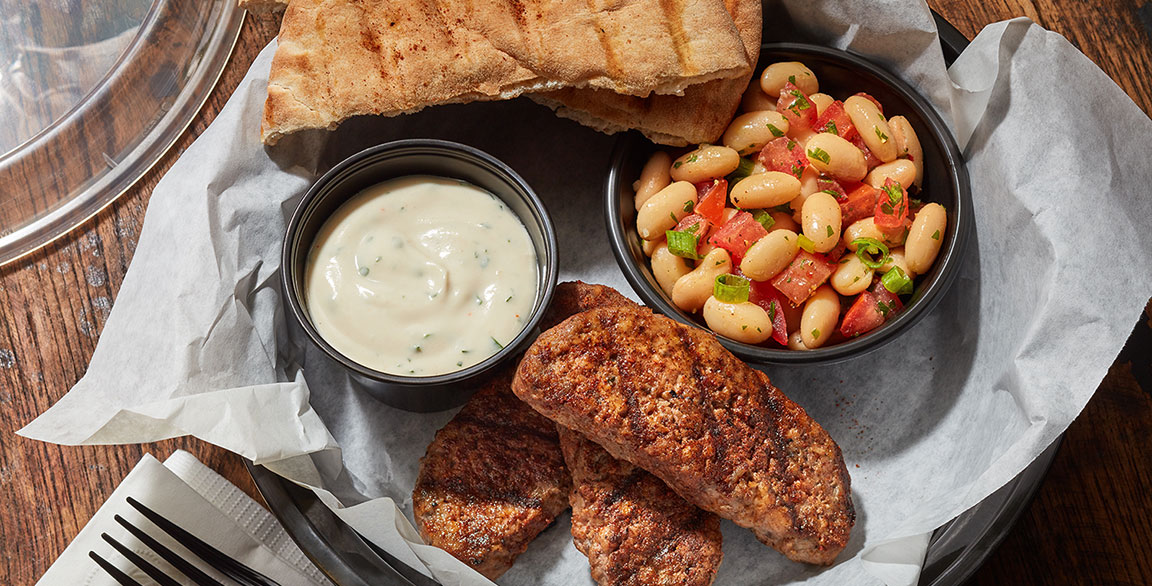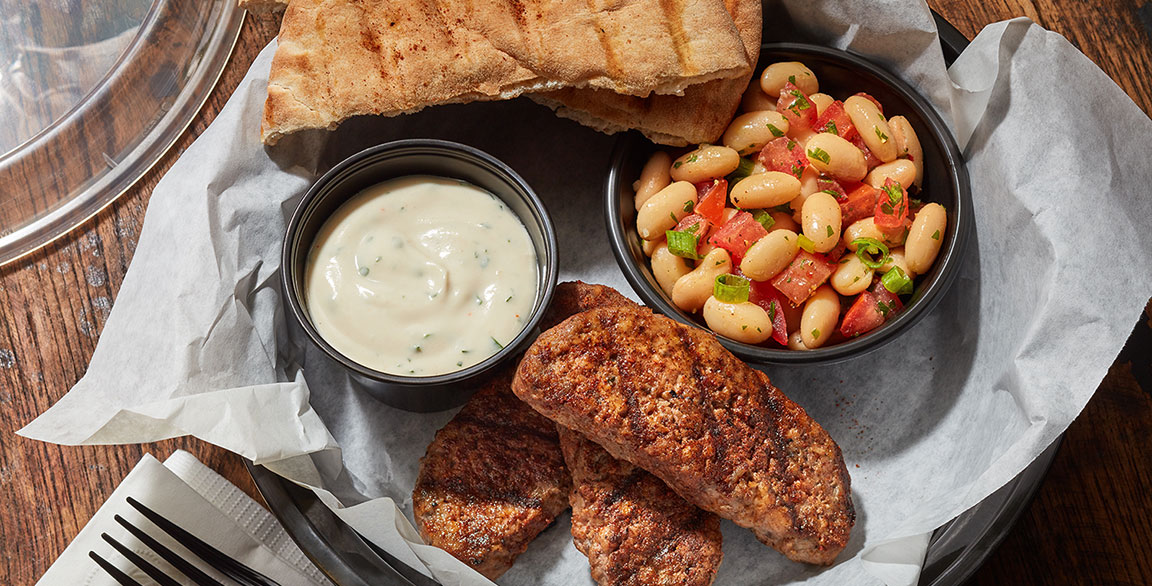 BUSH'S BLENDED KOFTA WITH CANNELLINI BEAN AND TOMATO SALAD
Recipe courtesy of Chef Tamra Scroggins
Sponsor: Bush's Best
Servings: 24
Ingredients:
Blended Burger Kofta:
2 tablespoons kosher salt
½ cup ground allspice
2 tablespoons cayenne pepper
2 tablespoons ground green cardamom
2 tablespoons ground sumac
2 tablespoons ground nutmeg
2 tablespoons paprika
48 patties Bush's Best Blended Burger
As needed parsley, for garnish
As needed pita, for garnish
Balela Salad:
12 cups Bush's cannellini beans, drained and rinsed
6 cups diced tomato
3 cups sliced green onions
3 cups minced fresh flat-leaf parsley
4 ½ ounces fresh lemon juice
1 ½ teaspoons minced or pureed garlic
¾ cup extra-virgin olive oil
1 ½ teaspoons kosher salt
Yogurt-Tahini Sauce:
1 cup tahini
2 tablespoons minced garlic
¾ teaspoon kosher salt
3 cups plain (not Greek) yogurt
½ cup fresh lemon juice
6 tablespoons roughly chopped flat-leaf parsley
As needed cayenne pepper
Directions:
For the Burger Kofta: In a bowl, blend together the spices.
Thaw the burgers and shape each one in a cylinder and sprinkle with 1 teaspoon kofta spice. Set aside.
For the Balela Salad: Combine the ingredients in a large bowl.
For the Yogurt-Tahini Sauce: Whisk together the ingredients and check for seasoning.
For each serving: Grill two of the meat cylinders on a hot oiled grill, for about 3 minutes on each side.
Plate with 1 cup of salad and 2 ounces sauce. Garnish with parsley and serve with warm pita.
Project Management: Summit F&B
Photography: Carlos Garcia // Food Styling: Peg Blackley & Bree Williams