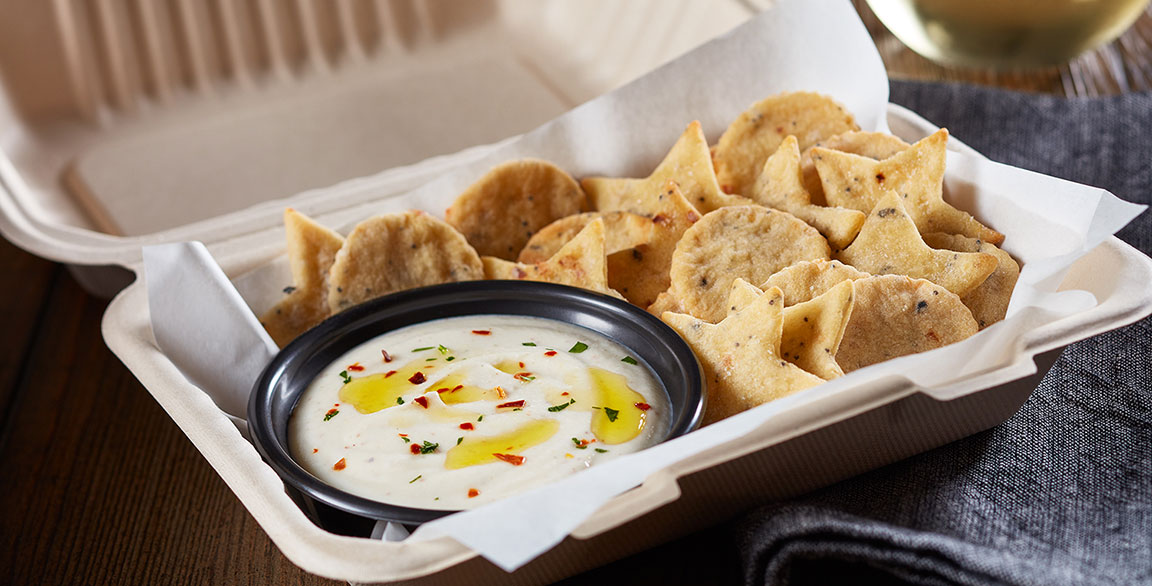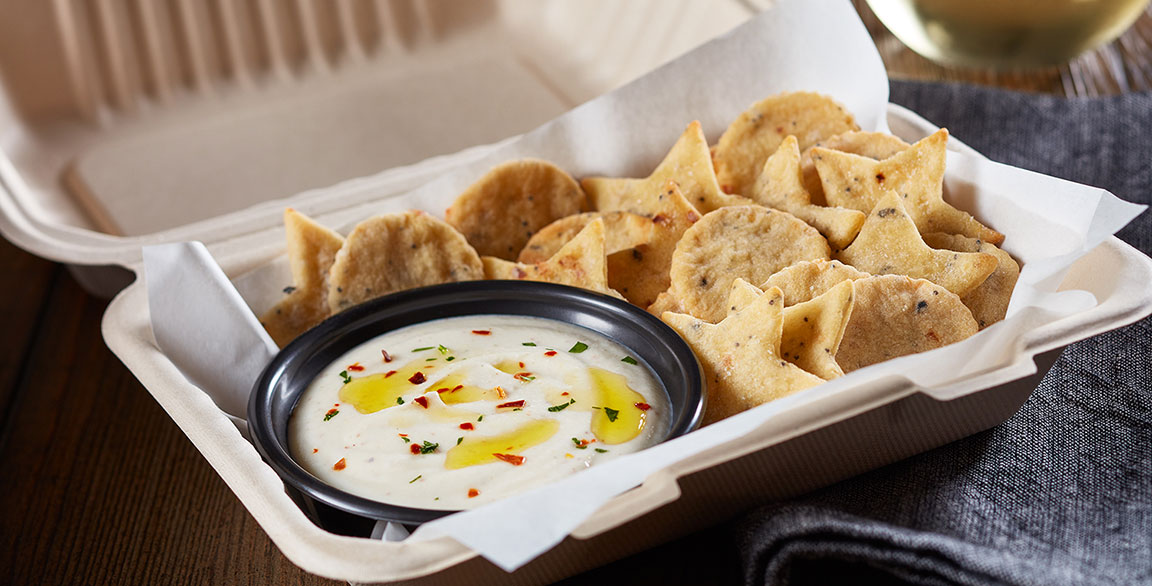 WHIPPED POTATO AND FETA DIP WITH POTATO CRACKERS
Recipe courtesy of Chef Tamra Scroggins
Sponsor: Potatoes USA
This is a take on skordalia, a Greek garlic and potato dip with whipped feta.
Servings: 24
Ingredients:
Potato-Feta Dip:
6 pounds Russet potatoes or leftover mashed potatoes
10 tablespoons Minced garlic
6 cups Sliced almonds
3 cups Extra-virgin olive oil
1 1/2 cups Fresh lemon juice
1 1/2 cups Red wine vinegar
3 pounds Feta cheese
3 cups Sour cream
3 cups Mayonnaise
6 tablespoons Lemon zest
2 tablespoons Fresh minced thyme
Potato Crackers:
24 cups All-purpose flour
3 quarts Mashed potatoes
2 tablespoons Chili pepper flakes
¼ cup Baking powder
1 1/8 cups Everything bagel spice
¾ cup Extra-virgin olive oil
To serve:
As needed Extra-virgin olive oil
As needed Chili pepper flakes
As needed Flat-leaf parsley, roughly chopped
Directions:
For the Potato-Feta Dip: If starting with raw potatoes, peel, cook, and mash them. Reserve 2 to 3 cups of the cooking water.
In a blender or food processor, combine all the ingredients except the potatoes and water. Puree together.
Pour the puree into a bowl and fold in the mashed potatoes. The potatoes will get
gummy if not mixed in by hand. If dip is too stiff, add some potato water or plain water until it reaches the desired consistency. This depends on the starchiness of the potatoes.
Transfer to a container and refrigerate.
For the Potato Crackers: Mix together all the ingredients by hand in a mixing bowl. It should form a stiff dough. If it is too dry, then add some potato cooking water or plain water until it reaches the desired consistency. Set the dough aside for 30 minutes to rest.
Roll out the dough in batches on a floured surface to about 1/8 inch thick. Cut into shapes and arrange on sheet pans with paper liners.
Bake at 350°F in a convection oven for 12-15 minutes, or until the crackers are golden brown and crisp. Store in an airtight container.
For each serving: Portion 12 ounces dip into a serving bowl. Garnish with oil, parsley, and chili flakes. Arrange 12 crackers on a plate alongside the dip.
Project Management: Summit F&B
Photography: Carlos Garcia // Food Styling: Peg Blackley & Bree Williams