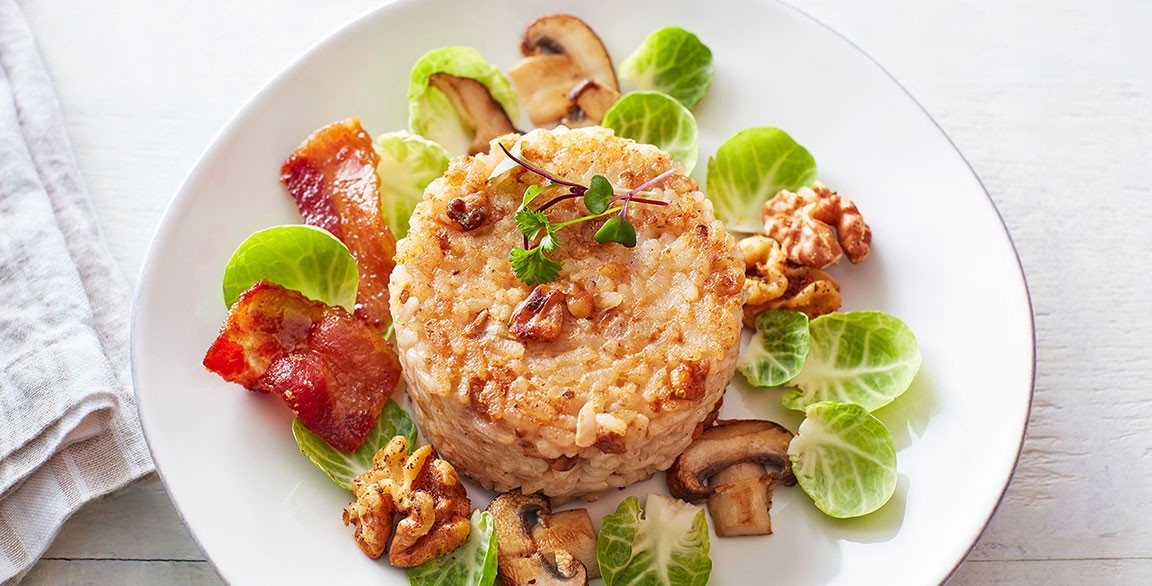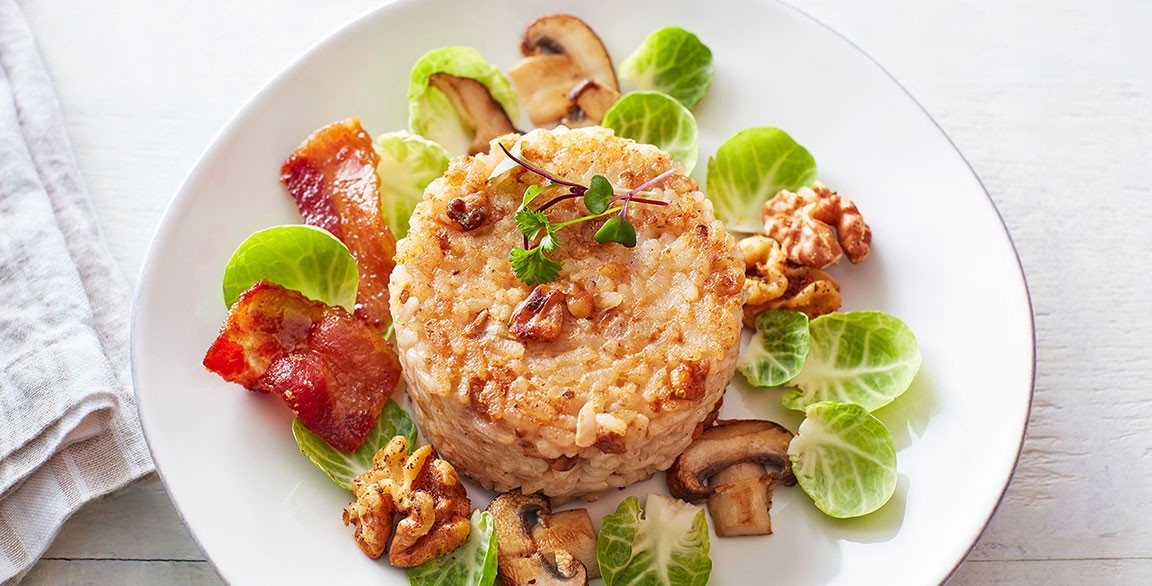 Pan-Seared California Walnut Cajun Risotto Cakes
Recipe courtesy of Chef David Stadtmiller, TGI Fridays
Sponsor: California Walnuts
Prep time: 30 minutes
Total time: 1 hours, 40 minutes
Serves: 6
Serving size: 1 risotto cake
Course: Main dish
Ingredients:
Cajun Walnuts:
4 oz. California walnuts, roughly chopped
1 tablespoon vegetable oil
1 1/2 teaspoons Cajun seasoning
Candied Bacon:
3 slices bacon
2 teaspoons sugar
Cajun Walnut Risotto:
3 1/2 oz. butter, divided
2 oz. chopped onion
8 oz. Arborio rice
1 cup chardonnay
2 1/2 cups chicken bone broth or chicken stock, warmed
3 oz. shaved Parmesan cheese
Sautéed Mushrooms and Brussels Sprouts:
2 tablespoons vegetable oil
12 small Brussels sprouts, halved
8 oz. baby bella mushrooms, sliced
1/2 teaspoon kosher salt
1/4 teaspoon pepper
Directions:
Preheat oven to 350°F and line a small baking sheet with parchment paper. Toss walnuts with oil and spread on baking sheet. Roast for 8 to 10 minutes or until lightly browned. Remove from oven and toss with Cajun seasoning; set aside.
To prepare bacon, place bacon on a parchment or foil-lined baking sheet. Bake for 15 minutes or until mostly cooked. Sprinkle with sugar and bake for 5 minutes more or until browned and crisp, turning once. Let cool, then cut into 1/4-inch strips.
To prepare risotto, melt 1 1/2 oz. butter in a large pot. Add onion and cook over medium heat for 3 minutes to soften. Add rice and cook for 3 minutes more, stirring frequently.
Reduce heat to low. Add wine and cook until most of the liquid has cooked off. Add half the warm broth and cook for 10 to 12 minutes or until most of the liquid has cooked off. Repeat with remaining broth. Turn off heat and cover pot; let stand for 5 minutes.
Stir in cheese, then stir in Cajun Walnuts; let cool.
While risotto is cooking, heat oil in a very large skillet over medium-high heat. Add Brussels sprouts and saute until lightly browned. Add mushrooms and cook until both are browned. Season with salt and pepper.
To prepare risotto cakes, lightly grease a 3-inch ring mold. Firmly press equal amounts of risotto into mold (about 3/4 full) then remove from ring. Repeat with remaining risotto. Melt remaining 2 oz. butter in a very large skillet. Add risotto cakes and cook for 2 to 3 minutes on each side or until golden brown.
Transfer to plates and top with equal amounts of sautéed vegetables and candied bacon.
Nutrition
Calories: 590
Total Fat: 39g
Saturated Fat: 13g
Monounsaturated Fat: 11.9g
Polyunsaturated Fat: 10.7g
Cholesterol: 50mg
Sodium: 820mg
Carbohydrates: 43g
Dietary Fiber: 3g
Sugars: 4g
Protein: 15g
Vitamin D: 0mcg (0%)
Calcium: 180mg (15%)
Iron: 2mg (10%)
Potassium: 610mg (15%)
Project Management: Summit F&B
Photography: Carlos Garcia // Food Styling: Peg Blackley & Bree Williams