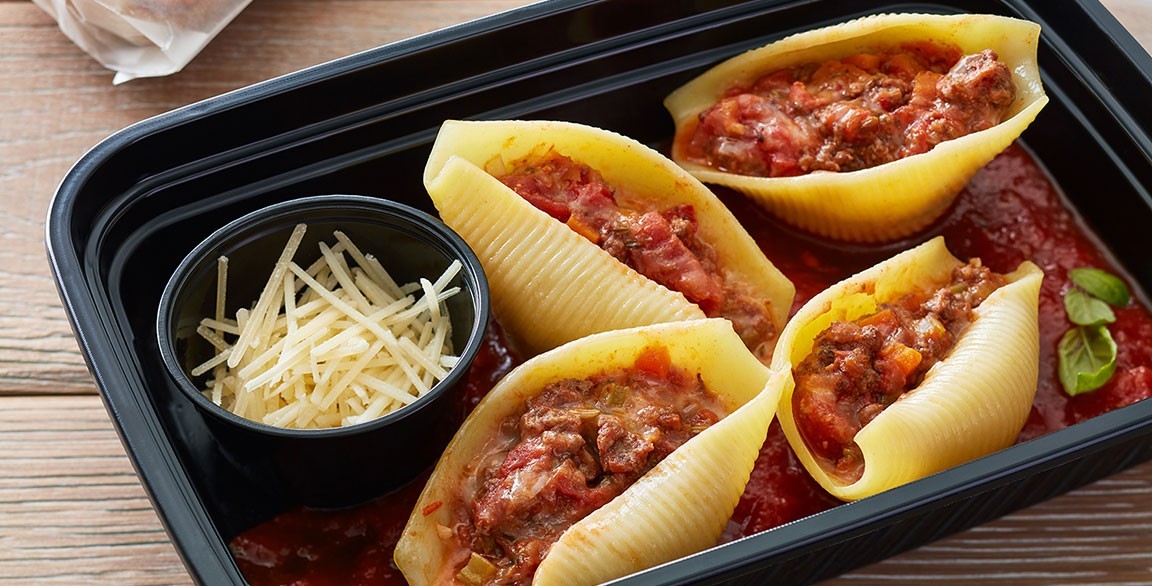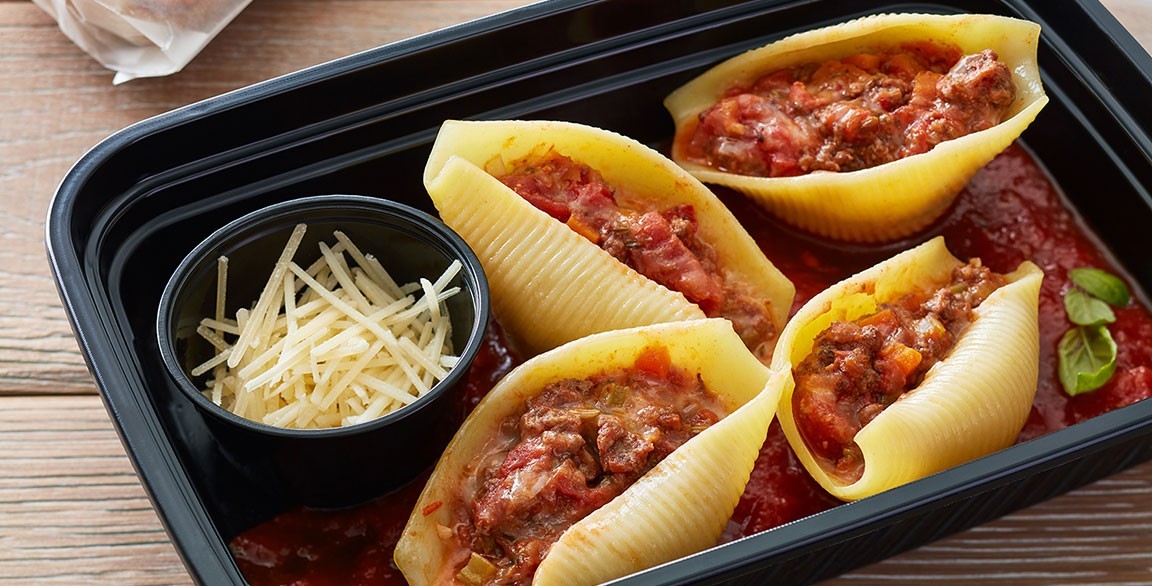 Barilla Classic Shells Bolognese
Recipe courtesy of Chef David Stadtmiller, TGI Fridays
Sponsor: Barilla
Servings: 24 (4 shells each)
This is a classic recipe of Barilla Jumbo Shells stuffed with Beef Bolognese, consisting of Italian-seasoned ground beef, fresh garlic, carrots, celery, onion, tomatoes, and mozzarella. They are served in Barilla Marinara garnished with shaved Parmesan and fresh basil and parsley.
Ingredients:
Pasta:
1 ½ tablespoons kosher salt
3 pounds Barilla Jumbo Shells
6 ounces vegetable oil
72 ounces Barilla Marinara, plus extra for serving
As needed pan coating
1 ½ pounds shredded mozzarella
As needed grated Parmesan
6 ounces chopped fresh basil
6 ounces chopped fresh parsley
Bolognese Filling:
1/2 cup vegetable oil
3 pounds 80/20 ground beef
3 cups (1 pound) 1/8-inch diced carrots
3 cups (1 pound) 1/8-inch diced celery
3 cups (1 pound) 1/8-inch diced onion
¾ cup (6 ounces) finely chopped garlic
3 tablespoons fennel seed
6 bay leaves
1 tablespoon dried oregano
1 tablespoon crushed red chili flakes
2 ¼ pounds canned diced tomatoes
¾ cup red wine (Cabernet blend)
3 cups Barilla Marinara
1 ½ teaspoons kosher salt
1 ½ pounds shredded mozzarella
Directions:
To make the pasta: Bring a large pot of water to a boil and season with the salt. Cook the shells as directed, until al dente.
Drain the pasta and toss it with the oil. Spread onto a sheet pan and place in a blast chiller or fridge to cool.
To make the Bolognese: In a rondeau over medium-high heat, warm ¼ cup of the oil. Add the beef and cook for 10 to 12 minutes, until it is fully cooked. Remove and drain the beef in a colander or china cap; reserve cooked beef in a pan. It should be well crumbled prior to draining the fat.
Return the rondeau to the stove over high heat and add the remaining ¼ cup oil.
Add the carrots and cook for 2 to 3 minutes.
Add the celery, onions, and garlic; cook for 2 minutes. Add the cooked beef, fennel seeds, bay leaves, oregano, and chili flakes. Bloom the spices for 2 minutes.
Add the tomatoes and wine to deglaze the pan. Cook for an additional 2 minutes, or until the wine is almost completely evaporated.
Remove from the heat and fold in the marinara and salt. Stir to fully incorporate.
Pour the filling onto a full sheet pan and let it cool in the walk-in for about 10 minutes, stirring halfway through the time.
Once the filling has cooled, mix in the mozzarella.
Using a large spoon, fill each pasta shell with Bolognese.
In a greased 2-inch half hotel pan, ladle 24 ounces marinara in an even layer across the bottom. Place about 20 filled shells in the pan. Top with 8 ounces mozzarella, sprinkling it over the center of the shells. Cover with plastic wrap and foil and refrigerate.
Repeat with two more pans.
Bake each pan in a 350°F oven for 25 to 30 minutes, until it reaches an internal temperature of 165°F.
Serve 4 shells on a plate with additional hot marinara. Garnish with Parmesan and fresh basil and parsley.
Project Management: Summit F&B
Photography: Carlos Garcia // Food Styling: Peg Blackley & Bree Williams