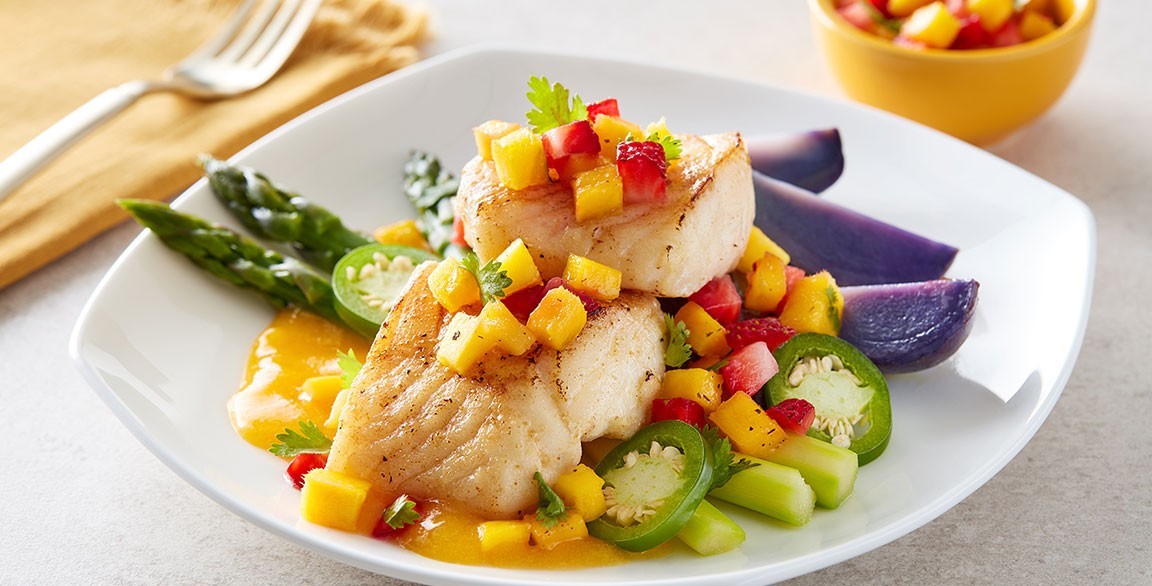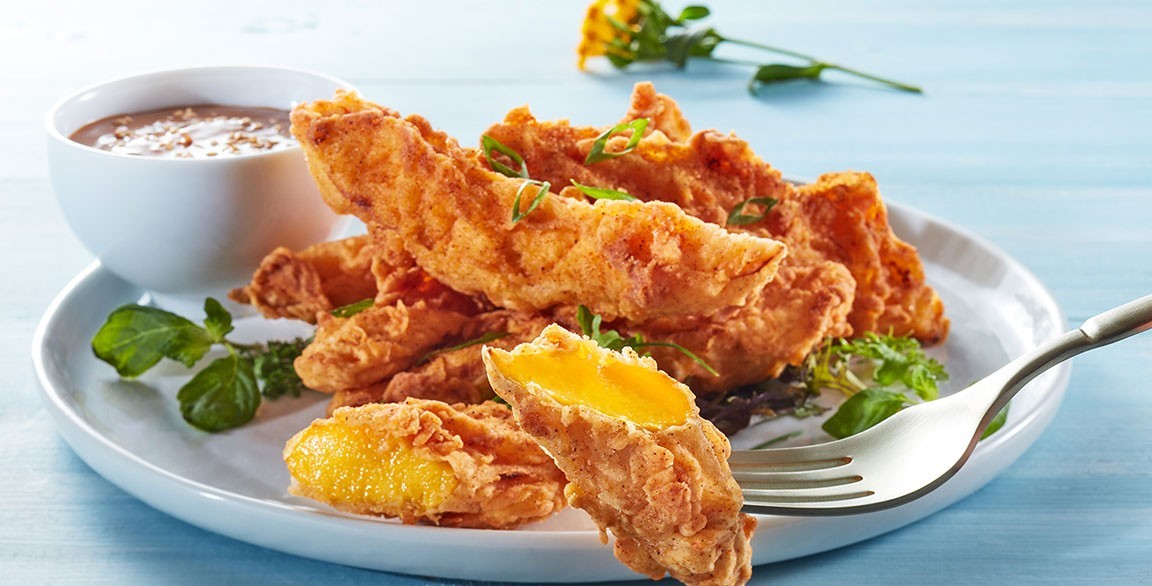 Pan-Seared Cod with Mango Strawberry Pico de Gallo and Cumin Mango Gastrique
Recipe courtesy of Chef David Stadtmiller, TGI Fridays
Sponsor: National Mango Board
Yield: 4 entrée servings
Cumin Mango Gastrique (recipe follows)
Mango Strawberry Pico de Gallo (recipe follows)
Poached Purple Potatoes (recipe follows)
12 asparagus spears, cleaned and trimmed
8 pieces cod, 3 ounces each
Salt, pepper and cumin, to taste
Per serving: Using a ladle, place 1-1/2 oz hot Cumin Mango Gastrique at 7 o'clock on the plate in a pool. Using the back of the ladle or spoon, push through the pool and make a half moon going towards 2 o'clock.
In a ramekin, combine 8 quarters cooked purple potatoes with 1 tsp vegetable oil and heat in the microwave 20-30 seconds. Place hot potatoes at 2 o'clock. Shake ¼ tsp. salt and pepper on top of potatoes.
Sauté 3 asparagus spears in a heated sauté pan with vegetable oil, kosher salt and cracked black pepper for 3-4 minutes or until al dente. Place the asparagus on the gastrique from 10 o'clock to 4 o'clock.
Season 2 3-oz pieces of cod with kosher salt, black pepper and ground cumin. Sear skin side down in a saute pan for 2 minutes, flip and continue to cook for 2 minutes, until fish reaches 145°F for 15 seconds. Once fished is cooked place one piece on top of the other at 9 o'clock.
Top with 1/8 cup Mango Strawberry Pico de Gallo allowing the pieces to slightly fall down over the front and sides.
Cumin Mango Gastrique
8 oz fully ripe mango, large dice, about 1 cup
½ cup honey
½ cup white vinegar
½ tsp kosher salt
½ tsp cumin
In a medium size sauté pan, place the mango, honey and vinegar; bring to a boil. Reduce to medium high heat and cook 3-4 minutes or until large bubbles form. Do not completely cook out liquid.
Remove sauté pan from the heat and pour the mango, honey and vinegar into a blender. Add the salt and cumin. Cover and blend for 45 seconds or until completely smooth. (NOTE: Hold lid down with a towel to ensure the steam does not blow the top off.) Once pureed, refrigerate. Reheat for service.
Mango Strawberry Pico de Gallo
4 oz fully ripe mango, cut into 1/8-inch dice
2 oz strawberries, cut into 1/8-inch dice
2 large jalapeno peppers, wheel sliced 1/16-1/8 inch
½ Tbsp chopped cilantro
1 large lime, juiced
Kosher salt, to taste
Combine all ingredients in a stainless steel bowl mix with lime juice and salt until fully incorporated. Refrigerate until ready to serve.
Poached Purple Potatoes
8 size "B" purple potatoes (diameter 1-½ to 2-¼ inches)
1/8 cup kosher salt
Add water to a 12 qt sauce pan with 1/8 cup kosher salt; bring to boil; add whole potatoes and cook 10-12 minutes or until potatoes are fork tender.
Dump out water, place ice and cold water back on to potatoes to shock. Drain and allow to cool. Once potatoes are cooled, cut into quarters lengthwise. Reserve.
Project Management: Summit F&B
Photography: Carlos Garcia // Food Styling: Peg Blackley & Bree Williams