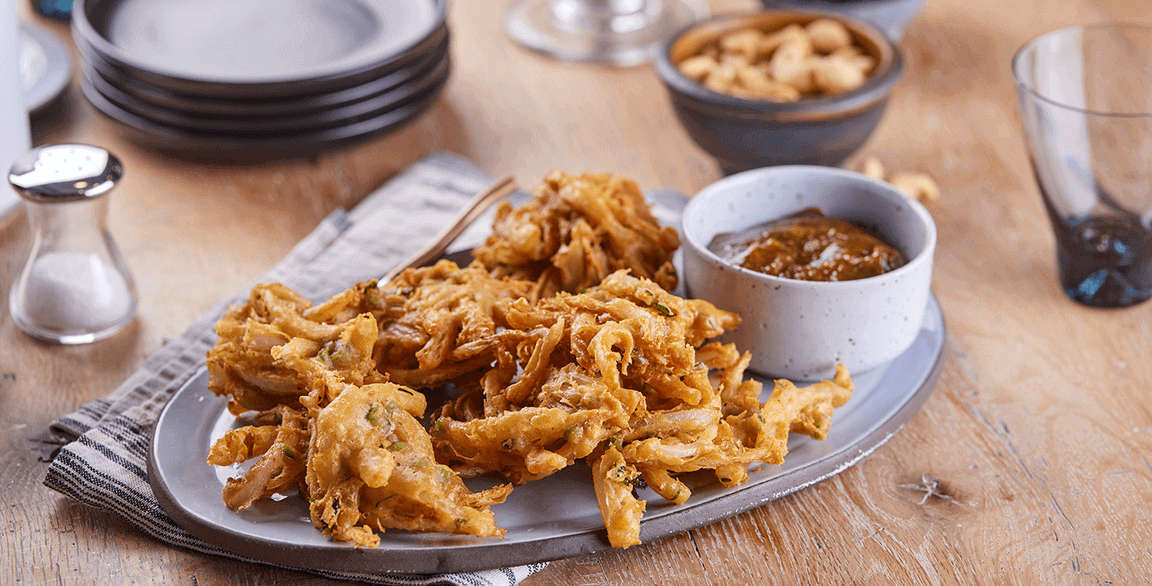 By Flavor & The Menu
May 5, 2022
As labor and supply chain shortages are likely to continue to challenge foodservice operations for the foreseeable future, chefs will lean more heavily on versatile workhorse ingredients to keep kitchens humming and customers happy. In addition, reliability, consistency in quality and performance and added value are key attributes that have become more important than ever when specifying products for procurement.
Chefs can look to the humble onion to be that workhorse ingredient. A study in flavor contrasts—intense/mild, savory/sweet, crunchy/soft—depending on preparation and combination, onions can be counted on to lift flavor across a myriad of dishes from virtually every world cuisine. And chefs can look to Gills Onions as a source of high-quality onions delivered in a variety of forms specifically developed to support the restaurant industry.
WORKHORSE WINNER
A stunning amount of recipes include onions as a key flavor component, from a nuanced taste that adds dimension and complexity to an in-your-face punch that announces its presence. Raw, cooked, pickled or puréed, its inherent versatility makes the onion the unparalleled flavor leader among vegetables. As chefs continue to prioritize cross-utilization as a component of menu ideation, onions should be at the top of every list when building new recipes.
Of course, the best recipes are only one part of the equation for operational success. Commercial kitchens must be able to count on suppliers to come through with high-quality products that are reliably consistent and safe. Added values, such as sustainability, traceability and transparency, can offer important advantages. As one of the largest family-owned onion growers/processors in the world, Gills Onions, based in Oxnard, Calif., strives to deliver that competitive edge to its foodservice customers.
It starts with an assurance of consistency. "Consistent price. Consistent yield. Consistent quality. Every single time," says Megan Jacobsen, VP, Sales and Marketing for Gills Onions. This consistency is proven to help chefs reduce labor costs, minimize training and calculate a more accurate plate cost.
Gills supports commercial kitchens by providing its onions in several formats:
Slivered
Diced
Sliced
Diced pickled
Whole peeled
These formats ensure a uniformity in even, consistent cut sizes, which subsequently have an impact on cook times and, of course, the finished, plated product. The formats also deliver reliable yields, which is another critical cost factor for restaurants. "With commodity sack onions, quality varies greatly during the year," says Jacobsen. Today's commercial kitchens can't afford to discard a percentage of a 50-lb. bag of onions due to spoilage. With Gills, chefs can count on getting reliable poundage.
The pre-cut formats also can reduce the risk of knife injuries—and those associated costs. "Value-added products like these keep employees safe," says Jacobsen, noting that this also frees up staff to take on tasks that require more attention. "Replace the knife in their hand with a whisk!"
SUSTAINABILITY AND SAFETY ASSURANCES
Gills ups the ante with more advantages, including its commitment to sustainability principles, which encompass its entire operation, from growing processes to green packaging to employee relations. Its stated goal is to provide the highest-quality onion products with the lowest environmental impact, and this can help restaurant operators promote their own sustainability pledges and stories to guests. "All benefit from a greener supply chain, and our earth is preserved for future generations," says Jacobsen.
Operators also will gain peace of mind from the food safety and quality assurance practices Gills has put into place. "Gills has total traceability all the way back to the seed," Jacobsen adds. In addition, every onion goes through a HACCP-approved cleaning process with chlorinated water, metal detection and strict temperature controls. "We take all the steps necessary in food safety so you can do what you do best—create delicious and memorable meals."
Discover more about the foodservice products and advantages available from Gills Onions by visiting https://gillsonions.com/products and clicking on "Foodservice."