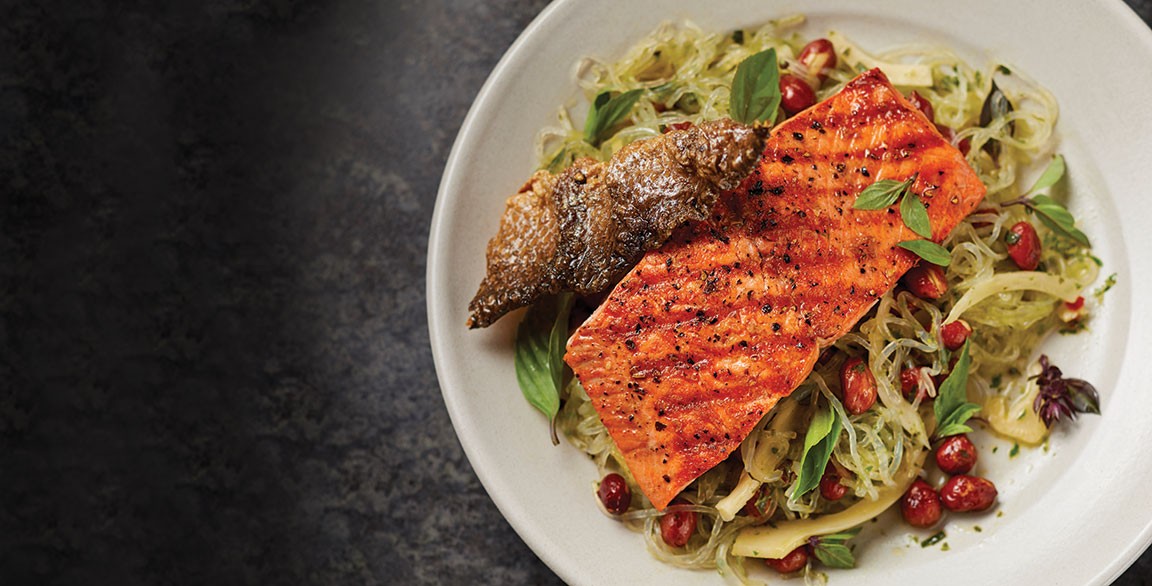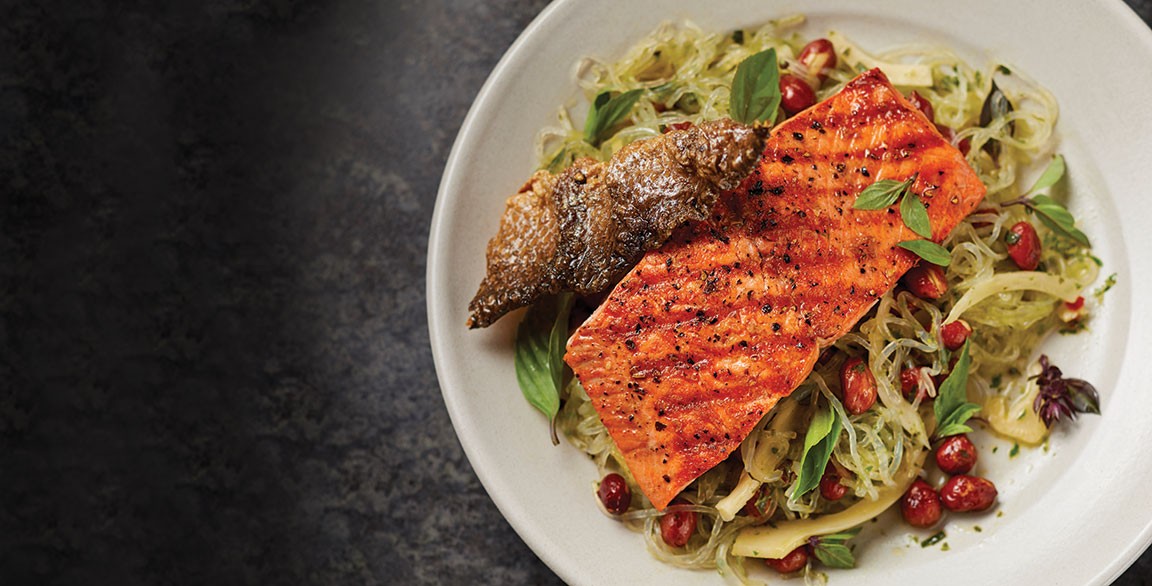 By Katie Ayoub
March 15, 2021
As chef and owner, Michael Scelfo executes flavor-forward menus at both of his highly acclaimed restaurants in Cambridge, Mass. Alden & Harlow, a modern American concept, offers dishes with intriguing, bold flavor combinations like his Plancha'd Halloumi, paired with vinegar-poached figs and burnt shallot mostarda. At his coastal-inspired restaurant Waypoint, Scelfo demonstrates the kinship that seafood and fermented ingredients share when paired in dishes like his Lobster Cacio e Pepe in koji butter and pecorino.
In this Wood-Grilled Alaska Salmon & Kelp Noodle Salad, developed in partnership with the Alaska Seafood Marketing Institute, Scelfo explores that flavor affinity, pairing fermented fennel with salmon and introducing seaweed's unique characteristics into the mix. Although the flavors are assertive here, his aim is to ensure the sockeye salmon is the star. "I really wanted to capture the fish front and center and then present accompanying flavors that balance it out," says Scelfo. The grilled salmon is placed over a salad of kelp noodles dressed in a Thai basil vinaigrette, along with fermented fennel laced with Calabrian chiles.
Fried Spanish-style peanuts and a salmon skin "chicharrón" complete the dish. "I love the richness of the salmon for this dish—all of the other ingredients are designed to play off of that natural fattiness," he says.
THE SALMON
Alaska sockeye salmon provides striking color and rich flavor.
THE CHICHARRÓN Dehydrated salmon skin is deep fried and seasoned.
THE KELP NOODLES
Natural salinity and vegetal notes are introduced.