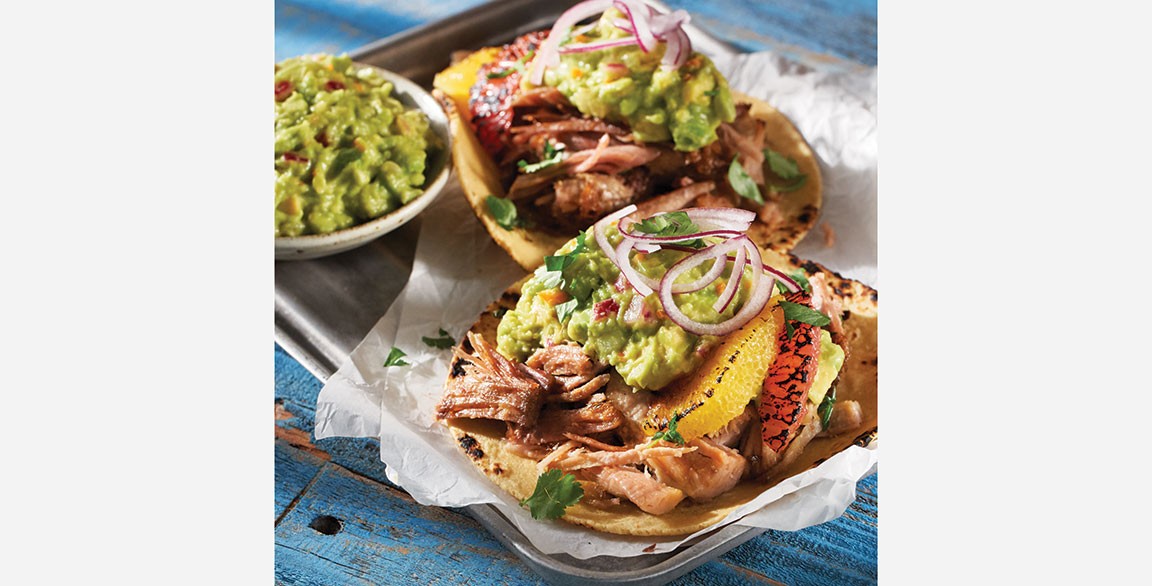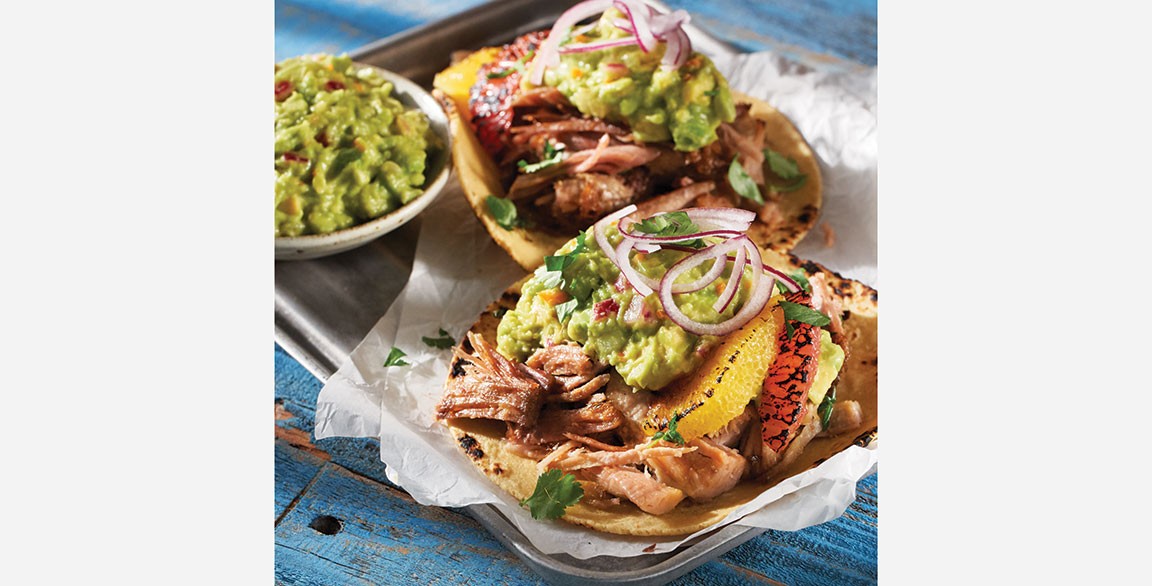 By Eliza Amari
April 4, 2021
Operators need strategies that grant them a competitive edge in the vital world of off-premise dining. Menu developers and marketers at commodity boards representing produce, animal and plant proteins, and dairy farmers are eager to help. Their strategic recipe work today focuses on portablity, ease of execution, SKU management and the consumer eating experience.
We've highlighted nine standout builds, each ready for takeout and delivery, and primed with on-trend flavor.
YES TO THE YUCATÁN
These Yucatán Guacamole Pork Tacos (picture above) stand out with signature flavor thanks to a smart culinary approach of marinating the avocado overnight. Inspired by cochinita pibil, the regional star from the Yucatán, the pork is marinated in citrus juice, herbs and spices, then seared and braised for that iconic crisp-yet-tender texture. Fresh avocado, red onions and habanero are marinated in lime, grapefruit and sour orange juice, then mashed into guacamole. The pork is piled onto a charred tortilla, topped with the guacamole and garnished with grilled grapefruit wedges and red onions.
Several factors make this dish takeout-friendly. "Marinating the avocado the night before not only imparts a bold flavor into the guac itself, but it also helps to streamline prep," says Dina Paz, culinary director of SRG agency on behalf of Avocados From Mexico. "Plus, the higher acidity level in the marinade delays browning, making it an ideal choice for off-premise dining." Using a firmer avocado and storing the marinade tightly wrapped helps achieve a hold time of up to 24 hours, she says.
"With a limited number of components that are all rich in flavor, this is a great choice for delivery menus," says Paz. She advises that components be packaged separately and the tortillas wrapped in foil to stay warm and pliable. "Diners can assemble the tacos, with each portion held at the right temperature and with the ideal texture for a delicious eating experience—no matter where they are."
---
SWEET HEAT
Taking advantage of go-to SKUs while featuring on-trend flavor combinations is savvy strategy today. The Nashville hot flavor system continues to find great success on menus, with chefs adapting its profile in clever ways. In the Tender Honey-Sesame Biscuit with "Honey Hot" Korean Chicken, it bends into a Southern-Korean mash-up. Mustard pickles in honey vinegar crown the crispy chicken.
The crave factor on the fried chicken breast stems from a sticky, savory, sweet, hot glaze made with pantry staples: ginger, garlic, red chile flakes, soy sauce, honey, rice vinegar, mustard powder and brown sugar. A signature combination of ingredients, including turmeric, honey, celery seeds and mustard seeds, make the honey vinegar for the pickles aromatic and memorable, and a travel-friendly biscuit acts as the carrier, with honey and sesame giving it a unique spin.
"This dish makes an ideal takeout item because the components are easily packaged for travel and assembly and will deliver a flavor 'wow' upon arrival," says Catherine Barry, National Honey Board marketing director.
---
RAINBOW CONNECTION
A vibrant mix of colors and flavors, this Pickled Blueberry Couscous Salad is a ready-to-travel meal that stars quick-pickled blueberries layered on roasted red beets, feta cheese, grape tomatoes, marinated chickpeas, baby arugula and rainbow pearled couscous. The blueberries are pickled with juniper berries, peppercorns, bay leaves and cloves to add a fragrant and tangy pop of flavor to the savory ingredients in the salad.
To flourish in the takeout space, mindful layering of the salad "ensures that all components remain fresh, unwilted, uncrushed and colorful," says Rosalyn Darling, associate culinary director of SRG on behalf of the U.S. Highbush Blueberry Council. "Typically, I place grains on the bottom, since they are the heaviest component of the build. Then I'll add marinated ingredients to allow the excess dressing to drip and season the grains below. From there, I layer elements of contrasting colors. If there are ingredients that tend to bleed color, such as the beets, I'll use leafy greens as a color barrier. Last, I will add the star blueberry component to the top, so it is the first thing consumers see."
---
CREOLE TWIST
Riding the takeout wave, chef-crafted savory bakes are finding favor, offering menu developers a delicious canvas for elevated flavor play in a convenient take-and-bake or ready-to-eat format. This Jambalaya Mac & Cheese was created by Rashad Armstead, chef and founder of the Black Food Collective, a ghost kitchen based in Oakland, Calif., expressly designed as a collective to create opportunities for African American operators, employees and investors.
The dish is a comfort-food classic with a Creole twist. He layers pasta with five California cheeses (Monterey Jack, smoked Gouda, sharp and mild cheddar, white cheddar, Asiago and Romano), along with fresh seafood, chicken and andouille. Sautéed onions, garlic and bell peppers provide the Creole kick, and a thick layer of the cheeses offers a golden brown finish.
"When you're serving baked dishes, especially when you add high-quality dairy products, it gives customers the feeling that they're fresh out of the kitchen," says Armstead. "When chefs create dishes for takeout, one of the main things we like to think through is how our dish will maintain its flavor and identity. Here, when the creaminess of the cheeses meets the pasta, it's as if they were born to be together."
---
DROPPING IN
Like most restaurants in 2020, Lebanese Taverna, based in Washington, D.C., sharpened its focus on creative takeout strategies, from menu promotions to innovative "neighborhood drops" that extended the restaurant's geographic reach. The latter is a particularly clever tactic. Customers round up friends, family and neighbors, place a combined order (typically requiring a minimum of 10 items), and the restaurant "drops" the food into the neighborhood at a designated day and time.
One featured dish was this takeout-friendly Lamb Family Meal. Ouzi, the Lebanese braised lamb dish on a bed of spiced rice, was a promotion Lebanese Taverna launched in partnership with the American Lamb Board last fall. The rich, flavorful braise features bay leaves, carrots, cinnamon sticks, cloves, celery and allspice, lending a classic Eastern Med fragrance that makes this dish a favorite with diners. Packaged in a reusable grocery bag, the lamb is accompanied by signature sides, including hummus, bread and a yogurt salad with cucumber, mint and garlic.
"Lamb is a key ingredient in Lebanese dishes, and being creative and working on a takeout promotion featuring American lamb is reenergizing," says Grace Abi-Najm Shea, executive VP for Lebanese Taverna. Sourcing its lamb from Elysian Fields Farm in Pennsylvania, the restaurant offers other lamb-centric dishes, including Lamb and Artichoke Stew and Sharhat Ghanan, a lamb loin served with roasted vegetables, za'atar potatoes and three-herb sauce.
---
PERCEPTION PAYS OFF
As plant-centric eating trends continue to grow, their place in off-premise dining is taking shape in creative dishes designed for broad consumer appeal. This California Walnut Korean Bulgogi Bowl features walnuts as the meat-alternative "crumble"—Korean style—mixed with riced cauliflower and then sautéed with onion, garlic, dates, gochujang and soy sauce. The subtle nuttiness and texture of the walnut "meat" mimics ground beef, while the heat from the gochujang is nicely balanced by the sweetness of the dates. Served over rice with fresh cucumber and carrots, a fried egg, and candied walnuts for added crunch, this bowl is a model assemble-at-home dish.
"While consumers like the idea of plant-based eating, executing these dishes at home proves to be more difficult and requires more creativity for the typical home cook," says Juliet Greene, consulting innovation chef for California Walnuts. Plant-based meals featuring walnuts offer good opportunity for creative takeout menus, given the value perception that chefs can leverage here.
Operationally, this prep offers ease of execution. The walnut crumble has a long hold time once cooked, retaining texture, consistency and flavor for to-go service. "The recipe for success is creating an easy, travel-friendly dish that is delicious and something that seems difficult to replicate at home, which amplifies the craveability factor," says Greene.
---
SOUP'S ON
The love for loaded fries knows few bounds, particularly among Millennial and Gen X diners, with the loaded fries category growing 54 percent in the last four years, according to Datassential. But to make this on-premise favorite work in the takeout space means selecting a winning combination of potato and packaging. These Loaded Clam Chowder Fries showcase how operators can continue to serve craveable, comforting builds like this in a to-go environment.
Here, crispy seasoned waffle fries are packaged separately from the indulgent clam chowder topping to maintain the integrity of the potato. "Loaded-fries dishes can be compartmentalized for easy assembly by the diner. This ensures the fries stay crisp in a well-ventilated container, while the toppings—including chowders, curries, stews and cheese sauces—stay piping hot," says RJ Harvey, culinary director with Potatoes USA. "Match your cut of frozen potato product with an appropriate sauce. Heartier, more robust cuts, such as waffle fries and wedges work best for rich chowders, stews and curries. Tots, straight-cut fries and curly fries are perfect for queso, tzatziki and aïoli."
---
SHAKE IT UP
Optimizing the potential in to-go beverages is one way operations can stand out among their competitors. This refreshing Watermelon-Blueberry-Basil Lemonade presents a great opportunity for a unique, colorful to-go beverage, providing visual appeal, bright flavors, the comfort factor of a hand-shaken lemonade and interest in functional superfoods.
Created by bar and beverage specialist Tony Pereyra, with The Spirits in Motion on behalf of the National Watermelon Promotion Board, blueberries are combined with equal parts fresh watermelon juice and fresh lemonade, then shaken with ice, strained and further garnished with blueberries, watermelon slices and basil.
While delicious and refreshing as-is, the lemonade is also a perfect foundation for other beverage applications, such as a cocktail, low-ABV option or nonalcoholic beverage. And with carbonated drinks exploding in popularity, operators might consider injecting some bubbles into the mix. Adding the right carbonation can take this beverage to the next level, says Pereyra.
---
TOAST TRAVELS
As a trend-forward meal that easily floats across dayparts, this California Avocado & Egg Wheat Berry Toast Nosh Box taps into the enduring popularity of avocado toast while providing a new flavor experience in the baingan bharta, a smoky roasted eggplant spread. Balanced by the rich, nutty avocado, which offers vibrant color and another layer of texture, the dish is a hearty, but not hefty, healthy to-go build.
"This is great for takeout, as the items are not going to lose their integrity, flavors or colors. The guest will be happy with the final look and taste," says Jason Hernandez, consulting chef for the California Avocado Commission.
Baingan bharta, a North Indian dish, is composed of roasted eggplant mashed with toasted cumin seeds, jalapeño, ginger, citrus, cumin, chile powder and tomatoes. "You will get even more robust flavor if the eggplant is roasted whole on the grill until the skin chars and the inside is soft," says Hernandez, also noting that a smoked salmon, seared tuna or plant-based protein could build off the flavors in this dish, transforming it into a more substantial meal.