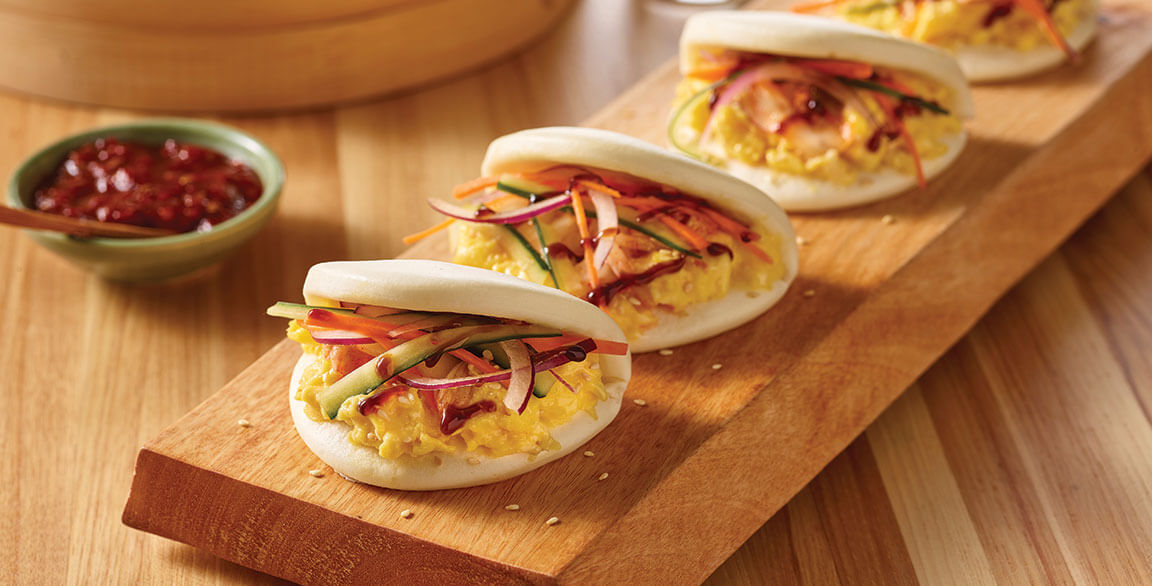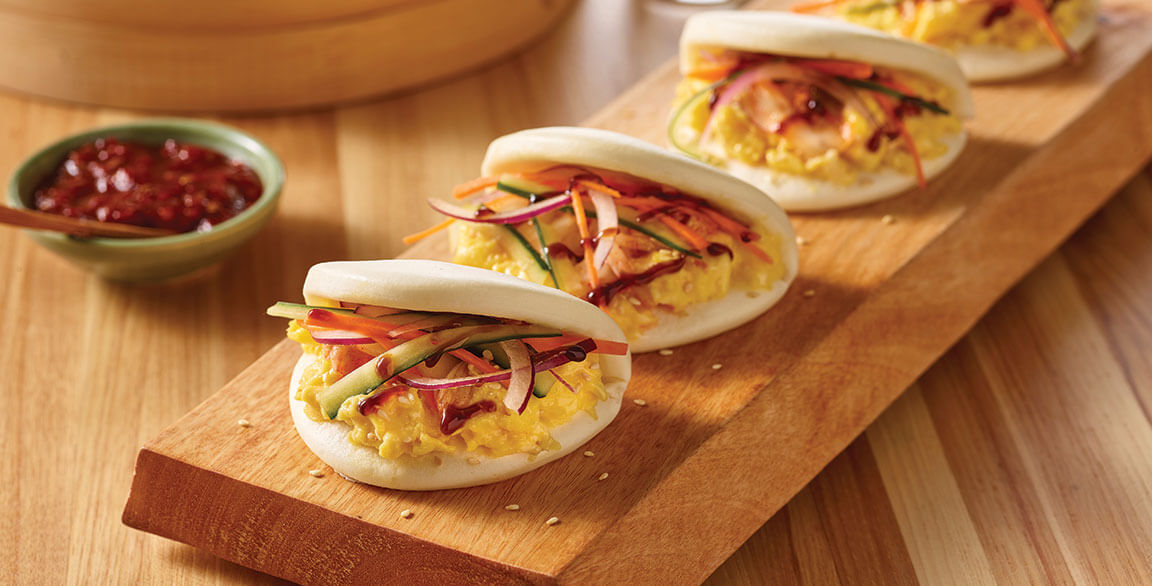 By Eliza Amari
August 11, 2021
Chefs today know that every element in a build counts. With so much focus on portability and once again—thankfully—shareability, taking a look at on-trend carriers is a smart move. We tapped menu developers and marketers at commodity boards, asking them to share market-ready, trend-forward recipe builds that showcase innovative carriers while upping the game on intrigue, practicality, flavor and versatility.
1

Fun With Buns

Chefs are modernizing Chinese-American fare, leveraging its many craveable flavor combinations and familiar formats. The timing is good for this type of menu play: Datassential reports Chinese food topped the list of cuisines that diners are eager to consume again outside the home. This finding, combined with the portability and comfort afforded by handhelds, makes the bao an ideal carrier for all kinds of flavor builds. Its sturdy structure makes it even more of a star when it comes to durability for off-premise menu items.

These Egg Bao sandwiches feature soft-scrambled eggs sprinkled with sesame seeds and topped with pickled vegetables (marinated in vinegar, sugar and kosher salt), then finished with a drizzle of oyster sauce, all tucked into Chinese bao buns. The buns are warmed in a steamer to achieve their signature soft, pillowy texture.

Dressed up or down, the Egg Bao is well-suited to meet the needs of consumers craving either a sit-down restaurant experience or an intriguing on-the-go option. "Consumers miss foods that can be hard to recreate at home, like Chinese food. Bao makes a buzzworthy carrier to meet your customers' cravings," says Phaedra Ruffalo, director of food chain outreach at the American Egg Board. "These complementary ingredients also bring the eggs to the next level, allowing something familiar to be the star in an exciting global carrier."
2

Naan Sense

Imaginative global mash-ups literally deliver the best of two worlds. Kiran Verma, chef/owner of the upscale Houston Indian fusion eatery called Kiran's, leverages this philosophy across her menu. This Indian-Mediterranean-inspired Caprese Stuffed Naan is a prime example, demonstrating a clever melding of world cuisines using a craveable, broadly appealing carrier.

Similar to a calzone, the dish features a creamy, sweet and tangy Caprese filling of fresh California mozzarella, sun-dried tomato and basil wrapped in soft, Indian-style naan dough. Accenting the Caprese filling is a signature of Verma's Indian flavor palate: amchoor. Made from dried green mangoes, it brings a sweet-sour, fruity flavor, balancing the richness of the mozzarella and the earthy sweetness of the dried tomatoes—acting in a similar manner as balsamic vinegar, a go-to acidic component for the Caprese.

Naan is classically prepared with yogurt or milk. Here, Verma uses both, making it softer and more flavorful than conventional pizza doughs used for a calzone, stromboli or stuffed pizza. "These dairy products give the dough a pillowy, chewy texture. The milk adds a subtle sweetness, and the yogurt imparts a mild tangy flavor, reminiscent of sourdough," says Jennifer Giambroni, VP of communications for the California Milk Advisory Board.

Baked until golden brown and brushed with a clarified California butter for an appetizing luster reminiscent of the traditional ghee, the stuffed naan can be menued as a shareable appetizer or as an entrée, paired with a green salad.
3

Khach A Star

When khachapuri, a Georgian cheese-stuffed bread traditionally served for breakfast or lunch, is paired with kippered Alaska salmon, the result is a dish that conveys comfort and a unique Pacific Northwest character. The Adjaruli Khachapuri with Kippered Alaska Salmon is a "souped-up version of bagel, cream cheese and lox, except it's so much more complex," says Vitaly Paley, chef/owner of Paley's Place Bistro & Bar in Portland, Ore.

That complexity gives it a depth of flavor that's both intriguing and memorable. The khachapuri is filled with a savory mix of cheeses, including Havarti, mozzarella and feta, tossed with mint and oregano. Once partially baked, it is topped with flaked kippered Alaska sockeye salmon and an egg before going back into the oven to finish cooking. Paley's technique in kippering the salmon is a variation on the classic, which involves curing and smoking. "This is my interpretation, using a quick brine and a quick hot-smoking technique that yields a pretty comparable rendition," he says. The result is a nuance of flavors that lifts the eating experience to a higher level.

"This is a perfect dish for brunch or breakfast or to serve as a shareable appetizer," says Paley. "Rich and melty cheese topped with an egg and with salmon is a satisfying combo. The Alaska sockeye offers a beautiful, bright red color and mild flavor."

While Paley notes that a different mix of cheeses and herbs provides opportunity for customization, the khachapuri is key to delivering an interactive, shareable experience. "The best way to enjoy it," he says, "is to tear the bread by hand from the corners and the sides and use it to mix the egg, cheese and salmon, and get messy."
4

True Blue

The ubiquitous tortilla gets an innovative upgrade in these Blueberry Mojo Steak Tacos. Here, blueberry concentrate replaces a good portion of the water in a corn flour mix to inject the tortilla with a beautiful blue color along with a subtle sweetness and hint of blueberry flavor. Before grilling, the flank steak is marinated for 48 hours in a mixture of blueberry juice, beer, soy sauce, lime juice, freeze-dried blueberries, garlic, cilantro and mint.

To build the taco, a napa cabbage slaw tossed in chimichurri is laid out on the tortilla, then topped with the grilled steak. Crumbled goat cheese that's been infused with herbs and blueberry powder gets sprinkled over top, and a drizzle of lime crema finishes the build, adding creamy acidity.

"The blueberry flavor pairs really well with smoked and grilled meats, like the steak in this build, or with pulled pork, smoked chicken or even grilled salmon," says Rosalyn Darling, associate culinary director at SRG, on behalf of the U.S. Highbush Blueberry Council.

Juice lends intrigue to other carriers, as well. "Blueberry juice can be added to a variety of batters and doughs to give a unique color and elevated flavor: biscuits, waffles, doughnuts, macarons, cinnamon rolls, milk bread and even good ol' fashioned white sandwich bread," says Darling.
5

Brunch Platform

Perfect for a veg-forward Sunday brunch, this decadent Grilled Potato Toast Benedict with Black Pepper Corn Purée builds off the clever concept of a russet potato "plank" as a carrier. Grilled for a bit of smokiness and char, the potato is placed over garlicky creamed leeks, then topped with sautéed rainbow chard and a poached egg. A drape of black pepper-sweet corn purée replaces the traditional hollandaise, and the dish is garnished with warmed asparagus and more rainbow chard.

"The seasonal vegetables play off one another in this recipe, but the real star here is the satisfying comfort you get from that potato base. Potatoes add a layer of heartiness to the dish," says RJ Harvey, RDN, director of culinary for Potatoes USA. "They can be grilled ahead of time and hold their heat beautifully without drying out or getting soggy."

By using a potato as the carrier, this dish provides diners with a unique gluten-free option. Plus, as a fully customizable concept, potato "toasts" open up a world of possibilities across dayparts—think tacos and open-faced sandwich applications, or using smaller cuts or different potato varieties for canapés and hors d'oeuvres.
6

Arepas All Around

Riffing on classic deli meat sandwiches, these Aussie Lamb Cold-Cut Arepas offer a fresh and exciting global profile. The build begins by replacing the traditional sub roll with a Venezuelan-style arepa. Piled high inside is a combination of cured lamb ham and lamb mortadella, Genoa salami, queso fresco, roasted red peppers and giardiniera.

"The cured lamb cold cuts are an elevated swap, providing an exciting flavor twist. They're a mild, yet exciting upgrade to the traditional hams and mortadellas at the deli," says Adam Moore, chef/founder of Flashpoint Innovation and consulting chef for True Aussie Beef & Lamb. "Queso fresco lends a delicate cheesy flavor without being too overpowering, and the giardiniera adds acidity and a crunchy heat."

He emphasizes the importance of using a good giardiniera. "It has to be the perfect blend of peppers, celery, carrots, olives and cauliflower and the right ratio of vinegar to oil and heat."

Finally, use of the arepas as a novel carrier delivers big on texture to tie the elements together. "I love how the arepa has a crisp external shell with a tender interior," says Moore of the simple dough (cornmeal flour, salt, water and oil). Arepas also reheat well, making them ideal as an off-premise menu option.
7

Raise A Toast

This Brown Rice Avocado Toast highlights how simple but effective swaps can transform conventional carriers, leading to new and exciting flavor and textural experiences. Topped with sliced avocados, farmer's cheese, rich marinated mushrooms and crisp fresh radishes, this play on the still-trending brunch favorite is built upon cooked brown rice that has been pressed, shaped and pan-fried until golden brown. The sweet, nutty notes from the rice complement the richness of the toppings, while its innovative format introduces a singular crunch factor that balances the soft, subtle textures of the avocado and cheese.

"Switching out standard toast for rice is a great way to add a unique twist to your menu," says Carl Schwartz, chef ambassador for USA Rice. "It even can be made by pressing leftover rice, adding value to a product that would normally be thrown away." Schwartz suggests using short-grain rice varieties for this application, due to their high starch content, which helps bind the rice during cooling, but he notes that any rice would perform well.

The menu possibilities for rice toasts extend far beyond the morning. Schwartz suggests that they can be cut into smaller pieces to serve as the base for different appetizer toppings like spicy tuna with scallions and toasted sesame seeds. Or he suggests adding craveable inclusions such as cheese, bacon or chives to the rice itself before pressing and frying to produce a flavorful upgrade.