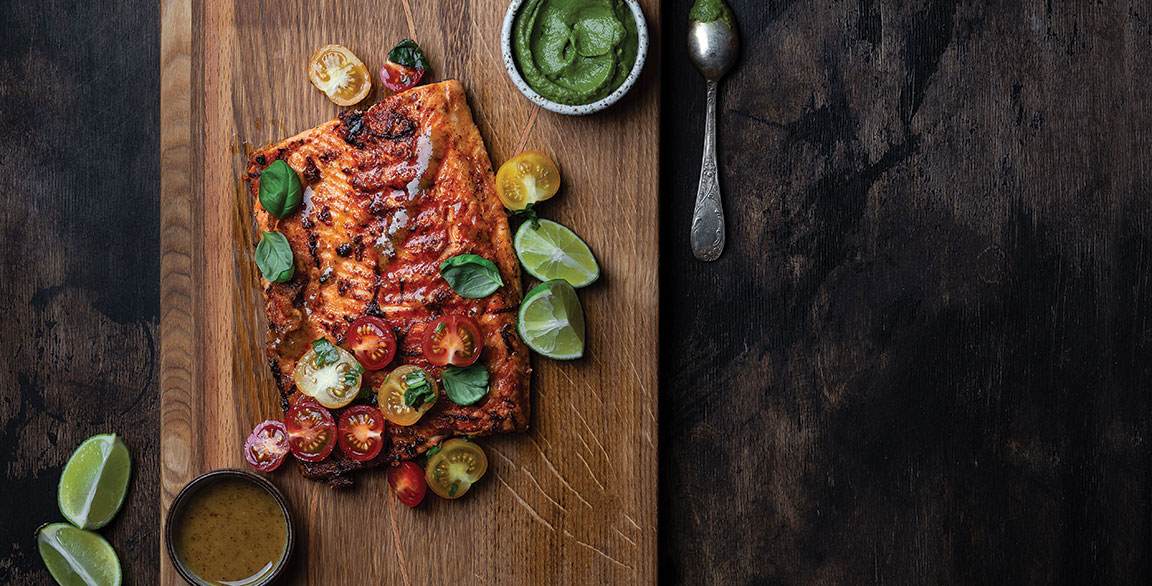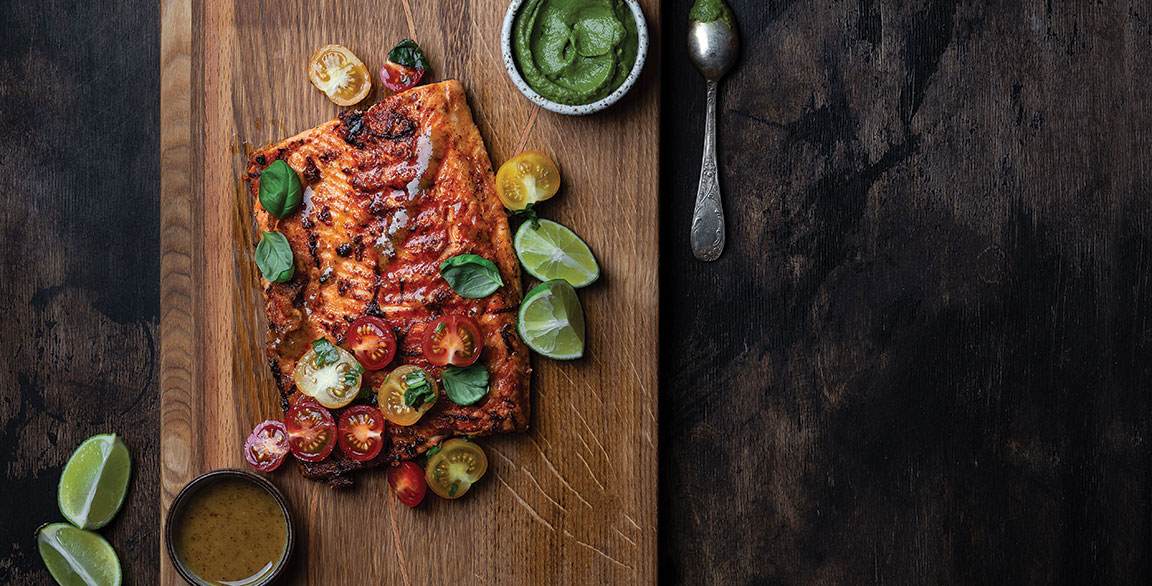 By Rob Corliss
August 16, 2021
Versatility is prized in foodservice kitchens, with multipurpose ingredients driving both menu innovation and profitability. Few food categories measure up to the diversity of opportunities that fruit can inspire and deliver. In all forms and for all dayparts, it adds color, flavor, texture, balance and a consumer perception of wholesomeness.
While simple comfort food has been the go-to for the past year, many diners are now back to seeking a bit of adventure. Strategic culinary use of fruit can satisfy that need, along with a growing list of other consumer expectations, by enhancing reimagined classics and showcasing the latest global influences. Offering an inherent trust factor among customers, fruit can be an operator's ticket to boosting complexity in dishes, applying techniques that spotlight a fruit's essence or spinning it into something wholly unexpected.
We explore 10 areas for fruit-forward recipe development, which can unlock culinary artistry and keep restaurant menus relevant in today's evolving landscape.
1

Salsas/Chutneys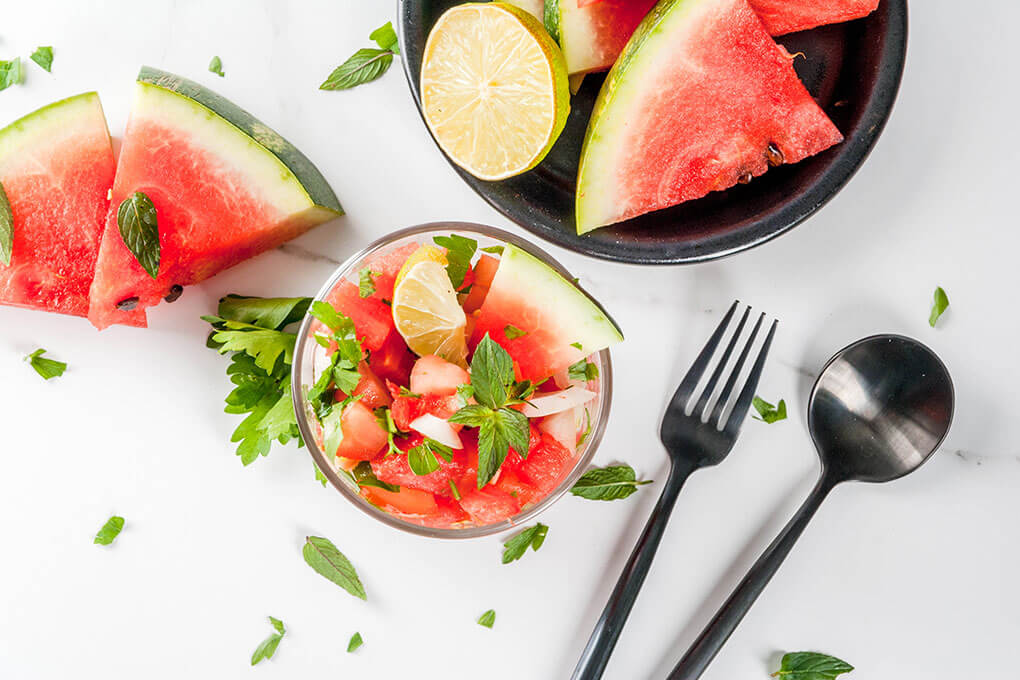 As diners continue to embrace global accompaniments, housemade salsas and chutneys are ideal ways to showcase the merits of bold fruit introductions with international flair. Both provide operators a platform to introduce fresh flavors and modern techniques.
Try This >
Watermelon Duo Salsa: Cubed fresh red watermelon + minced pickled watermelon rind + grated yellow tomatoes + minced red onions + chopped lemon balm
Rhubarb-Cherry Chutney: Fresh rhubarb + dried cherries + candied ginger + allspice + cayenne + cider vinegar + date syrup + brown sugar
2

High-Impact Finishes

Consumers crave memorable food moments, and fruit can create a distinctive go-to finishing touch on an array of menu items. Leverage the use of fruit descriptors (sweet, sour, juicy, roasted, pickled, tropical, caramelized, charred, etc.) on your menu as you apply trending techniques and flavors.
Try This >
Sweet 'n' Sour Plum Powder: Java plum powder + licorice root powder + minced dried orange peel + granulated sugar + pink sea salt
Garam Masala Charred Pears: Minced charred Anjou pears + garam masala
3

Sauces

A great sauce gives visual and flavorful impact to a dish, and fruit can magnify these effects. Explore a flavor spectrum from light to rich, safely experimenting with trending profiles.
Try This >
Lavender-Lemon Curd (chilled): Meyer lemon juice and zest + dried lavender + vanilla bean + eggs + granulated sugar + butter
Pomegranate-Maple-Bourbon Gravy (hot): Pomegranate arils + creamy brown gravy + maple syrup + bourbon + hot sauce
4

Condiments/Pickles

Fruit introduces another facet to condiments and pickles, two elements that readily provide instant intrigue to menu builds, especially as they keep evolving. As consumers seek new flavor choices, incorporating fruit cues premium quality and a patina of indulgence.
Try This >
Roasted Pineapple-Honey Mustard: Roasted golden pineapple purée + clover honey + grain mustard + fresh grated turmeric
Hot Pickled Peaches: Fresh peach wedges + habanero pepper slices + ginger root slices + apple cider vinegar + water + sea salt + maple sugar
5

Heat Infused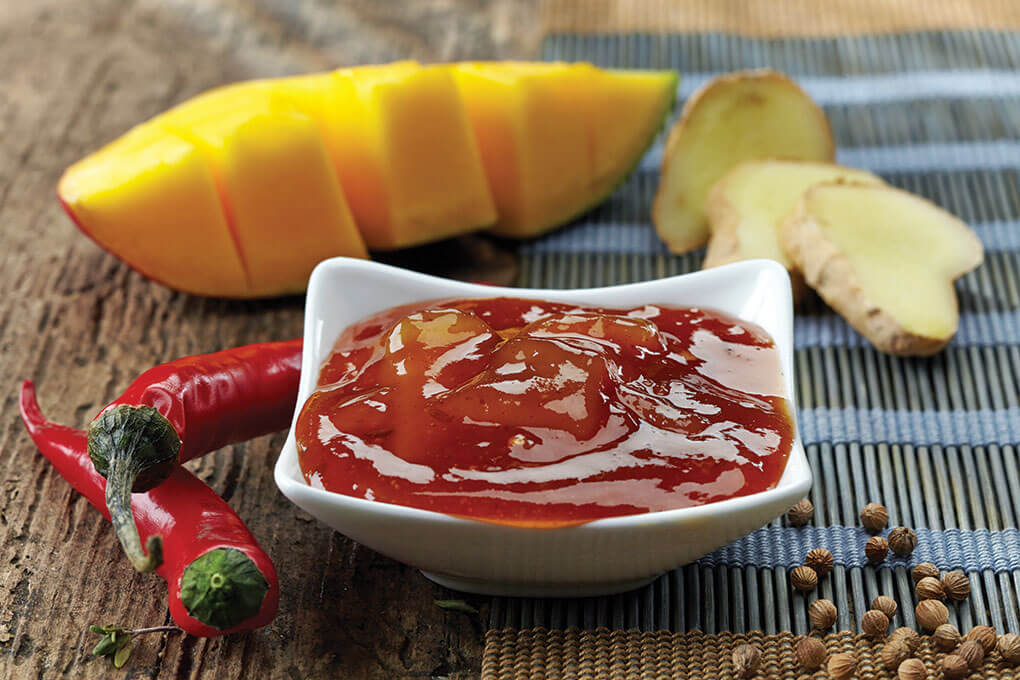 Fruit is an ideal counterpart to spicy heat. The balance of sweet that fruit brings to heat has particular appeal to a younger generation in search of captivating new tastes and refreshed takes on popular flavors.
Try This >
Calabrian Spread: Chopped dried figs + candied clementine + 'nduja
Mango-Chile Crunch: Chopped mangoes + crispy shallots and garlic + ancho chile oil + red pepper flakes + chopped walnuts + sesame seeds + soy sauce + coconut sugar
6

Dips/Spreads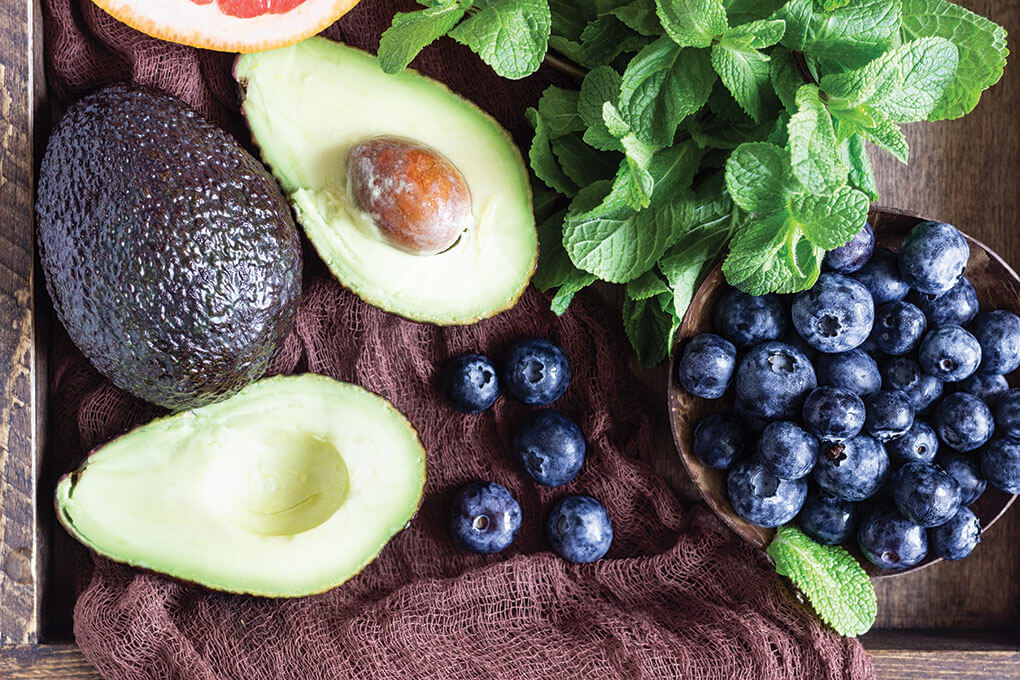 The addition of fruit to mainstream dips and spreads signals a unique flavor profile and dining experience. Position fruit add-ins as compelling temptations for a limited-time offer or seasonal menu feature.
Try This >
Blueberry Guacamole: Smashed avocado + blueberries + jalapeño + cilantro + lime juice + sea salt
Apricot Tapenade: Diced dried apricot + kale chiffonade + Kalamata and green olive tapenade
7

Marinades/Glazes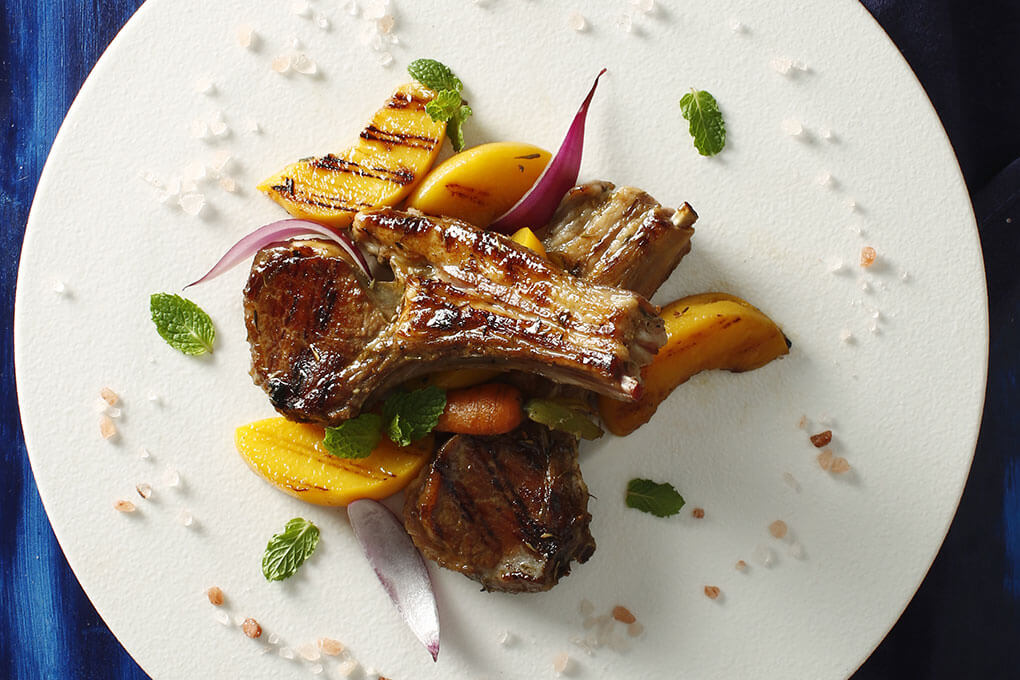 Fruit marinades and glazes have the flexibility to pre-tenderize, flavor, and function as a finishing note. Give dishes a contemporary spin by applying fruit-based marinades and glazes to vegetables, other fruits, meats and seafood.
Try This >
Mojo Marinade: Orange juice + lime juice + passionfruit purée + minced raw garlic + caramelized minced onions + cumin + dried oregano + cracked black pepper + olive oil
Spiced Raspberry-Pepper Jelly Glaze: Raspberry purée + blood orange-pepper jelly + Dijon mustard + smashed roasted garlic
8

Braises

Leverage consumer affinity for comfort foods, like slow-braised meats, with the compelling inclusion of fruit. Adding juice, peel, flesh or dried pieces during the cooking process cuts through rich, savory flavors and opens up a higher level of sophistication.
Try This >
Vineyard Chicken Braise: Seared bone-in chicken thighs + Medjool dates + jumbo golden raisins + green olives + chicken broth + fresh thyme
Citrus- and Milk-Braised Carnitas: Seared boneless pork shoulder + pork lard + water + orange juice and peel + evaporated milk + yellow onions + garlic cloves + bay leaves + dried Mexican oregano + sea salt
9

Salad Dressings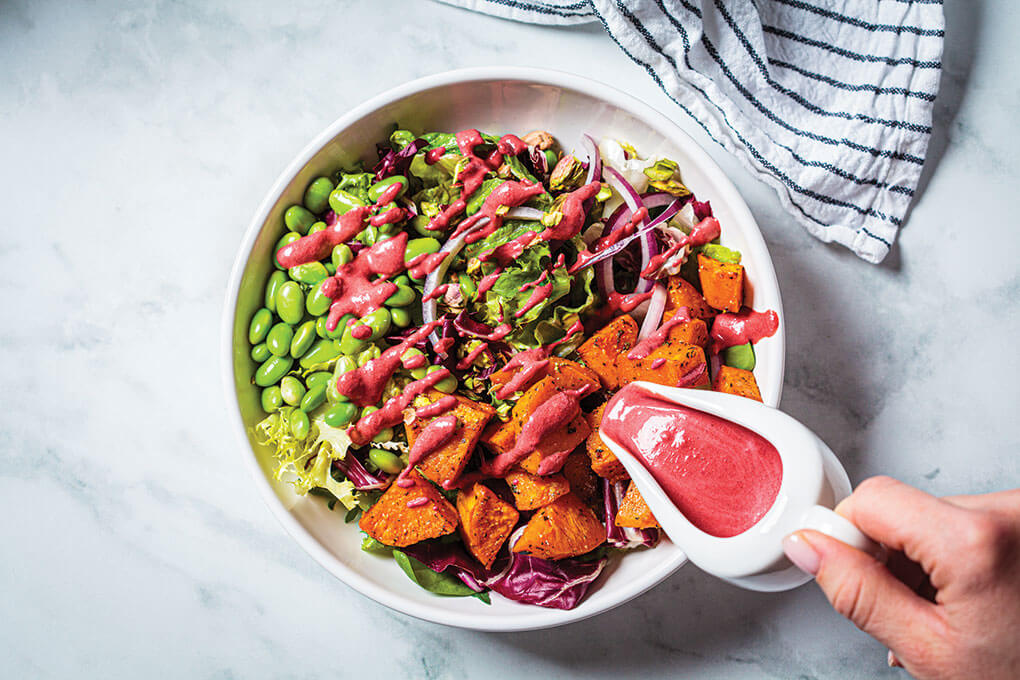 Housemade flavor introductions continue to drive excitement in this space. Prominently featuring fruit is an effective way to drive purchases of salads and bowls. For broadest appeal, apply a modern fruit twist to familiar flavors.
Try This >
Honeydew-Tzatziki-Ranch Dressing: Minced honeydew + tzatziki-ranch dressing
Pink Poppyseed Dressing: Pink guava juice + strawberry purée + coconut "milk" + pickled ginger + poppyseeds + grapeseed oil + mirin
10

Sweets

Refreshing, cool and fruity are signature attributes of modern fruit-based treats. Spoonable and sippable desserts will continue to gain menu momentum. Capitalize on fruit in its many forms to bring in robust flavor, vivid color, creative textures and aromatic profiles.
Try This >
Tropical Iced Jelly: Iced jelly (bing fen) + coconut shave ice + chopped fresh papaya + papaya syrup + fresh kiwi slices + tapioca pearls
Sparkling Strawberry-Granita Parfait: Cardamom-poached whole strawberries + strawberry-rosé Champagne granita + pistachio crème fraîche