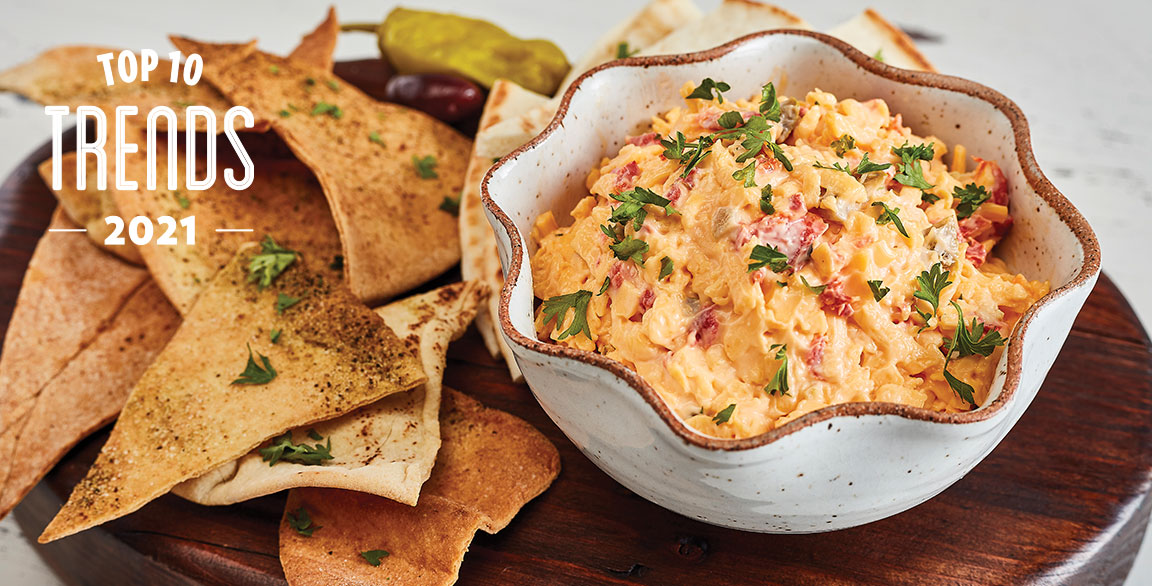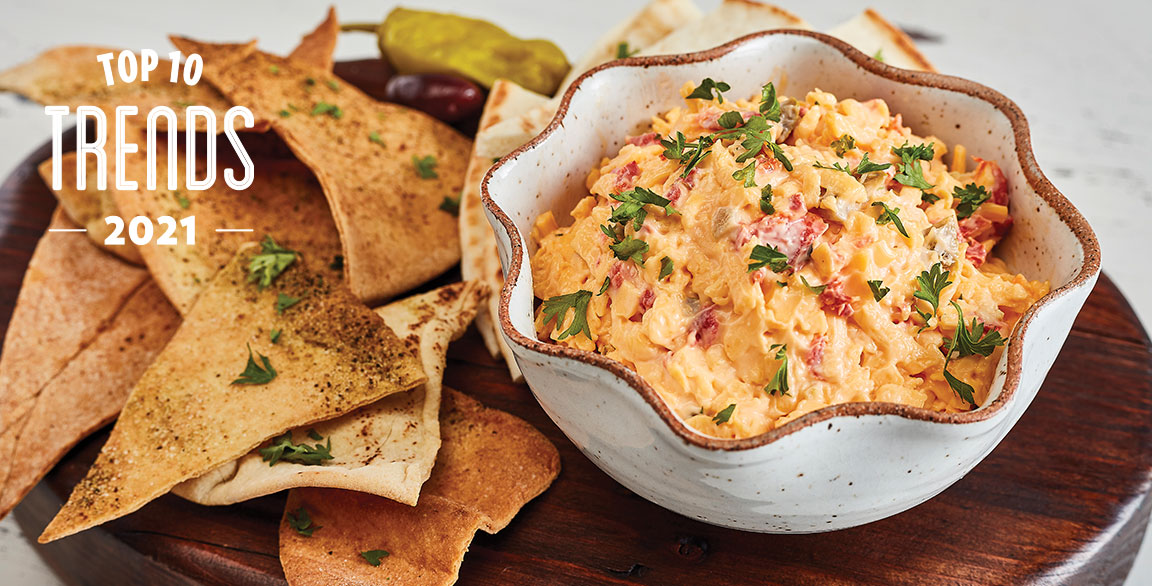 By Katie Ayoub
February 3, 2021
Ask someone from the South what goes into pimento cheese and chances are the description will sound just a little different from the next Southerner you query. Most will agree, however, that pimento cheese is basically a mixture of grated extra-sharp cheddar, chopped pimento peppers and mayonnaise (though some swear by salad dressing).
From there, pimento cheese varies from fridge to fridge, and from grandma to grandma. Traditional add-ins include any number of options: a dash of Worcestershire, a splash of pickle juice, a smash of garlic, a dollop of cream cheese, a glug of brandy, a pinch of sugar or a shake of chile flakes, to name just a few. One thing that Southerners can agree on is that pimento cheese is lovable, nostalgic and delicious.
Chefs have been showcasing the versatility of this comfort classic for a number of years now, but mostly framing it in a Southern context. Now, they're taking pimento cheese out of its regional bounds.
Its proliferation on menus nationwide is evident: Datassential reports that menu mentions have increased 65 percent since 2015. Consumers across the country are growing more familiar with this Southern staple, signaling their readiness to embrace pimento cheese as a go-to condiment, spread, dip or filling in dishes that are decidedly not Southern.
One great example is at Prati Italia in Jacksonville, Fla., which runs a Pimento Cheese Pizza on its Italian menu. Tom Gray, executive chef, spreads the pimento cheese over a base layer of mozzarella, then adds pepper jelly and green onion.
Pulkies, a Jewish-style barbecue take-out/delivery-only restaurant that opened in New York last year, serves up its version of pimento cheese alongside deli classics like matzo balls and chopped liver. Its NYC Pimento Cheese is made with cheddar cheese and jalapeño cream cheese, then topped with everything bagel spice.
National brands are also helping to move pimento cheese into the mainstream. Melt Shop sandwich chain features jalapeño pimento cheese in a fried chicken sandwich with hot honey, and Chick-fil-A rolled out a Honey Pepper Pimento Chicken Sandwich in test markets last September.
Pimento Play
"Pimento cheese is soothing and nurturing, but it's also as versatile as all get out," says Jason Alley, founding partner of Alley/Jones Hospitality, who grew up on the Southern staple. As former chef/owner of both Comfort and Pasture in Richmond, Va., he's played around with pimento for decades.
Alley's standard pimento cheese spread was a signature at Comfort—sharp cheddar, roasted red bell pepper or jarred pimentos, shallots, tarragon, Duke's mayonnaise, Worcestershire sauce, hot sauce and black pepper. But he also loves taking it in new directions.
For a play on a Scotch egg, Alley replaces the boiled egg with a frozen ball of pimento cheese, which he wraps in pork sausage before breading and deep frying. "It makes a great snack or appetizer," he says.
He's also made a pimento cheese dust for peanuts, pork rinds and popcorn.
Michael Slavin, VP of culinary innovation for Houlihan's Restaurants, based in Leawood, Kansas, takes pimento cheese in an entirely unexpected direction that demonstrates its ability to act as an eclectic twist for more refined menu items.
His Polenta Frites, served with a spicy pomodoro sauce and a sprinkling of Parmesan and parsley, feature pimento cheese in the batter. "The pimento cheese adds so much character to this already unique recipe," he says. "It melts slightly on the inside and creates tangy flavor pockets in the bite, which is a nice contrast to the crunchy panko and cornmeal of the polenta."
Daniel Marteny, chef of Mill Kitchen & Bar in Roswell, Ga., stays in the South with his flavors, but chooses a unique format and clever flavor combination to highlight the cheese. His Pimento Cheese Fritters are paired with bacon marmalade and comeback sauce.
Santa Barbara's Finch & Fork keeps pimento cheese in the traditional dip presentation, refining it with flavor touches that perfectly express the restaurant's New American sensibility. Its Chips & Dip appetizer stars whipped pimento cheese, marinated Dungeness crab, scallion powder, tobiko and Kennebec potato chips.
"Who knew that the combination of cheddar, mayonnaise and pimentos could result in such an ethereal and delicious ingredient with so many possibilities?" says Pam Smith, RDN, nutritionist and culinary consultant. She suggests changing up the cheese blend for signature spins. "Rather than only cheddar with mayo, make it smoked Gouda and cheddar. Or maybe it's a five-cheese pimento or a fiery pimento with pepper Jack cheese," she says.
Smith also cleverly moves pimento cheese dip into a hot pimento queso dip, extending its reach into Tex-Mex, Southwest and eclectic mash-ups. She combines pepper Jack cheese, evaporated milk, cornstarch, milk, puréed pimento and chipotle peppers, then finishes it with a bit of cream cheese. "You've got that undercurrent of smokiness and a bit heat, giving it that ultimate craveable flavor you want in a dip," says Smith.
Sandwich Me
Pimento cheese is shining bright in modern sandwich and burger builds where its growth might be driven by more than its flavor narrative. Pimento cheese's texture makes it an ideal component in to-go builds, offering a strategic moisture barrier in the layering of ingredients and helping to hold ingredients together so they don't slide out.
"When making pimento cheese for to-go sandwiches, use a bit of cream cheese in the blend to bind it better so it's not as loose," says Smith. "I like doing a fun twist on a Reuben using pimento cheese that also makes for a more takeout-friendly sandwich for operators. I replace the Thousand Island dressing and the Swiss with the pimento—it has the same look and color, and it holds everything in place nicely."
Jason Alley makes a Turkey Club on Texas toast with pimento cheese and bacon jam. "And for grilled cheese sandwiches, combine pimento with American cheese so you get that stretch and pull, along with nostalgia, meltiness and all that flavor packed in. It's so good and super-fast to put together," he says.
Chef Steven Lingenfelter, in partnership with the California Milk Advisory Board, features smoked pimento cheese as a burger topping, using smoked California cheddar cheese, cream cheese and smoked red peppers to achieve the desired flavor and texture. Pickled ramps, hot sauce and jalapeño powder lend flavor nuance and balance.
Chefs are pushing the boundaries with pimento cheese without fear of alienating their customers. It has that neighborly persona that keeps the flavor adventure easy and relaxed.
"Thanks to that laid back and familiar profile, diners feel comfortable trying pimento cheese in different formats and with different flavors. It's a cool way to explore new things," says John Franke, president of Franke Culinary Consulting. "Chefs should have a little fun with it and see where it takes them. Maybe mix in gochujang or Sriracha, or make it into a Nashville hot pimento cheese. Experiment with different chile peppers and savory herbs. It's great on a cheeseburger or a grilled cheese with lobster. Set it on cheese boards or spread it onto sourdough. Pimento cheese is the gastropub's answer to chips and queso, too."
It's been said that the truth of pimento cheese's origin probably lies with the grandmothers of generations gone by. Although its birth story remains opaque, its legacy of hospitality is clear. As chefs continue to explore possibilities that showcase fun, craveable, approachable menu items starring pimento cheese, consumers are signaling their approval and look to be ready for more.