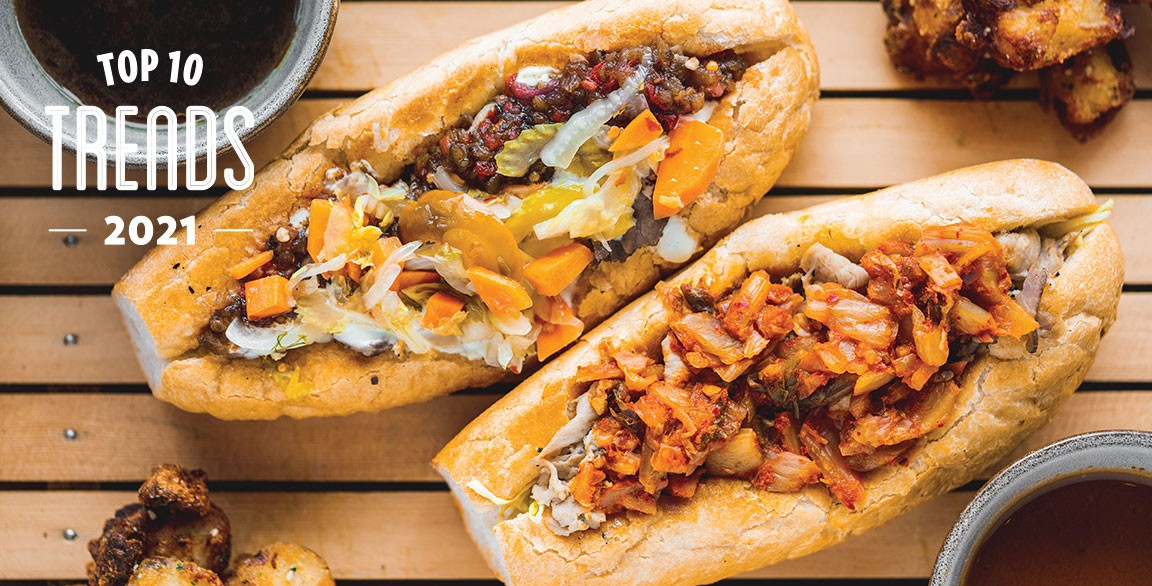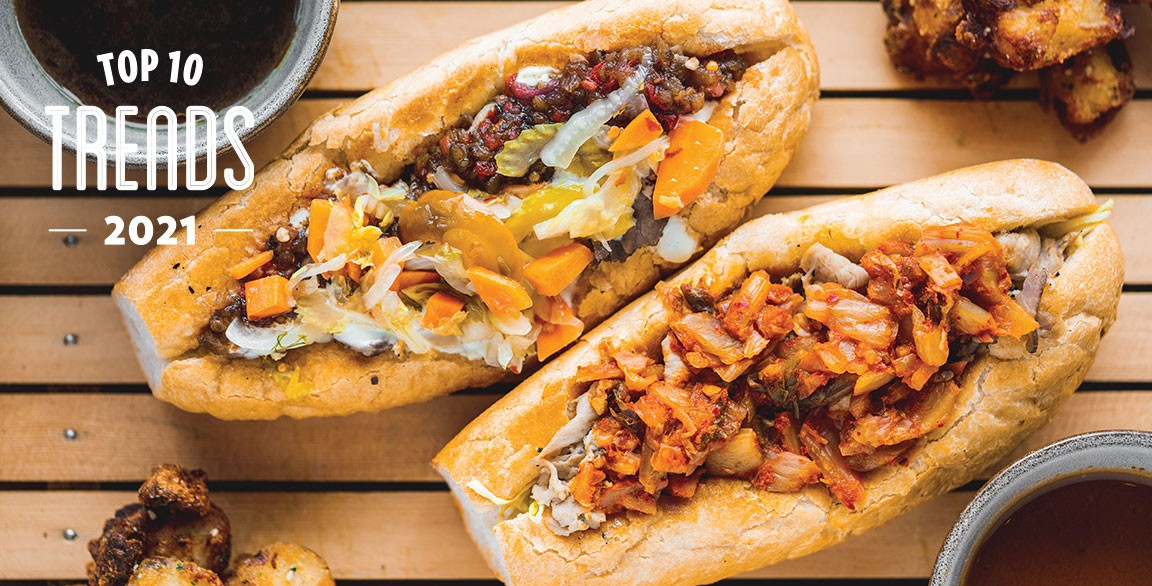 Some of the most exciting flavor innovation today is being sandwiched between two slices of bread. Thanks to its steady fan base and built-in versatility, the sandwich category is always a dynamic one, but now its creative and original flavor play is unparalleled. "We are seeing sandwiches in the marketplace that we haven't seen before, with chefs across the country renewing this mainstay category," says Maeve Webster, president of Menu Matters foodservice consultancy.
With the pandemic causing changes in foodservice models and many chefs turning their attention from in-restaurant dining to takeout-friendly fare, sandwich options have never been more enticing.
The sandwich menu at Big Kids in Chicago demonstrates a modern culinary approach with original flavor combinations, telling a stellar story of sandwich innovation.
A pandemic collaboration between Ryan Pfeiffer, executive chef of the now-shuttered Blackbird in Chicago, and Mason Hereford, chef/owner of New Orleans' sandwich spot Turkey and the Wolf, the '90s-themed Big Kids runs a virtual kitchen out of Young American Bar. It serves unique items like the Collard Melt, with braised collard greens, cherry pepper Russian dressing and Swiss cheese on rye bread, and the Banh Mi Crunch Wrap, a play on the Taco Bell classic, with pickled carrots and daikon, jalapeño mayo, cilantro and mozzarella, and a tostada wrapped in the middle of the flour tortilla.
Consumer demand is stoking the fires for creative sandwich development. Fueled by a yearning for comfort, many sandwich builds that win favor today are meat-centric twists on deli classics and/or indulgent and melty. Chefs are answering the call, keenly aware that every component must be crafted with compelling flavor, texture and narrative in mind.
Rolling with the Times
The drive to increase menu items that are takeout-friendly makes sandwich innovation an imperative for many operators. "Sandwiches are an easy way for chefs to morph their offerings into something that works in delivery and takeout," says Michael Parlapiano, strategy director for The Culinary Edge consultancy.
"If they're playing with global influences, the sandwich offers an approachable foray into those flavors. With the giant return of comfort food that we're seeing, sandwiches fit the bill for almost any type of operation. But in order to compete, operators need to up their sandwich game."
DipDipDip Tatsu-Ya in Austin, Texas, offers a case study in how a full-service concept reimagined its menu into a dipping sandwich pop-up. A Japanese restaurant specializing in shabu-shabu, it shut down at the onset of the pandemic. Chef/owner Tatsu Aikawa converted the sit-down shabu-shabu experience of dipping meat into a savory broth into a meaty sandwich served with a savory dip.
DipDipDip offers four sandwiches, including the Beef Sandwich with 24-hour Texas Wagyu brisket, wasabi ranch, garden pickles and chow-chow, served with its Umami Dip (sake, soy sauce and dashi with caramelized onions). "We char the meat on a binchotan, then slice that really thin," says Kyle Barker, chef de cuisine. "When we pick up the sandwich, we toast the bread really hard, then toast it a second time so it holds up for takeout. We butter it to help seal the bread so it doesn't absorb any moisture. We did a lot of testing to get the texture and layering right."
He uses the cabbage to protect the bread from the grilled meat, which gets a quick bath in the fat and juices from the grill before landing in the sandwich. "It's our take on a French dip, but it stays true to who we are," says Barker.
RIFFS ON THE CLASSICS
Indeed, the French dip is enjoying renewed attention as part of this modern sandwich trend. Tempesta Market in Chicago provides another example with its Southside Johnny, a meaty sandwich that sees layers of porchetta, Brun-uusto bread cheese, broccolini, chimichurri and pickled fennel on sourdough, served with a rosemary broth.
"Riffs on comfort classics like dips, Reubens and Philly cheesesteaks are a good way to go when you're looking for a surefire way to connect with your guests," says John Franke, chef/founder of Franke Culinary Consulting. He suggests a play on French onion soup, building a lamb dip by piling lamb shoulder on crusty French bread with caramelized onions and Gruyère cheese, served with a side of lamb-onion jus.
"A sandwich can evoke a great memory for diners while telling your story, too. You hook them with comfort because there's something about comfort that brings us back for more," he says.
"Another dimension to the ultimate sandwich is the various textures that can be highlighted: cheesy and oozing, crispy and savory, soft and indulgent, light and airy, and crispy and meaty," says Charlie Baggs, president and executive chef of Charlie Baggs Culinary Innovations. "Build in layers of umami," he says. "This can be a crispy Parmesan cheese tuile, sautéed shiitake and soy mushrooms or a kimchi slaw."
Nick Peters, chef of Curio Bar & Restaurant in San Francisco, understands these principles, proffering them in his Curio Katsu Cheddar Sandwich that features a toasted potato chip-black sesame bun, miso mayo, baby lettuce, shaved red onion, housemade bread-and-butter pickles and cruciferous kimchi.
The katsu element is extra-sharp yellow cheddar that's been egg-washed, breaded with panko, frozen, then breaded again and deep fried. "This is a vegetarian sandwich made by a carnivore," says Peters. "There's pure primal pleasure when eating it."
To ensure the katsu carries the same crispy-cheesy-hot punch in takeout, it's packaged on the side of the sandwich with instructions on how to heat it up in the microwave, then add to the build.
"You may think the katsu cheddar is over the top, but people can't get enough—one out of every five orders for sandwiches at Curio includes a request to add it on," he says.
Take It on the Run
Sandwiches are the ultimate takeout item, so thinking through the away-from-restaurant experience is crucial for success. Layers Sandwich Co., a food truck in Seattle, showcases sandwiches built for on-the-go occasions, while boasting serious culinary pedigree.
"We're taking all of our fine-dining experience and putting it between two pieces of bread," says chef Avery Hardin, who owns the truck with his wife Ashley. "We're offering our customers an upscale experience for an approachable price."
The menu includes flavorful builds like the Harissa Explains It All, a plant-based sandwich on a toasted potato bun from a local bakery, with roasted sweet potatoes, beet-pickled Walla Walla onion, crisp young spinach, Moroccan harissa and housemade aïoli.
"The food truck is our test market to see who our market is," says Hardin. The couple plans to transition to brick and mortar later this year.
Thomas Ferraro, owner/operator of Breadlam, a sandwich shop in Los Angeles, sees an opportunity to convert well-known flavor systems into a familiar, beloved format—the sandwich. "The artisanal bread scene has been growing here, and I wanted to tap into that and serve elevated sandwiches with high-quality ingredients," he says.
The Holder Sandwich translates Spanish charcuterie, deftly moving it over to a handheld. It features Serrano ham, membrillo, manchego, honey and olive oil on ciabatta.
Breadlam's most popular sandwich, the Raymond, illustrates how attention to flavor detail makes all the difference: roasted turkey is paired with Comté, whole-grain French mustard, roasted tomatoes, Peppadew peppers, greens and tomato mayonnaise.
Los Angeles' artisan bread movement is mirrored across the country, and this bread boom has certainly contributed to the enthusiasm around sandwiches today. Michael Fojtasek, chef/owner of Olamaie, a fine-dining Southern restaurant in Austin, Texas, banked on that zeal. Early on in the pandemic when the restaurant had to close, he switched his kitchen over to Little Ola's Biscuits, a takeaway shop featuring Olamaie's signature flaky biscuits.
Its menu offers six biscuit sandwiches, including the Country Ham & Cheese with Benton's country ham and Veldhuizen classic cheddar cheese, as well as the best-selling Fried Chicken Biscuit Sandwich, with deep-fried chicken thigh and Texas honey.
"When we were looking at what to do, we asked ourselves, 'What do we have that most people connect to?' Our biscuits," says Fojtasek. "And then you have to figure out what is approachable, casual, travels well and is comforting—that's the sandwich."