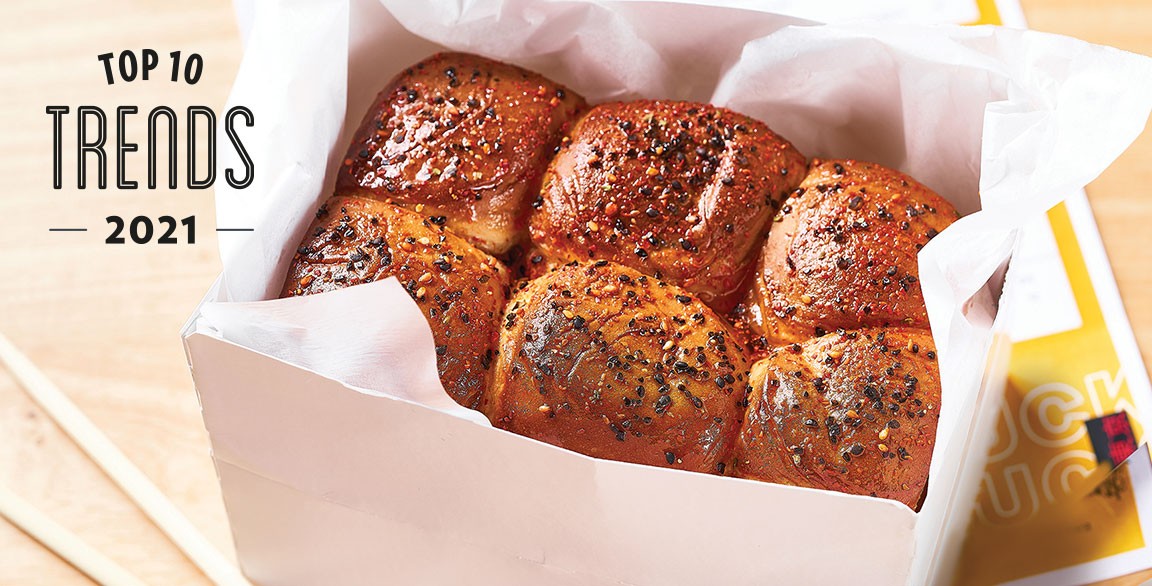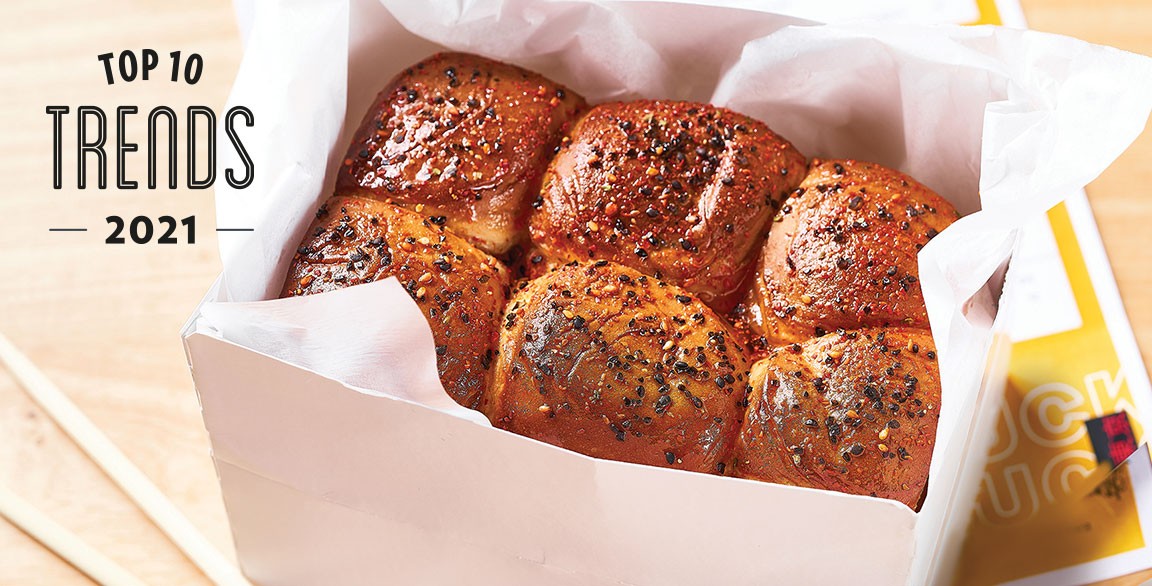 By Katie Ayoub
January 20, 2021
Bread is so much more than a staple. At its best, bread is the gateway to comfort, the calling card of global and regional cuisines and the mark of true artisanship. And bread is now back at the table.
It's showing up on thoughtfully crafted bread boards, such as the one offered at Spork, a modern American restaurant in Pittsburgh, which features a sourdough focaccia paired with a housemade seaweed butter. Breads from different world cuisines have been propulsive drivers over the last few years, too, as operators woo diners with wood-fired naan, crunchy bolillo rolls and tender Japanese milk bread.
Bar King in Portland, Ore., an eclectic bar, bakery and restaurant, menus a house bread service, including an offering of shokupan (Japanese milk bread) with miso-coffee butter. Bread is also coming back to the table as a substantial accompaniment to menu items, rather than a perfunctory add-on.
Bread Lounge in Los Angeles, a café/bakery with an Israeli-Californian sensibility, pairs its baked omelette with a hearty half a baguette and dollop of European butter.
The very fact that a concept named Bread Lounge is thriving in Los Angeles—probably the epicenter of the low-carb movement—should be sufficient signal that something has shifted and that new menu opportunities are rising up.
In the early days of the pandemic, everyone sought comfort, so it's no wonder that bread got called into action. But other factors are driving consumer enthusiasm and culinary innovation. These agents demonstrate that bread love is a trend, not a fad, finding traction as a bona fide movement rather than a temporary salve during a challenging time.
"The pandemic had people rethinking bread and its nurturing qualities," says Kathy Casey, owner of Kathy Casey Food Studios–Liquid Kitchen, noting the popularity of bread making during the initial lockdown. "Now that the consumer understands what it takes to make a good loaf of bread, they will respect that you're charging for it."
That appreciation for the loving attention it takes to craft good bread cannot be overstated. While stuck at home and learning about sourdough starters and crumb structure, tinkering with formulas and exploring the craft of bread making, consumers also remembered the glory of eating quality bread.
A lot of chefs were stuck at home, too. And many of them played around with dough, either discovering or rediscovering the art of bread making. As a result, both chefs and diners have dialed up the supply and the demand for creative, delicious bread on restaurant menus today.
AT YOUR SERVICE
Perhaps bread's greatest strength on menus today is its inherent ability to delight diners with a warm welcome. Indeed, bread is the ultimate touchpoint of hospitality.
"Operators should consider a house bread, and if they aren't making it in house, partner with a celebrated local bakery," says Michael Parlapiano, strategy director at The Culinary Edge. "You're offering something unique, and by doing it well, you can also sell it as a takeaway. There are huge margins available on whole loaves as take-home options." Introducing a signature bread program into the to-go space is an easy way to extend hospitality beyond brick and mortar. Artisan bread packaged with flavored butters or oils travels well and can provide a comforting, memorable brand experience at home.
David Uygur is chef/co-owner of modern Italian Lucia and its more casual spin-off Macellaio, both in Dallas. He offers a housemade bread program for each concept. During "before" times, guests could order items like a sourdough pretzel with cultured butter flavored with grainy mustard, focaccia with warm 'nduja and rustic white bread with house-fermented butter.
Throughout 2020, Uygur continued to bake bread daily but trimmed back on the variety he offered, bundling rustic white bread and butter with dinner packages and selling whole loaves. "It helped with sales," he says. "People know you for good bread, and when they choose takeout, maybe that's the deciding factor."
"Operators are taking a closer look at their bread offerings," says Jessica Bograd, director of culinary R&D at CSSI Marketing + Culinary. "Bread provides a connecting puzzle piece in building a unique, shareable appetizer experience. It's a low-risk, high-reward menu item that can be used to drive check averages while showcasing innovation in flavor and application."
Modern flavor combinations, premium touches and high-quality, artisan bread marks the opportunity. As evidence, look to The Publican, an eclectic restaurant in Chicago. Its Breads & Spreads appetizer is served with accompaniments like European butter and sea salt or smoked fish dip.
Scarpetta, a fine-dining Italian restaurant with six locations across the country, serves a bread basket with a unique assortment, including tiny rosemary-garlic focaccia, prosciutto and cheese pinwheel bread slices, chile-dusted ciabatta and rustic Italian white bread. It's accompanied by cultured butter with sea salt, extra-virgin olive oil and eggplant caponata.
In a clever twist on the traditional bread board, Ian Ramirez, director of culinary innovation and operations at Creative Dining Services, a hospitality management company based in Zeeland, Mich., presents a "butter board" with upscale meals. "I approach it as almost a course in itself, rather than just bread and butter as an afterthought," he says. "Depending on the theme of the dinner, I make different kinds of compound butters."
Using a palette knife, he spreads them onto a board, then tops the spread with an array of garnishes. "And then, of course, we try to find a bread that pairs well with whatever combination we choose to do," he says.
Ramirez's butter boards are visually striking, thanks to his thoughtful compositions. Recent examples include a Blueberry Butter Board, made by blending frozen blueberries, toasted pine nuts and fresh dill, then pulsing in butter, French grey salt and black pepper. The spread is topped with toasted pine nuts, dill sprigs, fresh blueberries, French grey salt and black pepper.
A Walnut-Honey Butter Board is made by blending walnuts with green za'atar and tahini, adding butter, salt and honey, then topping it with more honey and za'atar, bee pollen, walnut crumble and dried apricots. Ramirez sources the accompanying multigrain Italian bread, with sea salt and a seedy crust, from nearby deBoer's Bakkerij, a family-owned, fourth-generation Dutch bakery in Holland, Mich.
A WORLD OF OPPORTUNITY
A cuisine's bread is perhaps its greatest ambassador. Its foundation of flour, water and maybe a bit of yeast acts as both cultural translator and gracious host, inviting American diners into a cuisine with intriguing characteristics but incredibly familiar ones, too. Indian chapati, Israeli puffy pita and Japanese milk bread all have helped drive renewed consumer interest in bread.
Looking at trending global cuisines and translating their breads in creative ways is a smart strategy.
Tokyo Hot Chicken, a new fast casual based in San Francisco and inspired by hip Japanese flavor profiles, employs this technique. Its Togarashi Parker Rolls hit that sweet spot of familiar and exotic, lining up nicely with the vibe of this takeout- and delivery-only hot chicken restaurant. The rolls are featured as both a signature side and as a carrier in the Togarashi Fried Chicken Snacker, topped with kimchi slaw and spicy Kewpie mayonnaise.
"The rolls are the perfect pairing for our Snackers—buttery, tender and pillowy, and very much like the texture of a rich Japanese milk bread," says Michael Mina, the award-winning chef behind Tokyo Hot Chicken. "The cooked starches help the dough retain moisture and keep the rolls soft and light. They're slightly sweet, which complements the spiciness in the batter of the chicken tenders and the crunchy kimchi slaw. The rolls pull apart gently to create handhelds that are just the right vessel for a quick snack."
Aaron Brooks, executive chef of Edge Steak & Bar in the Four Seasons Hotel Miami, took advantage of his free time last year to launch Pide Place, a pop-up concept operating out of Stanzione 87, a Neapolitan pizzeria also in Miami. Australian-born, Brooks spent a few years in a predominantly Turkish neighborhood in Melbourne, where he fell in love with pide, a puffy flatbread topped with seasoned meat and cooked in a wood-fired oven.
"But I didn't want to make traditional versions. I wanted to do ones that told the story of my growing up and who I am now as a chef," he says. His version uses Neapolitan double-zero flour and screeching-hot ovens. "Traditional pide is crispier with a denser dough. Mine has more of a chew, which is what I wanted."
Brooks ran the pop-up last fall, offering four pide varieties. His most popular one was the Spiced Lamb, made with tomato, Urfa and Aleppo peppers, sumac-pickled onion, lemon and parsley. "The warm spices go into the ground Aussie lamb, which goes onto the dough raw. It's redolent with flavor, pulled from the oven and basted with brown butter," he says.
Consumers' relationship with bread has been long and complicated. Today, it's one that's genuinely restorative, fulfilling, exciting and full of possibility.