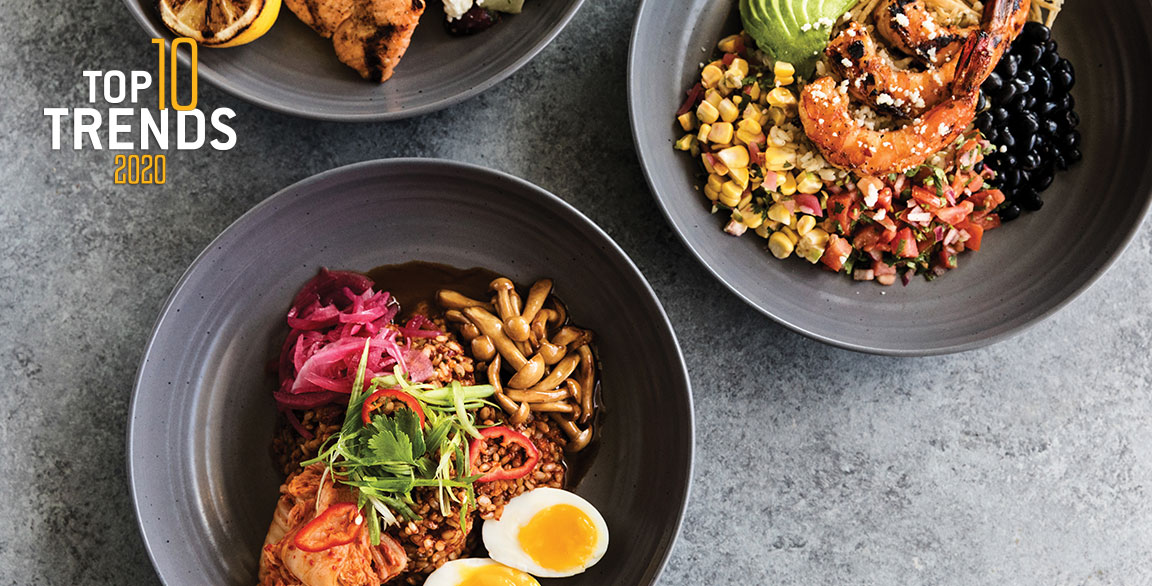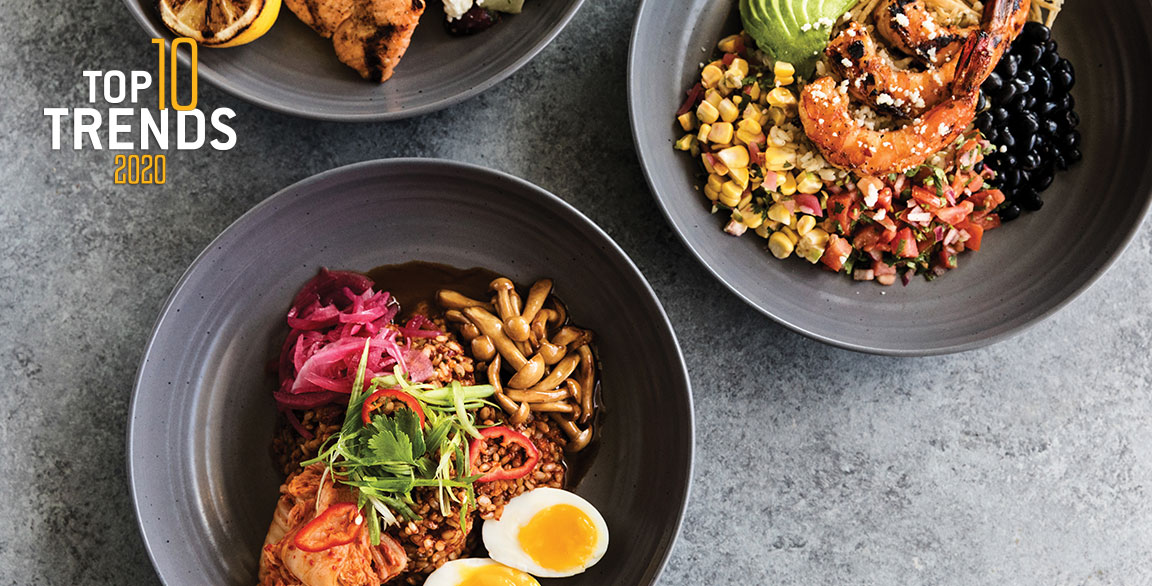 Bowls have proven themselves as a modern menu category. They occupy a rarefied space in foodservice, where consumer perception positions bowls as both wholesome and satisfying. "Their composition has always placed bowls in the realm of better for you," says Michael Slavin, VP of culinary and menu innovation with Houlihan's Restaurants, Inc. "They naturally make diners feel good about their menu choice."
That built-in, feel-good factor and clear evidence of consumer popularity keep bowls in the limelight for continued innovation, which is prompting their next iteration. Today, progressive bowl development focuses on intention around wellness, along with strategic layering of ingredients for transparency and visual impact.
But most importantly, the bowls with purpose that truly inspire consumers offer the whole package—each component is considered carefully, delivering a highly rewarding experience.
LB Kitchen, a breakfast/lunch spot with two locations in Portland, Maine, offers a perfect case study. Each of its seven bowls presents a picture of wellness while various textures and colors catch the eye. Every component is distinct, contributing punches of flavor that work together well. Chef/Owner Lee Farrington says that big hits of flavor and contrasting textures are paramount in a successful bowl, especially ones that tout wellness.
"There's intention behind everything we put in a bowl. Every element gets serious attention to flavor," she says. "Texture is just as important. I need crunch in every bite; I don't want soft against soft. And then, yes, there's intention around functionality—gut health through fermented ingredients, for example."
The Banh Mi Bowl demonstrates the approach nicely. It sees house-pickled vegetables, kimchi, miso slaw and avocado over brown rice and organic greens dressed in sesame oil, rice wine vinegar, cayenne and tamari. A swipe of creamy vegan Sriracha mayonnaise adds a great visual and a prickle of heat.
Today's intention behind recipe development signals a change in focus that keeps flavor at the forefront, but leans into functionality. Menu developers are using the established, trusted format of bowls to target diners who either look for functional ingredients in their menu choices or—at least some of the time—follow lifestyle diets like keto, paleo and Whole30.
Although customization will always bolster the appeal of bowls for a large swath of consumers, there's a growing number who seek out curated bowl experiences that deliver on modern demands. LB Kitchen's Keto Bowl answers a dietary demand, but doesn't skimp on complex flavor play and textural contrast. It looks beautiful, too, with a thoroughly modern composition. A base of sesame spinach and kale, tossed in sesame oil, rice wine vinegar, tamari and cayenne, is topped with avocado, a beet-pickled egg and grilled salmon. A swipe of parsley-olive pesto, bound with nutritional yeast instead of cheese, packs in more flavor.
Fields Good Chicken, a fast casual with five locations in New York, menus four curated bowls, all themed around the brand's promise to serve "soul-warming health food." But just like LB Kitchen, its offerings are as enticing as they are functional. For example, The Good Bowl sees grilled mojo chicken over warmed herbed quinoa, marinated kale, sweet potato, grilled onion, cranberries, aged cheddar and toasted pumpkin seeds.
The current demand for curated bowls with functional, flavorful elements is driving innovation in this category. "A growing number of today's consumers are paying more attention not only to what they're eating, but why they're eating it—whether it be for health (physical, mental, emotional), environmental or taste reasons," says Linh Aven, executive chef of B.Good, a health-focused fast casual based in Boston. "Additionally, consumers are time starved. They want transparent, healthy options that fit their unique needs and lifestyles, but they don't want their meals to be yet another decision they must make, which is where bowls with purpose come into play."
FLAVOR STRATEGY
Functionality is a wonderful thing, but the expectation around flavor experience today is sky high. Delivering on that expectation determines the success of these modern bowls.
When building bowls with intention, Pam Smith, RDN, nutritionist and culinary consultant, says that a smart flavor strategy is critical. "If you add grains, introduce flavor: citrus in the quinoa or Israeli couscous that's toasted and dressed with sherry vinaigrette and warmed with spices like za'atar or jerk seasoning, for instance. Every element gets punched up," she says.
"How do you build a wholesome bowl that carries crave factor?" Smith suggests starting with a flavorful, crunchy slaw, like cabbage and fennel, tossed in a vinaigrette. "Then think about your next layer, how to get a protein overlay with crunch, like charred chicken topped with spiced and toasted nuts."
The Green Tea Power Soba Bowl at Linger, a globally-themed restaurant in Denver, showcases that strategy. The noodles, made with matcha powder and protein-rich buckwheat flour, are tossed in an umami-rich sesame-tamari vinaigrette. Mushrooms (preserved in garlic-chile oil), roasted butternut squash, brined watermelon radish, kimchi, winter vegetable slaw, radish sprouts and salted avocado are arranged in the bowl. Sheets of nori, a shoyu egg and "super seed crunch" finish the presentation. "The dish is a powerhouse of superfoods," says Will Harris, Linger's executive chef.
A few brands are spinning out smaller bowl sizes, cleverly making the popular format a snacking and all-day dining option. Dill & Parsley, with five locations in New York, menus the Minibowl, which sees two bases and one protein as opposed to the regular-sized bowl's three bases, one protein and two sides. With options like French lentils and superfood salad, functionality is still in play.
Shaka Bowl, a wellness-focused fast casual restaurant in Hoboken, N.J., offers two sizes on its bowls menu. Flavor and function come together nicely here in offerings like the Spicy Salmon Bowl: brown rice, edamame, scallions, peanuts, avocado, wild-caught salmon and spicy peanut sauce.
KETO, PALEO AND WHOLE30, OH MY
LB Kitchen first added its Keto Bowl in response to a request from a regular customer who ran a yoga studio nearby. It's now a mainstay, attracting a consumer base beyond those in the health and fitness world.
Bigger restaurant brands, like B.Good, are also developing bowls in response to their customers' dietary needs. "For high-volume foodservice operators, this demand presents an opportunity to explicitly message how they have options that fit customers' individual needs," says Aven. "After listening to our customers and seeing a growing consumer base that follows customizable diets like paleo, keto, WW [formerly Weight Watchers] and Whole30, we felt it was important to offer options that meet those choices."
B.Good rolled out four chef-inspired Lifestyle Salads in January. "We still perceive them as bowl builds, even though they read as salads," she says. The paleo option sees romaine topped with cucumber, radish, grape tomato, spiralized zucchini, grilled chicken with za'atar and a red wine vinaigrette. "By offering chef-inspired bowls instead of build-your-own, we're taking the guesswork out of ordering," says Aven.
Sajj Mediterranean, a family of food trucks and fast-casual restaurants with nine locations in California, follows a similar approach. It introduced three Lifestyle Bowls last year in an effort to give its guests menu items with the specific ingredients they were looking for.
"We noticed that guests were customizing their own lifestyle bowls as they went through the assembly line, inquiring about what ingredients were paleo and keto," says Loay Alhindi, director of food/executive chef. "We figured that by curating our own versions, we could make ordering easier, especially when ordering online."
The Keto, Paleo and Double Protein Bowls were born, giving diners options that adhere to those diets, while still keeping flavor in focus. For example, the Paleo Bowl stars pomegranate chicken on a bed of mixed greens with cabbage, cucumber, tomato, avocado and cilantro-mint chutney.
Piada Italian Street Food, a fast casual based in Columbus, Ohio, looked to bowls a few years ago to help answer a need for gluten-free options beyond salads. Its Power Bowl, with red quinoa, roasted broccoli, sweet corn, tomato, glazed chickpeas, pickled red onions, roasted carrots and harissa-yogurt drizzle, rounded out the menu well, says Matt Harding, senior VP of menu innovation.
Now, Piada is evolving further to meet the needs of some of its guests. Its recent rollout of the Protein Bowl sees sautéed zucchini and mushrooms, roasted broccoli, grilled chicken, housemade basil-pesto sauce, mozzarella and bruschetta tomatoes, answering the demands of both paleo and keto dieters. Piada is only offering the bowl through online ordering to ensure that the measurements are correct. "We have one person in each restaurant making that bowl. Meeting the macronutrients is essential for those following the keto regimen," he says.
Of course, there's a middle ground between curated bowls and build-your-own bowls, where the composition is thought out, but some of the elements are interchangeable. This model has worked for decades in the salad category, and it is now offering a flexible model that appeals to some consumers looking for functionality in their bowls.
The founders of California Pizza Kitchen, Rick Rosenfield and Larry Flax, are following that strategy at Bottlefish, an upscale seafood-centric restaurant in Los Angeles, which recently launched a lunch menu with a strong focus on bowls. "The bowls were thoughtfully developed so that anyone could customize them to align with various diets without compromising flavor," says Ohad Yosef, executive chef.
Bottlefish menus four vegetarian rice bowls, each with an option to add shrimp, salmon or chicken, as well as the option to replace the rice with cauliflower rice. Each bowl keeps flavor at the forefront. The Farmers' Market Bowl sees brown rice, roasted cauliflower, Brussels sprouts and broccolini with a choice of lemon vinaigrette, ponzu or ginger-teriyaki sauce.
As the demand for flavor-forward options that fit modern lifestyles grows, the menu opportunity grows, too. When executed well, bowls with purpose are bound to succeed, meeting at the intersection of flavor, texture, functionality and intention.