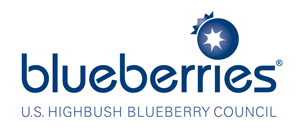 Today more than ever, diners want to be surprised and delighted by a restaurant's whimsy and by its unique approach to flavor, color and texture. Blueberries offer a great platform for differentiation. First, they're familiar and well-loved. Second, they're incredibly versatile.
"Blueberries are quite possibly the perfect fruit," says Andrew Hunter, culinary consultant for the U.S. Highbush Blueberry Council. "They are self-contained little bundles of juicy flavor. A fresh blueberry is just the tip of the iceberg when it comes to variety and formats."
Hunter shares strategies on how he uses blueberries to help operators differentiate their menus.
Pickled
A solution of 4 parts vinegar, 2 parts sugar and a ½-part salt is a perfect recipe for pickling whole fresh blueberries. Heat the vinegar and whisk in the sugar and salt to dissolve. Allow it to cool, then add the blueberries and let it sit overnight.
Thread blueberries on a skewer to stir a bourbon-based or gin-based cocktail.
Add roasted shallots and sprigs of fresh thyme to the pickled blueberry brine and press the mixture into a soft creamy cheese like Saint-André.
Mount the brine with butter and drizzle over seared
scallops, garnish with pickled blueberries and chervil.
Dried
Dried blueberries infused with liquid, like fruit juice, are bright, shiny and sweet, offering so many uses—from beverage inclusions to steak or seafood garnishes.
Rehydrate dried blueberries in milk tea for a spin on boba.
Soak dried blueberries for several days in smoky bourbon then serve them on a charcoal grilled steak.
Make a "mother sauce" by puréeing 3 parts juice, 2 parts frozen and 1 part dried blueberries; use as a base for soups, sauces and dressings.
Powdered
Powdered blueberries lend a beautiful color and light fruity flavor to salts and dry rubs. To make the blueberry salt, combine one part blueberry powder with three parts coarse sea salt, then pulverize in a spice grinder.
For a margarita rim, add lime zest to the blueberry salt.
For a blueberry fish cure, stir blueberry powder with smoked sea salt, brown sugar and white pepper. Rub the cure on a salmon fillet, pack it in a vacuum bag with frozen blueberries and a glug of aromatic gin. Seal and refrigerate for 2 to 3 days before slicing.
For a blueberry furikake, add blueberry and yuzu powders to your favorite furikake blend.
For more menu solutions that maximize blueberries, visit www.PositivelyBluetiful.com