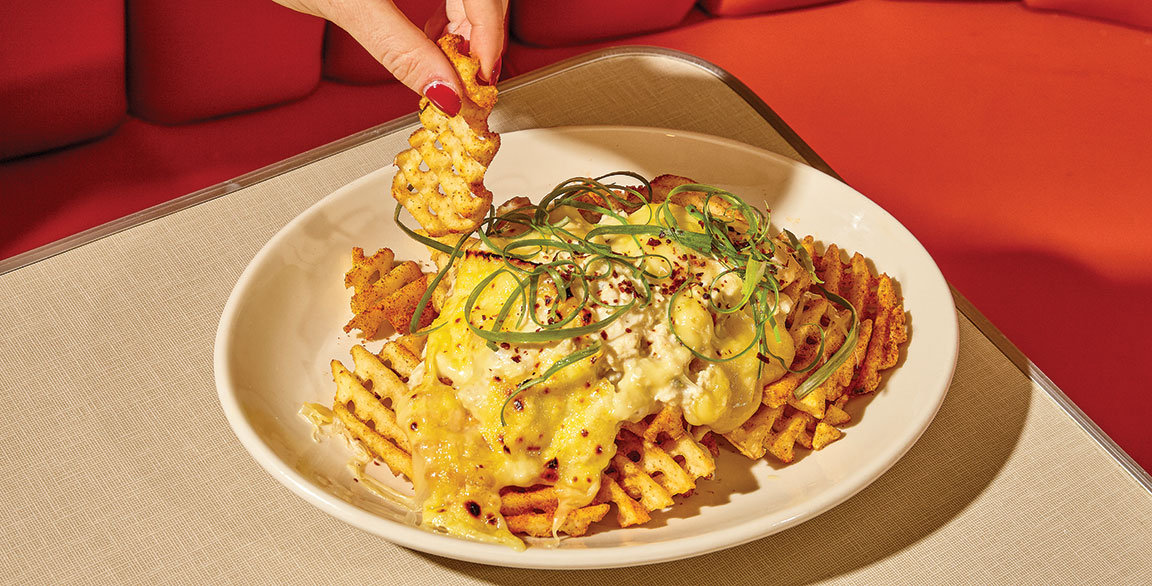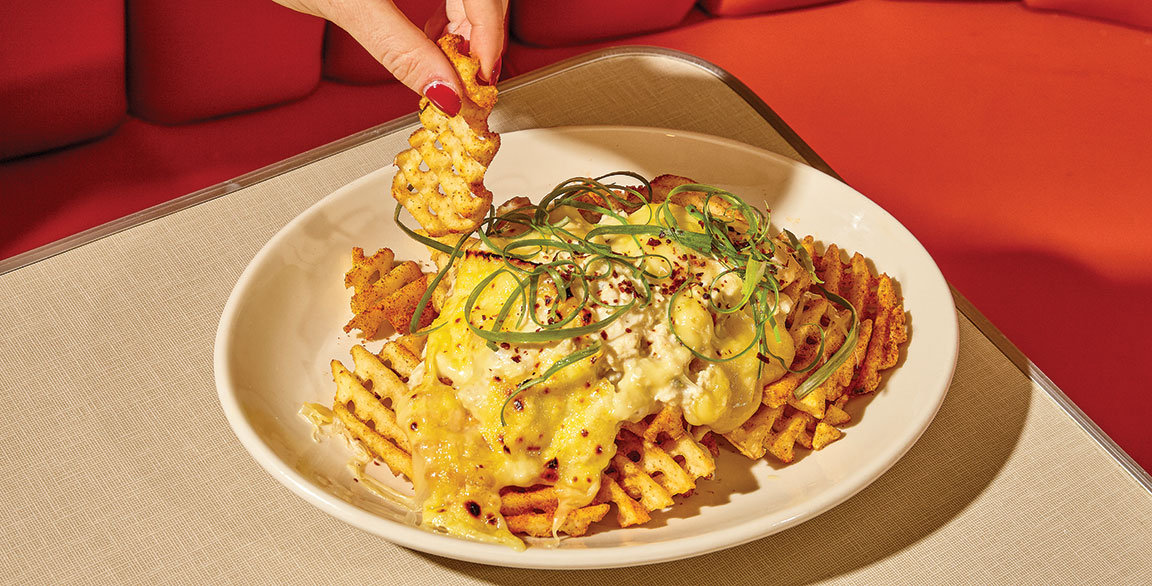 By Flavor & The Menu
March 3, 2020
The anticipation of digging into a plate of hot, salty, crispy, golden fries is one of the greatest joys in the world. It's a ritual that begins in childhood, embedding that food experience in long-term memory banks. Intense nostalgia, amplified by intense craveability, gives fries a sacred standing in culinary development, making them both popular with consumers and ubiquitous on menus. Those factors drive chefs to continue to up their game in gaining a competitive advantage. Many pathways lead to french fry nirvana. Today, opportunity for differentiation comes through modern seasonings and preps or creative approaches to layered builds.
Loaded fries are expanding their universe, inviting chefs to tell a compelling flavor story that fits their brands through surprising and fun combinations. Soho Diner at New York's Soho Grand Hotel has done just that with its version of disco fries, those cheese-and-gravy-topped fries that got their name in the '70s from the late-night crowds who loved them.
Soho Diner's Disco Fries are retro, yet refined: waffle-cut fries loaded with raclette cheese and chicken sausage gravy. "Our Disco Fries are a great late-night offering—though we have sold more than a few for breakfast," says Ken Addington, chef of Soho Diner. He uses waffle fries, relying on their ability to stay sturdy and crispy under the other ingredients.
"We wanted to have fun with a high/low aspect of an old school, Southern-style white sausage gravy, using spiced chicken sausage," he says. "The gravy sits nicely on the fries rather than dripping off and pooling on the plate. The raclette is the 'high' side of the high/low. It's a little fancy, but also very gooey when melted and scraped onto the pile."
LOADED AND NOT AFRAID TO USE IT
Loaded fries offer unrivaled comfort and craveability. They also adapt to any global pantry. The Yummy Fries at Anthem, a Tex-Asian pub in Austin, Texas, offers a great example of next-level attention to flavor build. Sweet potato waffle fries are topped with spicy aïoli, truffle-yuzu-miso aïoli, sweet soy sauce, furikake, scallion, pickled ginger shoots, sesame seeds, bonito and kizami nori.
"We played around with the flavors and textures of the classic Japanese dishes takoyaki and okonomiyaki," says Tony Gentile, corporate chef of Flagship Restaurant Group. "Through this testing we decided that sweet potato fries were a great catalyst for the rest of the ingredients. The layers of sweet, umami, sour and crunchy create craveable fries while staying true to our fusion style of cooking."
TURNING UP THE VOLUME
Today, chefs are dialing up the flavor of fries while offering their guests a unique and thrilling experience. Some chefs are looking to the briny, funky notes of seaweed for a little kick.
At Mei Mei Street Kitchen, a modern Chinese-American restaurant in Boston, the Javelin Fries see parsnip fries tossed in house spice and seaweed confetti.
The Nori Fries at Katana Kitten, a Japanese-American bar in New York, feature crinkle-cut fries tossed in salt and ao-nori, a river seaweed with a milder, grassier profile than the ocean variety.
Brined fries have grown on menus, thanks to their intrigue factor and a slightly vinegary profile that works well against the salt and fat inherent in french fries. Beer Belly Deli in Syracuse, N.Y., menus beer-brined fries for a great fit with its casual, craft-beer vibe.
White Labs Kitchen & Tap in Asheville, N.C., gets scientific about its brining, thanks to its expertise and focus in fermented foods. Its Lactobacillus-brined fries are featured in the restaurant's Kimchi Fries, with smoked brisket, kimchi, furikake, green onion, sweet soy and "yum yum" sauce.
Old Major, a restaurant in Denver serving refined farmhouse cuisine, goes whole hog with its Pork Fat Fries, demonstrating the opportunity in elevating fries with both concentrated, savory flavor and unexpected pops of texture. The fries are rendered in pork fat, fried in peanut oil, then finished in a housemade pork fat powder (a mixture of rendered pork fat and tapioca maltodextrin strained through a sieve). "The pork fat powder adds a smooth, creamy textural component when it melts in your mouth," says Sarah Khosravani, executive chef.