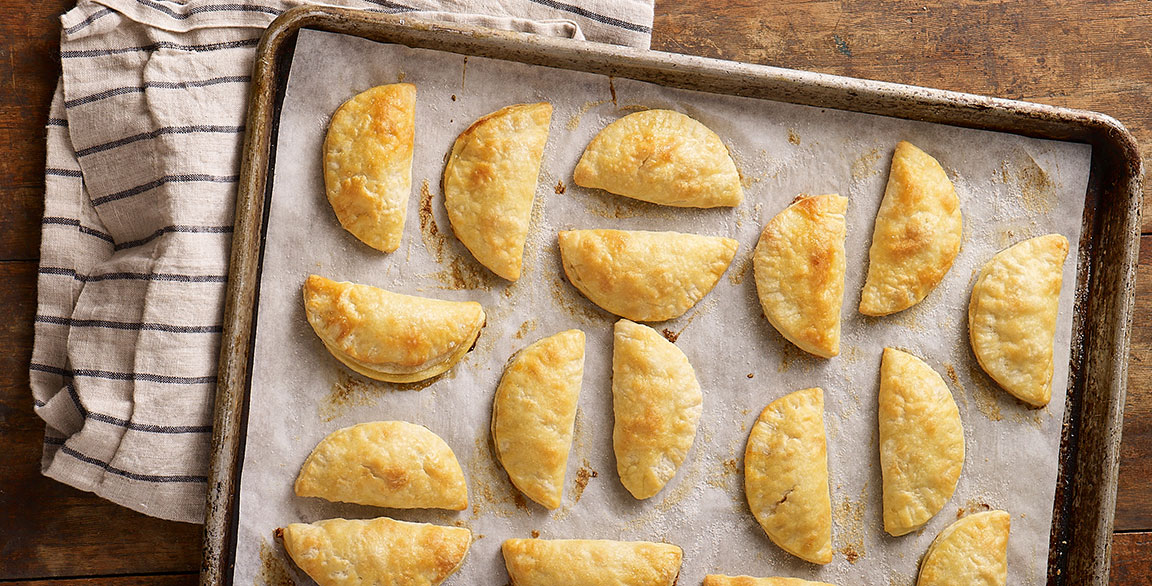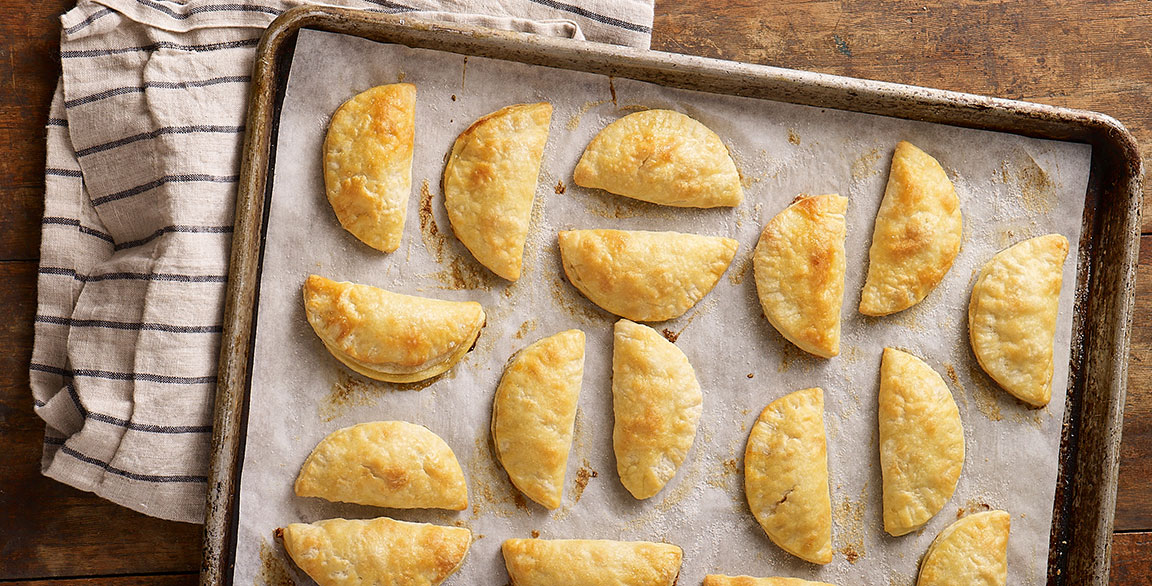 By Flavor & The Menu
December 10, 2020
The crispy, craveable hand pie is having a moment. While it's been a trend-forward menu item for a few years now, this just-for-me pie is finding its niche in today's takeout/off-premise model. And what's not to love? There's no limit to the saucy, jammy, fruity, savory or sweet filling options neatly wrapped in a portable handheld format for on-the-go eating or take-and-reheat at home. Here we profile a variety of concepts currently using the hand pie as their flavor delivery vehicle.
Fruit & Grain in Minneapolis offers a rotating lineup of sweet and savory hand pies. Savory offerings include a Ratatouille hand pie with zucchini, eggplant, onion and San Marzano tomatoes, as well as a mac & cheese version, and a cauliflower, pepper and sharp cheddar hand pie. On the sweet side, these are positioned as Pop Tarts, with seasonal flavors like Brie, honey and apple; guava jam and cream cheese; pumpkin and maple cream cheese; sweet and sour cherry crumble; and chocolate candy cane.
Cincinnati-based O Pie O, which recently opened its second location, masters the savory hand pie. Fillings run the gamut of profiles, proving the hand pie's ability to carry trending flavor systems. At O Pie O, options include Buffalo Chicken served with ranch dipping sauce; Saag Paneer with spinach, paneer cheese, yogurt, ghee, ginger, garlic and seasonings; and a Japanese Curry hand pie with onion, carrots, celery, potatoes, bell peppers. Its Chicken Pot version tucks the classic components of a chicken pot pie into a closed pastry format.
In Orlando, the P is for Pie bake shop features a range of pie offerings in traditional and signature formats (including a clever Mason jar pie build), as well as a rotating lineup of hand pies. The variety of sweet fillings include strawberry basil; blackberry-lemon-thyme; maple bourbon; brandied apple; caramel pecan; and chai. On the savory side, the café offers a breakfast hand pie of egg, cheese and potato with sausage gravy, along with lunch hand pies in Chicken Pot Pie, Jalapeño Mac & Cheese and White Bean & Kale varieties, among others.
Of course, the hand pie comes in many formats, many of which are inspired by global varieties like samosas, empanadas and Venezuala's pastelitos and baton-shaped tequeños, which are a specialty at Aura's Bakery in Denver. Tequeños are typically stuffed with a cheesy filling, and Aura's features the traditional guava and cheese variety, along with pesto and goat cheese, and ricotta, leek and bacon options. Nutella or apple fillings fit the bill on the sweet side of the menu.